Exhibition on ethnic cultures gets new look at Shanghai Museum
By Zhang Kun | China Daily | Updated: 2019-11-01 08:46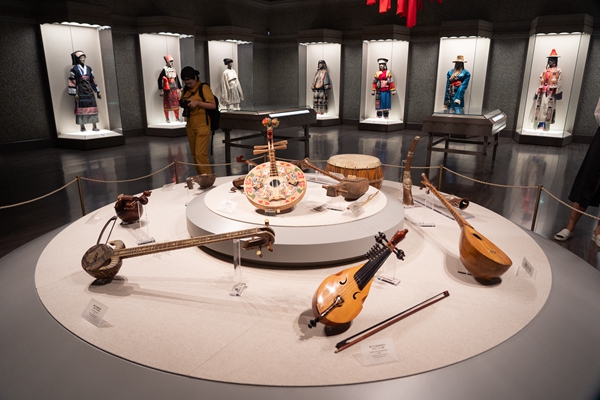 The gallery at Shanghai Museum featuring arts and crafts of ethnic minorities in China has been expanded as part of a relaunch.
Open through March 22, the gallery showcases traditional costumes, musical instruments and tools used by 55 ethnic groups in China. The gallery was founded in 1996 when objects from 41 ethnic groups were gathered for an exhibition.
"Thanks to our colleagues and working partners in different parts of China, we now have each of the ethnic minority groups represented in the exhibition," says Zhang Jingwei, curator of the exhibition and a researcher at Shanghai Museum.
Some of the objects, such as the national costumes of the Gelao, Mulam and Jing people were borrowed from the Anthropology Museum of Guangxi, while the handicrafts of the Tatar and Xibe people were loaned by the Museum of Xinjiang Uygur Autonomous Region.
Shanghai Museum began to actively collect the arts and crafts from China's ethnic minority groups as early as in the 1950s, starting with the Uygur ethnic group. Today, Zhang and his colleagues still make frequent trips to the faraway counties and communities of ethnic minority groups to buy from local artists and craftsmen their creations that include tapestry, embroidery and woven bamboo items.
"We have close ties with local cultural administrations, which recommend to us the recognized inheritors of intangible cultural heritage," Zhang tells China Daily.