Online education company striving to reach a larger audience
By Shi Jing in Shanghai | China Daily | Updated: 2019-11-01 11:01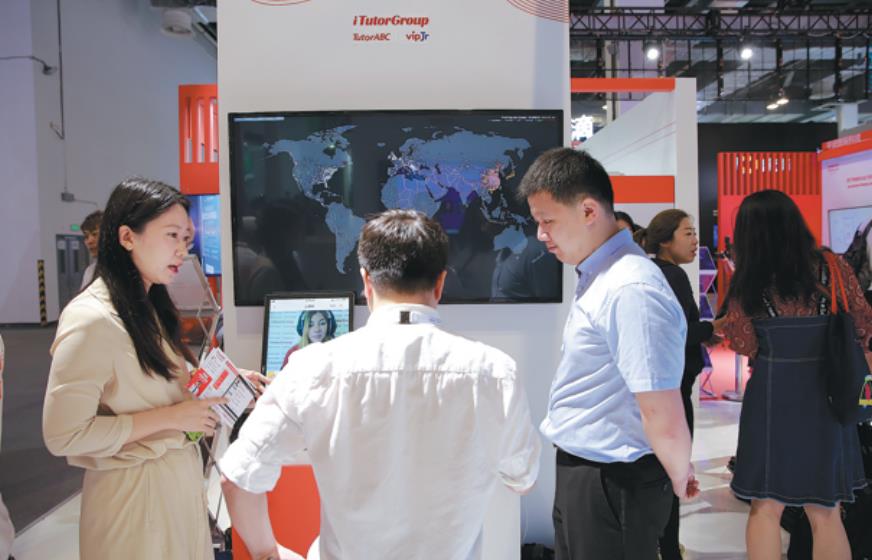 The online education conglomerate iTutorGroup celebrates its 21st anniversary this year. But to the group's founder, chairman and chief executive officer Eric Yang, every day remains a new challenge.
"Every day is like a battle. Mistakes cannot be avoided. What we did right yesterday may not be applied today," he joked.
But jokes aside, iTutorGroup has grown into a benchmark in the online education industry. Even leaders in other industries such as e-commerce juggernaut Alibaba and insurance giant Ping An have strategic investments in iTutorGroup.
Over the past two decades, the group has built well-established brands such as TutorABC and vipJr. Its courses have also extended from English at the beginning to Chinese, math and coding. It provides more than 10 million online courses every year. Its students can be found in 135 countries and regions in the world.
In an exclusive interview with China Daily, Yang talked about the company's efforts in technology innovation, his entrepreneurial experience, and his vision for future education scenarios.
What prompted you to explore the online education industry?
I started an internet company in the United States around 1993, during which time Sina started to take off in a neighboring state. That startup experience armed me with knowledge of the internet industry.
At the same time, I taught at the University of Tokyo for two years. It occurred to me that there was a lot of inefficiency and unfairness in education, and that combining education and the internet would allow students and teachers to meet directly on one single platform. Meanwhile, data could be collected on the internet to facilitate future education. Agencies are unnecessary in such scenarios. More important, students and teachers will no longer be restricted by geography. As long as this hurdle is removed, education resources will be accessible to a larger audience.
How can you make sure that the data you have collected will be useful for education?
The length of a teacher's hair is useless if you record that in your database. Therefore, we have worked out 128 tags to characterize students, and another 128 tags for teachers, and yet another 128 tags for textbooks. We tried to figure out the best combination of students, teachers and textbooks.
With these findings, we started our own algorithm and obtained an artificial intelligence patent in 2005, which was the first of its kind in the education industry. With that, we will be able to predict if a new student will complete the whole course, as we can compare his characteristics with those of other users in our database. If there is a complaint, we will change the teacher or the size of the class, since most of our classes are conducted with one teacher and three to five students, which guarantees the best quality based on our experience. We will give each tag a different weighting so that the algorithm will work better.
There has been an increasing number of companies tapping into the online education industry. How can iTutor differentiate from them?
First of all, most of the industry newcomers have bought their technology platforms from a third company. The video call platforms they are using, for example, are designed for conference calls, not for educational purposes. But we developed our technology platform Tutor-Meet+ and it has become relatively more mature over time. We have taken into account many details such as asking teachers questions.
Second, the most valuable asset of online education is data. If online education relies on a third-party platform, using instant messengers such as QQ, all the data will be left on the third-party platform. Therefore, it will be difficult for the company to access and analyze the data. We do not have such headaches since we use our own platform.
The large teacher pool we have at present is also important. As we have been in the market for quite a long time, most of our teachers have been with us for about eight years, and some of the more experienced ones have been conducting classes via iTutorGroup for 20 years. Our students also cover a wide range, including adults and K12 students. The loyalty of these teachers will also be a great merit to students.
Ping An invested in iTutorGroup in July. What do you think helped them to make the decision?
Ping An approached us three years ago and we then spent the three years studying all the other similar companies in the market. We are quite mature and conservative financially, as we did not spend lavishly when everyone else did. We have always focused on users, products and technologies. More importantly, we have shown the most solid and convincing business results.
How can iTutorGroup leverage Ping An's resources?
Ping An's investment in iTutor-Group signals the end of an era when online education companies had to fight alone.
There has long been a pain point in the online education industry, which is the increasingly high customer acquisition cost. Therefore, when we look for strategic partners, we always look to the industry leaders with large website traffic, such as Alibaba.
Likewise, we have reached strategic partnership with Ping An, which has not only large website traffic but also an extensive distribution network. It has an insurance agent team of more than 1.4 million people all over the country. With this, our management cost will be significantly reduced.
But what I value the most is Ping An's attempts in technology innovation. They have robots that can carry out semantic analysis. They have also introduced an AI trainer with which insurance agents can simulate dialogues with potential buyers. We can all use these in our daily work to enhance efficiency and improve customer experience.
The Ministry of Education introduced stricter regulations for foreign teachers working in Chinese training schools in July, requiring that their education and working experience be traceable by the public. How will this affect the online education industry?
I have said in the past that there will be an upheaval in this industry sooner or later, as no more than one third of the 400,000 foreign teachers working in China are qualified. During the 2018 Global English Education China Assembly, we proposed teacher qualification standards for the Chinese online education industry. Each teacher with iTutorGroup has TESOL recognition. This is the basic requirement that we set from day one.
But with the government's tighter grip, the industry will be more regulated and heading for more sustained development.
How have users in lower-tier Chinese cities responded to your services?
The majority 75 percent of our users now are living in second-and even lower-tier cities, while first-tier city users only account for 25 percent of our student pool. Parents in lower-tier cities attach great importance to their children's education. They cherish the online education channel, for it is one of the few ways that their children can keep abreast with first-tier city students in terms of education quality.
Such a result is also very much related to our earlier strategy. We realized at an early stage that the purpose of online education is to address the inequality in education.
What are the reasons for you to provide courses other than English?
We launched Chinese training courses in 2008 with the purpose of teaching Chinese to people all over the world, rather than only Chinese students learning English. When more parents enroll their children in courses with us, they have trust in us and prefer our platform to be a one-stop solution. Therefore, we have introduced maths and coding over time.
How has your academic background in chemistry affected your management style?
It is the idea of balance, for that is what all chemical equations are all about.