Chinese culture exhibition in Athens inspires young people
By Han Baoyi in Athens, Greece | chinadaily.com.cn | Updated: 2019-11-03 07:13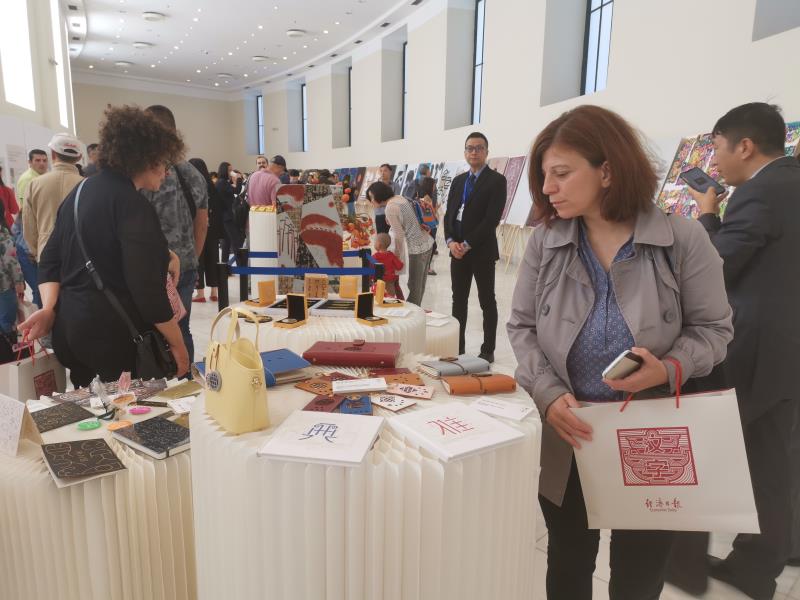 Learning Chinese and working at a Chinese company are considered to be highly prestigious among many Greek young people, a student said at a Chinese culture exhibition in Athens, Greece, on Saturday.
The exhibition, aiming to introduce the origin and evolution of Chinese characters to Greeks, as well as the connections between Chinese and Greek characters, attracted around 400 people, including scholars and students from Greek universities, overseas Chinese and local Greeks who are interested in Chinese culture.
Also present were Guo Weimin, deputy head of China's State Council Information Office, Wang Qiang, political counselor of the Chinese embassy in Greece, Adonis Georgiadis, minister for Development and Investment in Greece.
In his keynote speech, Guo said ancient Greece was a key birthplace of Western civilization and enjoys a high reputation among Chinese people, adding that both Chinese and Greek are great languages with a long history.
"Promoting Chinese and Greek has a great meaning, it is a good example of exchanges and mutual learning between Eastern and Western civilizations," he said. "The communication between the two ancient civilizations will lead the trend in efforts to build a community with a shared future for mankind."
"More and more Greeks want to learn Chinese," Xue Jianhong said. She is the founder of one of the largest Chinese language school in Greece, which was established seven years ago with only 30 students. Now the number is 130 and still increases.
"Half of them are students who study in marine engineering, which has long been a major occupation in Greece because of the nation's profound relations with the ocean," she said.
She added that these young people's "dream" is to work for China Ocean Shipping Company in the port of Piraeus, referring to COSCO's "integrity", "well-paid jobs", and "potential" as a Chinese company.
According to Xu Lirong, chairman of China COSCO Shipping, the company has created more than 8,000 jobs for the local economy since 2009. And it is expected that by 2025, the Piraeus port project will increase Greece's fiscal revenue by 474.7 million euros ($531.3 million), creating 31,000 jobs and boosting Greek GDP by 0.8 percent.
At the exhibition, people also enjoyed a rare opportunity to experience Chinese woodblock printing, one of the four great inventions of ancient China which produced the world's first print culture.
"This event is the best opportunity to experience Chinese culture. It not only helps me know more about Chinese characters, but also have a better understanding of China," one of the participants said.