Li: China ready to further align BRI, Thai development plans
By XU WEI in Bangkok | China Daily | Updated: 2019-11-06 07:19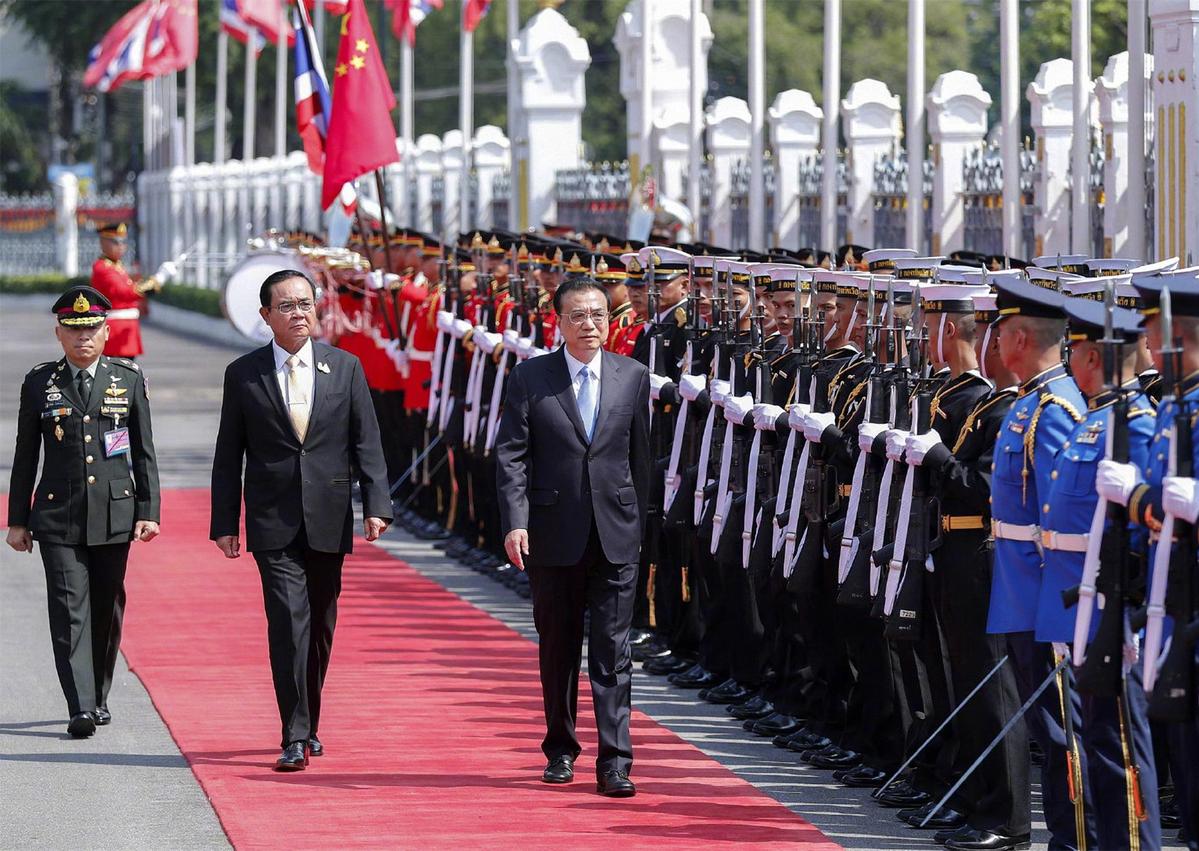 On his official visit, nations agree to boost exchanges, make railway a landmark project
Beijing and Bangkok on Tuesday reaffirmed their commitment to align development strategies and boost cooperation in emerging sectors.
During his second official visit to Thailand in the past six years, Premier Li Keqiang said in a meeting with Thai Prime Minister Prayut Chan-o-cha that China is ready to further alignment between the Belt and Road Initiative and the development strategies of Thailand.
China will support the Eastern Economic Corridor development plan, which could serve as an important platform to conduct cooperation in exploring a third-party market, he said.
Li also vowed to support Chinese businesses who wish to take part in the infrastructure development of Thailand under market and commercial principles.
The cross-border e-commerce channels will be put to better use, and China will boost imports of high-quality agricultural products from Thailand, such as rice, he said.
Prayut voiced hope that the EEC plan can be aligned with the development of the Guangzhou-Hong Kong-Macao Greater Bay Area, saying that Thailand welcomes more Chinese businesses to invest in Thailand.
He also called for further bilateral cooperation in emerging sectors such as e-commerce, high-speed railways, fifth-generation mobile communication technology and digital economy.
The two nations released a joint news statement after the meeting, which affirmed the commitment from both sides to boost cooperation in trade, investment and tourism.
They agreed to make the China-Thailand railway a landmark project within the Belt and Road framework, with efforts to accelerate the opening of the railway that would link the countries and Laos, the statement said.
The level of bilateral trade facilitation will be improved, and both countries vowed to ensure a good implementation of the memorandum of understanding on the trade cooperation of agricultural produce, it said.
Prayut held a welcoming ceremony for Li at the Government House before their talks.
Li also held talks with Chuan Leekpai, the speaker of the House of Representatives of Thailand, on Tuesday.
Li voiced his appreciation of the efforts made by the Thai National Assembly to promote bilateral friendship, saying that China stands ready to promote exchanges in various areas, including between the two legislative bodies.
China stands ready to step up bilateral coordination and dialogue over regional and international affairs, move forward in its relationship with ASEAN and enable further integration of the region, he said.
China has been Thailand's largest trade partner since 2013, with bilateral trade volume hitting $66.4 billion in the first nine months of this year, according to the Ministry of Commerce.
China has also been the largest source of inbound tourists for Thailand, with Chinese tourists making over 10 million visits to the Land of Smiles in 2018, accounting for 28 percent of its total inbound tourists.
Li arrived in Beijing on Tuesday evening, wrapping up his five-day trip to Bangkok and Tashkent, Uzbekistan. He attended a number of meetings on East Asia cooperation in Bangkok after an official visit to Tashkent and attendance at the 18th meeting of the Council of Heads of Government of the Shanghai Cooperation Organization.