RCEP deal hailed as big achievement
By KARL WILSON in Sydney, PRIME SARMIENTO in Hong Kong, JING SHUIYU and CAI HONG in Beijing | China Daily Global | Updated: 2019-11-07 09:19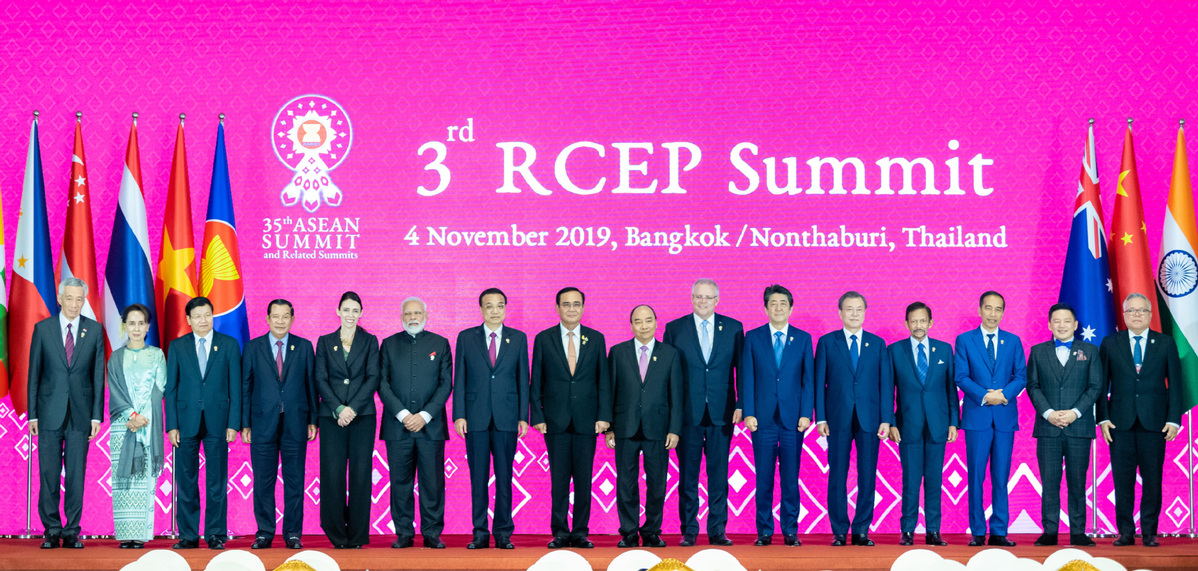 Premier Li calls trade pact a breakthrough for developing free trade zone in East Asia
The conclusion of 15 Asia-Pacific nations' negotiations for what could be the world's largest trade deal has been hailed by analysts as both symbolically significant and a major achievement.
In a speech at the 22nd ASEAN-China, Japan and Republic of Korea leaders' meeting in Bangkok on Nov 4, Chinese Premier Li Keqiang said 15 participating countries of the 16-nation Regional Comprehensive Economic Partnership have essentially concluded all negotiations on market access.
This will be a major breakthrough for the development of a free trade zone in East Asia, which will have the most diversified structure of members and the largest growth potential possible, Li said.
Speaking at a press conference in Beijing on Wednesday, Chinese Vice-Minister of Commerce Wang Shouwen said the relevant parties will step up efforts to finish consultations on a few issues, complete the text review as soon as possible, and speed up necessary domestic procedures for signing the formal agreement next year.
Completion of the agreement will bring "enormous" benefits for the region, for China, and for the world economy, Wang said.
Economist Tim Harcourt, J.W.Nevile Fellow at the University of New South Wales, said the RCEP is "symbolically significant, and China made it happen".
Siriwan Chutikamoltham, senior lecturer and academic director at the Nanyang Fellows MBA Program of Nanyang Technological University in Singapore, said the RCEP's conclusion is a major achievement in a "long and arduous process".
Negotiations on the RCEP deal started in 2013.
She said the agreement sends an immediate message of international cooperation and support of trade.
"This is a much-needed positive development amid the anti-globalization and political populism in the past several years," said Chutikamoltham.
The RCEP includes all 10 members of the Association of Southeast Asian Nations-Indonesia, Thailand, Singapore, Philippines, Malaysia, Vietnam, Brunei, Cambodia, Myanmar and Laos-as well as Australia, China, Japan, New Zealand and the Republic of Korea.
Indian Prime Minister Narendra Modi, whose country was party to the talks, said on Monday that the country will not join the RCEP deal, citing negotiations failed to satisfactorily address New Delhi's "outstanding issues and concerns".
"India stands for greater regional integration as well as for freer trade and adherence to a rule-based international order," he said.
Analysts point to India's fear that opening its economy would undermine its already fragile domestic manufacturing base.
India already has active free trade agreements with Japan, ASEAN and South Korea but does not have an agreement with China, which has proved crucial.
India's trade deficit with the ASEAN bloc and five others in the RCEP pact, which stood at $54 billion in 2013-14, had increased to $105 billion in 2018-19, according to Bloomberg.
While India sends 20 per cent of all its exports to the above countries, 35 per cent of all imports are from this bloc of countries.
Leaders of the 15 nations said the door will remain open for India.
"Covering 29 percent of the global economy, the RCEP is a significant trade agreement in anyone's terms," said Melissa Conley-Tyler, director, diplomacy at Asialink, a think tank at the University of Melbourne.
"It not only brings ASEAN closer together but the economies of five other regional economies as well, including China," said Alice de Jonge, senior lecturer with the Monash Business School in Melbourne.
Mustafa Izzudin, research fellow with the Institute of South Asian Studies at the National University of Singapore, said the agreement will help hasten economic integration, not just within Southeast Asia but also with countries that have ASEAN-related free trade agreements, excluding India.
"This is also important as RCEP contributes toward fostering an ASEAN Economic Community, which (is key) to building a more cohesive regional community in Southeast Asia," Izzudin said.
He said the conclusion of the RCEP shows it is possible to rise above domestic politics, especially in the face of extreme nationalism and regional interests.
"India's absence does leave a void, in which RCEP would have been better with India in it," Izzudin added. That is why the RCEP will keep the door ajar for the country to join when it is ready to do so, Izzudin said.
Chinese Vice-Minister of Commerce Wang Shouwen said 15 member states will maintain contact with India and continue to negotiate with it in order to address India's remaining concerns.
Sandra Seno-Alday, a researcher at the Sydney Southeast Asia Centre and international business lecturer at the University of Sydney Business School, said she expects benefits to come from the RCEP.
"Countries like Australia, for example, could gain from developing financial services and education for the region. Without India you could see the Philippines gain with its business process outsourcing. Countries like Vietnam, Thailand and Indonesia could see gains in manufacturing."