Teamwork is key to Chinese fashion brands' development
By Mike Bastin | China Daily Global | Updated: 2019-11-07 09:30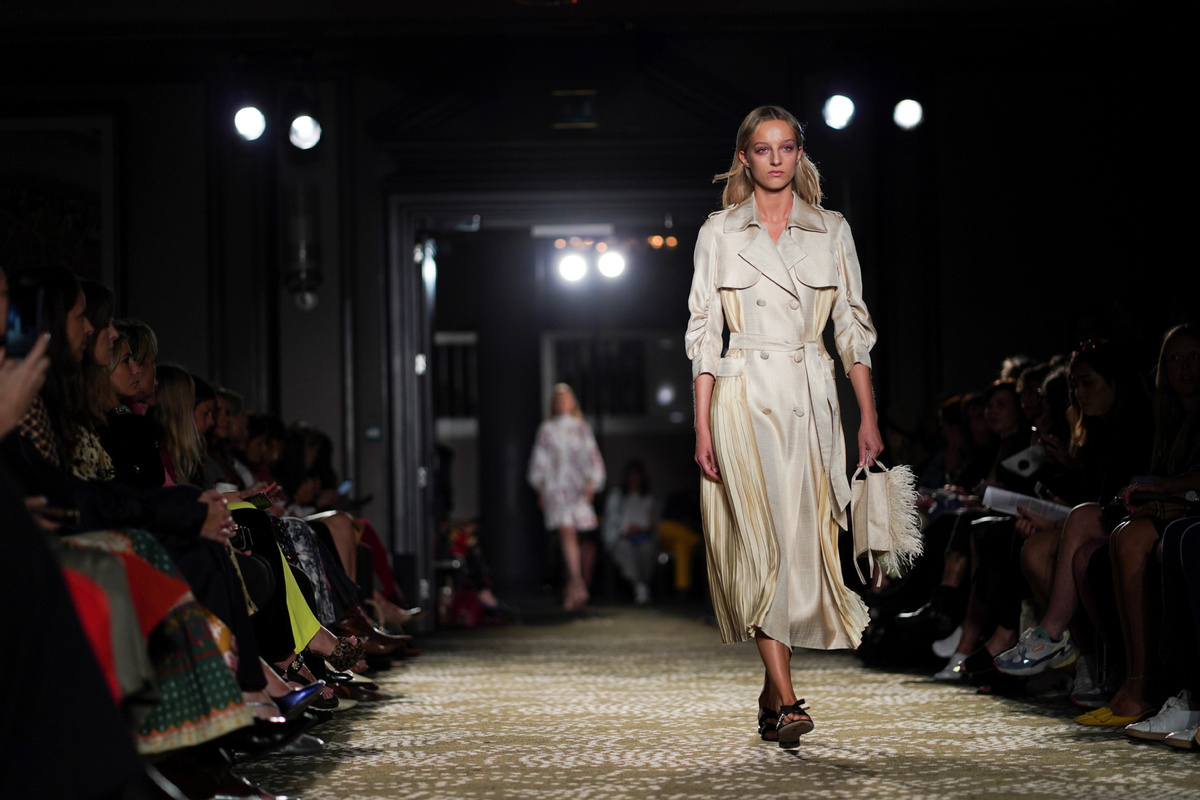 As China's economy continues its challenging transition from low-cost manufacturer to high-end, premium brand producer, the ever-increasing contribution of Chinese fashion brands, particularly in the luxury sector, hold the key to long-term success.
While Chinese fashion consumers' desire for luxury fashion has attracted much attention, there should be more recognition for the international rise of Chinese fashion brands and designers.
Furthermore, the ever-increasing numbers of Chinese fashion marketing and branding students studying globally bodes well for their continued success on the world stage.
The 2019 London Fashion Show provided a flavor of Chinese tastes, with several Chinese designers taking center stage at yet another major international fashion show. And not only were these Chinese tradition-inspired designs warmly received, they were categorized as luxury fashion items.
The catwalk parade of Zhang Huishan's latest qipao-inspired work is a perfect example. Zhang cleverly combined traditional Chinese elements with an underlying 1960s theme, targeting a younger demographic with evening tunic and trouser combos and cute cocktail dresses.
My (ongoing) research findings into traditional Chinese elements and modern fashion highlights the importance of Chinese embroidery and Zhang's latest polished collection is characterized by such ruffled and embroidered dresses.
It is perhaps the variety of this fusion of traditional Chinese elements and Western themes that has recently propelled the work of many Chinese designers into the spotlight, increasingly in the luxury sector. Nowhere is this more true than in the latest collections of Wang Yuhan, which proved a hit at London.
Wang makes no apology for drawing on dreams of life in 1930s English garden parties and combines this with traditional themes of Chinese femininity; an apparent avant-garde foray into the fusion of traditional Chinese and traditional Western but going further than the usual traditional modern combo.
This fusion of Western and Chinese elements plays to the strengths of Western university-educated Chinese fashion students, who possess a deep understanding of both angles.
I have worked with both the Chinese fashion industry and students (from designers to marketers) over many years, but it is only during the last few years that a changed mindset has become apparent.
Not only do they now believe in the possibility of internationally successful Chinese fashion brands, they firmly believe also in the probability (if not inevitability) of more Chinese luxury fashion brands pushing aside the most robust and resilient residents of the luxury stage, such as Louis Vuitton, Gucci and Chanel. Key to this, in the minds of both designers and marketers, is the effective infusion of traditional Chinese elements into a quirky modern design.
But even more pivotal to the imminent arrival of the world's first Chinese luxury fashion brand is the coming together between Chinese fashion designers, marketing, and branding students. Of course, the West will play a part, but only a bit part.
The fusion of traditional Chinese elements with a quirky modern look is the first step on the long and winding road to global brand establishment. Perhaps the biggest challenge on the road from innovative design to global brand is the recognition among Chinese designers that it is Chinese fashion marketing and branding students who are best placed to advise on all aspects of brand building.
Building intangible brand value across international markets requires a certain innovation and subtlety on the part of Chinese designers, but tellingly overseas-educated fashion students are key in feeding back to the design team how consumers interpret their work, and how this can vary considerably across cultures.
These students are uniquely placed to understand both Chinese and Western blending, to advise on how intangible brand value can be built in consumers' minds through effective and culturally suitable brand association.
Chinese fashion designers should now be looking much further than the next successful international fashion show parade. They should be recruiting brand building teams consisting largely of the most talented Chinese fashion marketing and branding students, striving to deliver the world's first global Chinese luxury fashion brand.
Mike Bastin regularly acts as an advisor between Chinese and Western fashion brands.