A million reasons to go to work, even if you're retired
China Daily | Updated: 2019-11-11 07:40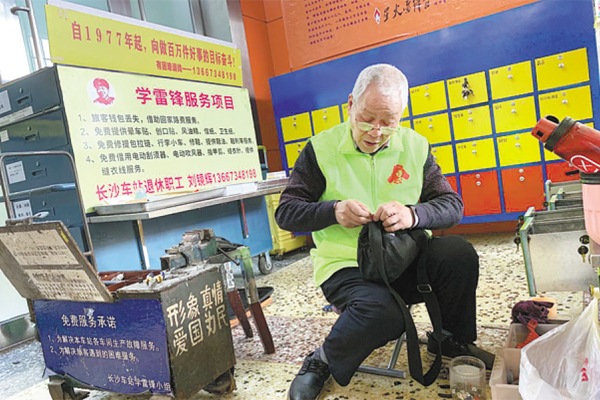 Forty-two years ago, train mechanic Liu Jinghui committed himself to doing 1 million good deeds for passengers at Changsha Railway Station, Hunan province.
Today, the 74-year-old retiree known to many as Grandpa Liu, admits he is not even halfway toward his goal. But he has no intention of giving up on his quest.
He draws inspiration from Lei Feng, a dedicated soldier who became a role model after his death in 1962 when Chairman Mao Zedong called on all people to learn from him. "I will be here for every passenger until I can't walk," Liu said.
On any given day, Liu stands at the ready by his trusty five-drawer mechanic's toolbox in the railway station's waiting hall. Inside the toolbox are all the bits and pieces he needs to help travelers in need-screws, buttons, needles, sticking plasters, travel-sickness stickers, toilet paper, a hairdryer and other small items.
He is quick to offer help such as repairing suitcases and mending shoes. No job is too big or too small.
Liu remembers helping one passenger many years ago who lost the button of his pants and was facing embarrassment.
"His pants were falling down without a button and he came to me carrying them. I had no button at hand. It was difficult to deal with. I turned my tool kit upside down and finally found a small object to fix his pants so they would stay up," Liu said.
Repairing broken shoes can also be embarrassing, but for other reasons, as Liu said some passengers' shoes "really stink".
He started work at the station in 1977 as a mechanic and in his spare time helped passengers in need. In 1981, the railway station set up a group to learn from Lei Feng. Liu was one of the group, but later became the sole member as others gradually quit.
After he retired in 2006, he made helping passengers his main priority. It takes him 30 minutes to travel from his home to the station by bus. He usually arrives around 1 pm and leaves at 5 pm.
During busy periods, like the Spring Festival or summer vacation, he arrives before 10 am.
Liu was not born into a rich family nor did he earn a high salary when he worked as a mechanic. His 38-year-old son has cerebral palsy and needs care every day, while his wife is also unwell.
Liu said he travels to the station after preparing meals for his son and he tries to return home early.
He knows he probably won't reach his 1 million target, but sees it as good motivation.
"I set the goal because I wanted to give myself a routine task every day. I need to fight for honor for my station just like a soldier for his army. Also, helping others is the inspiration for me to live my life."
Due to the large flow of passengers, the railway station is the perfect place to do favors, he said.
On occasions, Liu also gives financial aid to travelers. Some people accept the money, others don't.
Liu doesn't remember the number of people he has helped financially, but he said it started in the 1970s when he gave money to passengers to buy a travel ticket or a meal. He estimates that over the years he has spent about 120,000 yuan ($17,000) helping travelers and on equipment for the repair work.
"Some people regard me as stupid," he said. "I usually ignore them and insist it's my choice. I have four notebooks full of encouraging words from passengers I have helped. There is one message saying 'Thanks grandpa Liu who made me not fear the outside world anymore'."
The railway station is also a supporter of Liu and his good works and has promoted itself as a place of "learning from Lei Feng" that encourages people to join.
"I won't quit because I promised the railway station to learn from Lei Feng and I will keep my word," Liu said.