Deliveries turn smart, super quick
By Fan Feifei | China Daily | Updated: 2019-11-11 09:27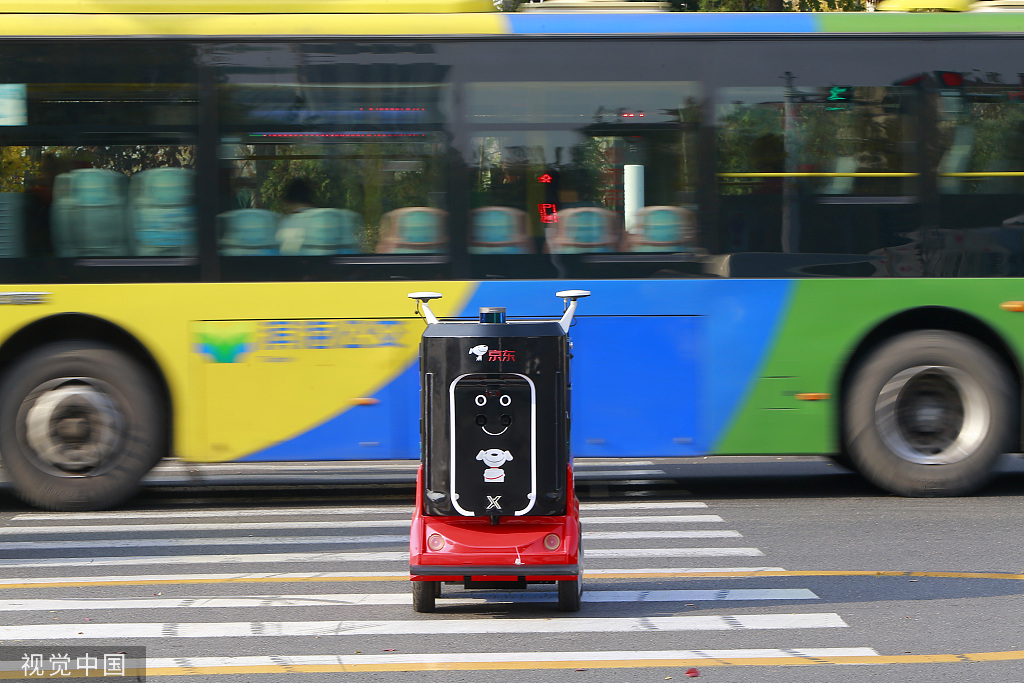 Chinese tech behemoths have been at the forefront of adopting innovative automation technologies across the whole intelligent logistics system, from automated sorting to unmanned warehousing and robotics delivery to enhance logistics efficiency.
These smart technologies are adding value to our lives. I placed an order for some select snacks on an online shopping platform around 9 pm the other day. Believe it or not, they were delivered to me around 8 am the next day. Superfast home-delivery - convenient, time-saving, neat.
E-commerce giants are aware of the significance of intelligent logistics and have invested massively in the field to gain an edge in the fiercely competitive market.
Smart logistics research at JD is led by JD-X, which focuses on innovating the next generation of smart logistics technologies, with a particular focus on automated fulfillment capabilities, including drones, autonomous delivery vehicles and automated warehouse technologies.
JD began developing its automatic delivery vehicles in 2016, aiming to employ unmanned delivery vehicles to conduct bulk deliveries to office buildings and residential areas in cities to boost delivery efficiency.
Each delivery vehicle is equipped with radar and sensors to help it to recognize traffic lights and surroundings. Consumers will receive a message when the robot is about to arrive, and are able to pick up their parcels using facial recognition tech, and by inputting a code, or using a mobile phone app.
The company also used unmanned aerial vehicles, which are better known as drones, to deliver packages in Xi'an, capital of Northwest China's Shaanxi province, during the June 18 shopping festival in 2017.
It also planned to build 150 operational sites for drone deliveries to Sichuan province, using robots and automated cars to speed up the process.
Moreover, the newly unveiled 5G-powered smart logistics park is an important development in JD's strategy to utilize 5G networks in the application of industrial internet of things, or IIoT, technology across the company's supply chain operations.
"The launch of JD's 5G-powered smart logistics park in Beijing - the first of its kind - is an exciting step in the realization of the IIoT at scale," said Zhe Wenming, chief architect of logistics R&D, and head of 5G-powered smart logistics park projects at JD Logistics.
Its major rival, Cainiao Network Technology, the logistics affiliate of Alibaba Group Holding Ltd, announced in January that it launched China's first internet of things robot distribution center in Nanjing, capital of East China's Jiangsu province.
The center, underpinned by IoT, realizes the whole process control, intelligent recognition and rapid distribution of large parcels by applying the computer vision and robot scheduling technology. The logistics efficiency could be enhanced by 1.6 times compared with traditional manpower.