Jimmy Carter recovering after surgery to relieve brain bleed
By ZHAO HUANXIN in Washington | China Daily Global | Updated: 2019-11-14 02:36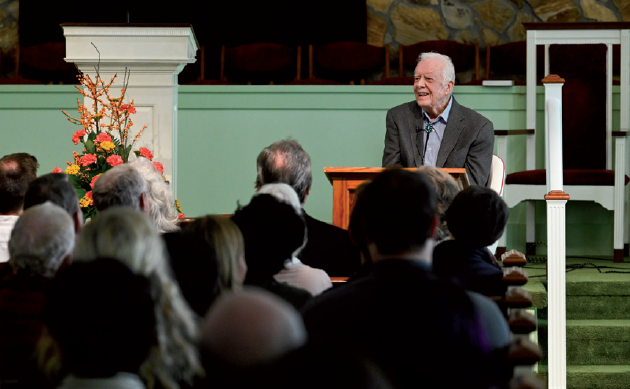 Jimmy Carter, the US' oldest living former president at age 95, was recovering Tuesday from surgery to relieve pressure from brain bleeding caused by several recent falls, the Carter Center said in a statement.
"There are no complications from the surgery," said Deanna Congileo, a spokesperson at the Carter Center. "President Carter will remain in the hospital as long as advisable for observation. We do not anticipate any further statements until he is released from the hospital."
Carter, the 39th US president, who served between 1977 and 1981, was admitted to Emory University Hospital in Atlanta on Monday evening for a procedure to relieve pressure on his brain from a subdural hematoma, or blood on the brain surface.
News about Carter's health has sparked an outpouring of wishes from people in the US and beyond.
Barbara Malmet, an artist in New York, said on Twitter on Tuesday, "I will keep sending prayers up for President Carter. He has been through so much. May his healing be without incident. Our country is a better place for having him with us."
His health also has made headlines in China, where people remember him as the president who normalized diplomatic relations between the United States and the People's Republic of China in 1979.
"I wish the senior man recover very soon," Beijingfangcun, a user of Weibo, a popular Chinese microblogging website, posted about Carter's surgery.
Congileo said the Carters thank everyone for the many well-wishes they have received.
Carter's first fall this year was in early May, when he broke his hip at his home in Plains, Georgia. That injury and the ensuing surgery prevented him from attending a ceremony the following month at the Carter Center, where the George H.W. Bush Foundation for US-China Relations presented him a statesmanship award.
The award was in recognition of his "monumental and enduring contributions" to the advancement of US-China relations.
Then early last month, he hit his head falling again at home and received 14 stitches above his brow, but still went to attend an opening ceremony for a Habitat for Humanity project in Nashville, Tennessee.
About half a month later, he received treatment for a minor pelvic fracture from another fall at home.
Carter and his wife Rosalynn Carter volunteer one week a year for Habitat for Humanity, a nonprofit organization that helps needy people in the United States and in other countries renovate and build homes for themselves, according to the Carter Center.
Despite his age and frail health, Carter teaches Sunday school at Maranatha Baptist Church in his hometown. His scheduled appearance at the church on Nov 17 was canceled due to his surgery, the church said in a post on its Facebook page on Monday.
The 2002 Nobel Peace Prize laureate marked his 95th birthday on Oct 1, becoming the first US president to reach that milestone. By coincidence, Oct 1 is China's National Day.
"I share the same birthday with your great nation, though I am 25 years older," Carter said in his congratulations to Chinese President Xi Jinping on the eve of China's National Day.
Carter said that he had witnessed how the Chinese people suffered during much of the early 20th century and how China's transformation into the world's second-largest economy lifted hundreds of millions out of poverty in the last four decades, according to a Xinhua News Agency report.
Contact the writer at huanxinzhao@chinadailyusa.com