Suning Art Museum presents modern take on ink painting
By Zhang Kun | China Daily | Updated: 2019-11-15 07:52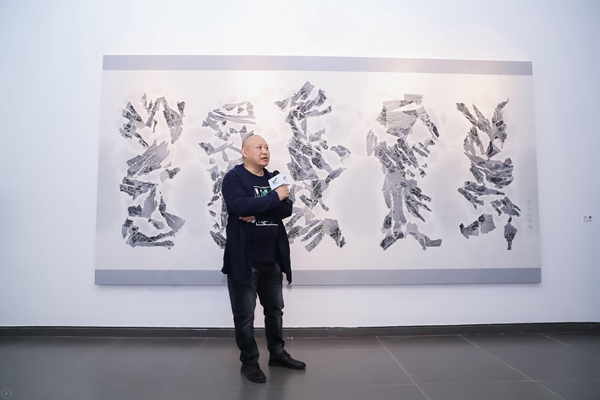 Paintings, sculptures, videos and artworks generated via artificial intelligence are on show at the Inquiry on Water exhibition which is taking place at the Suning Art Museum in Shanghai through Jan 31.
The works being showcased were created by 11 Chinese artists who live in China and abroad, such as Hsiao Chin, Liu Kuo-sung, Wang Jieyin and Victor Wong.
Calvin Hui, curator of the exhibition and co-founder of the 3812 Gallery in Hong Kong and London of Britain, says the exhibition was held to explore the discussions about ink art over the past 30 years. He notes that while some have claimed that traditional painting is dead, others have analyzed the use of ink as a medium and created new terms for it, which include experimental ink, conceptual ink and even tech-ink.
"These perspectives and attitudes have sprung from the aspiration to set ink art apart from traditional Chinese painting, redefine its cultural identity and find its own voice in the contemporary world," he says.
Ink art is an important part of traditional Chinese art and philosophy. While addressing its origins and deep roots in Chinese culture, the exhibition hopes to feature contemporary expressions where ink is a media, style or spiritual pursuit, says Hui.
One of the artists featured in the exhibition is Li Lei, the former executive director of the China Art Museum in Shanghai, who is also a sculptor and painter.
"When you place a classical Chinese calligraphy long scroll beside his painting, you will find the consistency and resonance in the rhythm, flow, vitality and aesthetic pursuit," Hui says.
Li was one of the first artists in China to create abstract art in the 1980s when modern art was first introduced to the country, says Gong Yunbiao, a veteran critic based in Shanghai.
"Unlike their Western counterparts, almost all the abstract artists in China used to make figurative or representative works," Gong says, adding that by taking the abstract route, these artists changed not only their vocabulary and expression, but also their ideas and perception for art.
In Li's creation, he presents the lyrical ambiguity, poetry and mysteriousness in his oil paintings. "They not only grew from the origin of Chinese ink art, but also from the urban cultural context of Shanghai," Gong says.
Also on exhibition is Victor Wong, a Hong Kong artist working with animation and new technology. He created an animated short film based on an ink painting from the collection of the Suning Art Museum. As a leading e-commerce group in China, Suning owns a cultural subsidiary dedicated to the collection of fine Chinese art. According to Ma Lili, vice-president of Suning Cultural Industry Co, the Suning Art Museum has a collection comprising nearly 3,000 pieces of art.
Wong borrowed the imagery from a scroll painting by Chen Rong, which dates back to the 13th century, and brings to life the picture of dragons painted with ink chasing a pearl among the clouds.
A pioneer in experimental art, Wong has been exploring painting with AI by programming a robotic arm equipped with an ink brush to paint works that are very different.