Economy continues to stay on sound footing in October
By Xin Zhiming and Jiang Xueqing | China Daily | Updated: 2019-11-15 09:06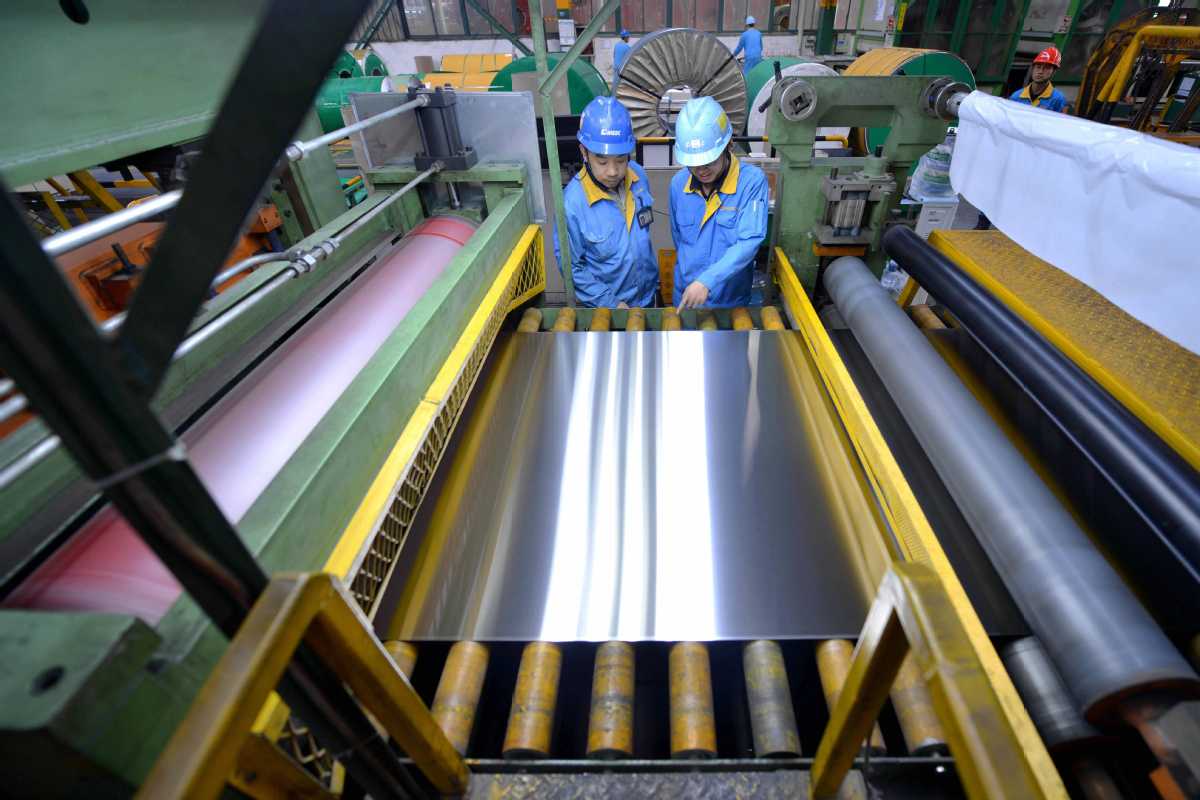 Industrial output rose 5.6 percent year-on-year, same as Jan-Sept period
China's economic growth remained "largely stable" in October, although downside pressure has continued to grow, the National Bureau of Statistics said on Thursday.
Production index measuring the services sector came in at 7 percent in October, unchanged from the first nine months, the NBS said at a news briefing.
Industrial output rose by 5.6 percent year-on-year, the same as in the January-September period. But in October alone, the indicator weakened to 4.7 percent from 5.8 percent in September.
Retail sales grew by 7.2 percent in October, down from 7.8 percent in the previous month.
Fixed-asset investment in the first 10 months rose by 5.2 percent, down by 0.2 percentage point from the January-September period.
Fixed-asset investment in high-tech industries expanded by 14.2 percent in the first 10 months, much higher than overall investment growth, the NBS said.
The job market remained sound, with new jobs in urban areas reaching 11.93 million in the first 10 months, already more than the whole-year target of new jobs set early this year. In October, unemployment rate dropped to 5.1 percent from 5.2 percent in September.
Despite the overall weakening of the national economy, there are some positive signs, such as investment in the manufacturing sector, which increased by 2.6 percent year-on-year in the first 10 months, up by 0.1 percentage point from the January-September period.
Auto manufacturing increased by 4.9 percent year-on-year in October, compared with 0.5 percent for September. High-tech manufacturing enterprises saw output grow by 8.3 percent year-on-year.
"Currently, the growth of world economy is slowing and (we are facing) many external uncertainties," said Liu Aihua, spokeswoman of the NBS. "Domestically, (we face) the combination of cyclical and structural contradictions and downside growth pressure has continually intensified," she said.
"The country should carry out policies to increase economic resilience and meet whole-year economic growth targets," she added.
As the country faces increasing downside growth pressure, the job market may come under heavier pressure in the fourth quarter and policymakers may start to make the macroeconomic policies more pro-active, said Wang Yupeng, chief macroeconomics analyst at Dongxing Securities.
"Hopefully, there would be a slew of counter-cyclical measures coming out," he said.
Among such measures, the country may allow higher fiscal deficit level to provide funds to finance infrastructure construction; policies may also come out to encourage investment in manufacturing and purchase of cars and household electrical appliances, he said.
Monetary loosening may also be in the pipeline, he said.
"In order to maintain a GDP growth of 6 percent (the country's target for this year), China should readjust its policies to cut excess capacity, destock and deleverage and make them more flexible. These policies have been implemented for several years and the situation has already changed greatly," said Zhou Jingtong, a senior economist from the Research Institute of Bank of China.
He also advised policymakers to reassess and adequately strengthen the monetary policy by taking actions such as acceleration of money supply.