Bringing Chinese innovation to global stage
By Zhou Wenting in Shanghai | China Daily | Updated: 2019-11-15 09:31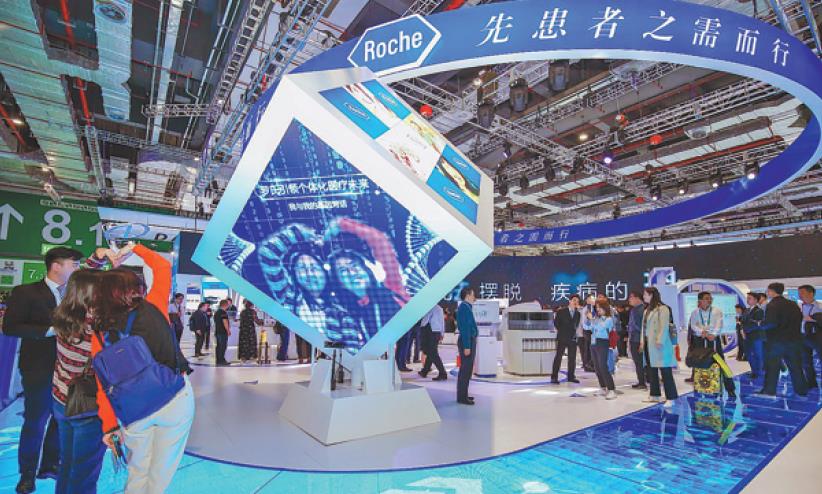 Roche aiming to develop medicines 'in China for China and the world'
Swiss pharmaceutical giant Roche Group - which established the first foreign-funded research and development center in Shanghai in 2004 and was the first multinational enterprise in Shanghai Zhangjiang Hi-Tech Park in 1994 - announced the completion of a new innovation center in the city on Oct 21.
Representing an investment of 863 million yuan ($122 million), the innovation center focuses on research and early development of innovative drugs for immunology, inflammation and infectious diseases, and will further bring China's R&D to the world stage by developing innovative drugs to meet patients' unmet needs.
In an interview with China Daily, Severin Schwan, CEO of Roche Group, said that as always, China plays a vital role in Roche's global strategy, and with this center, it is committed to making Shanghai the third strategic global center of Roche following Basel, Switzerland, and San Francisco, the United States.
The new center will further fuel the R&D segment in the company's entire pharmaceutical value chain, spanning early-stage R&D, manufacturing, and commercialization of novel medicines in China, currently the world's second-largest market for diagnostics and pharmaceuticals, aiming to develop medicines "in China for China and the world".
How will the new innovation center be different from the one established in 2004? What born-in-Shanghai results may be expected?
It's a continuation and evolution of what has been ongoing in the former R&D center. The innovation center now has 150 scientists working on drug discovery and early clinical development of new drugs.
The center has a particular vision to discover and develop a cure for hepatitis B as the virus is endemic in China and primary liver cancer caused by HBV has high incidence and mortality rates.
At present, the center has started phase I clinical trials for four hepatitis B molecules of different mechanisms, together with several new mechanism projects in the preclinical stage of research. We sincerely hope that medicines in this aspect will make their world debut in China.
Another key area will be autoimmune diseases and inflammation, especially ulcerative colitis, Crohn's disease, chronic lung obstruction and severe asthma, and we hope to discover new targets and research directions.
We'll also have functions in personalized healthcare, big data and artificial intelligence that will build collaborations with local hospitals and universities to explore new research orientations based on data analysis.
As of September, the Shanghai center had filed 223 patent applications, including those involving seven molecules that have entered the clinical development stage in China and overseas.
In the past, the way it worked was that medicines were discovered in the US and Europe and then brought into China. Now with talents returning to China and new talents growing in the country, I'm convinced that we will see a rising number of medicines discovered and developed in China.
Like Chinese having benefitted from medicines discovered outside of China, not only the Chinese population will benefit from medicines discovered in China but all patients around the world in the future.
Roche has seen strong performance this year and it is the third year in succession that the company has lifted its outlook for growth. What factors contributed to such robust growth?
We only work in innovative medicines. So whenever a generic medicine comes in after our patent expires, our sales in that particular drug decline. But the success we have is because we continuously launch new medicines. That's what innovation is about.
This year, we brought a number of important medicines to the market, including those in the areas of hemophilia and cancer.
In China, we witnessed high growth this year as well particularly because the market space for target therapy is still vast in relation to cancer as many patients still resort to traditional chemotherapy.
Also, China is shifting from basic healthcare to innovative healthcare. There are many patients out there in need of better innovative medicines and we're speeding up bringing our medicines to the country.
China has developed rapidly over the past few decades and has become the second-largest pharmaceutical market in the world. How do you evaluate the development, especially in healthcare, and what is the impact of such development on multinational pharmaceutical companies?
This year marks the 10th year of China's new round of healthcare reform, where China shifted its investment in building a basic healthcare infrastructure to having more sophisticated and innovative therapies available to citizens.
One reason behind this is the accelerated review and approval for innovative drugs, which has made it possible for us to bring four of our innovative drugs to China over the past two years.
And the other is the higher affordability of medicines, which is about pricing and reimbursement. And again, there has been a big jump forward. We are working together with the government to make medicines more affordable and the government is also cofinancing those medicines. As a result, we can see more innovative medicines available to a broader population.
It's also exciting to see that not only foreign companies are bringing innovative medicines from outside, but also the domestic ones are investing in innovative medicines. And for us, this is win-win as we can work together with those companies and forge partnerships with local universities and research institutions.
Over the past decade, you've continuously provided insights for Shanghai's development through the annual International Business Leaders' Advisory Council. What was your topic this year?
Looking back at the past 10 years as a member of IBLAC, I've always been outspoken about opportunities in Shanghai as an innovation center, and that explains why we were the first to invest here in research.
This year, I was talking a lot about the opportunities we have with healthcare data. I think China has an enormous opportunity in this respect to combine the capabilities in life science, biology and chemistry with data management and digitalization. That is extremely powerful and China has the potential to lead the innovation, and Shanghai in particular will become the place where the magic can happen.
Healthcare data is important. Now often we see patients respond to the same medicine quite differently. If we obtain a large amount of healthcare data on diagnosis, treatment and responses, we will gain a better understanding of the reasons for patients' responses.
Such data will help us develop more precise medicines so every patient gets the right medicine at the right time.
Do you remember your first business trips to Shanghai and China? And how would you describe today's Shanghai?
Roche was the first multinational company to invest here in Zhangjiang, and there was nothing around here other than uncultivated land. Today, it has changed dramatically.
It's fantastic to see how China has progressed rapidly over the years. This year marks the 70th anniversary of the founding of the People's Republic of China. Let's just take the life expectancy in Shanghai as an example. It has doubled from 40 plus to over 80 years. The progress that has happened in healthcare is absolutely incredible.
It's really amazing and we are proud to be a part of that. I'm impressed by how China has developed in such a short period of time - no other country has developed at such an amazing speed.
Shanghai's ecosystem is taking shape, an essential for a city to become a world-class vibrant healthcare hub. Such an ecosystem consists of strong universities, academic institutions, big international players and biotech companies.
Roche fully recognizes Shanghai's immense potential to become a powerhouse of innovative healthcare solutions. Shanghai carries innovation in its genes and it's well connected to the world to ensure it continues to be cutting edge.
Innovation is a lot about talent, and Shanghai is a center and platform that can attract the best talent from the world. There will be talent coming from different parts of the world and a lot from China. At the end of the day that makes the difference.