Hello, new Moto Razr that folds and flips
By CHANG JUN in Los Angeles | China Daily Global | Updated: 2019-11-16 05:52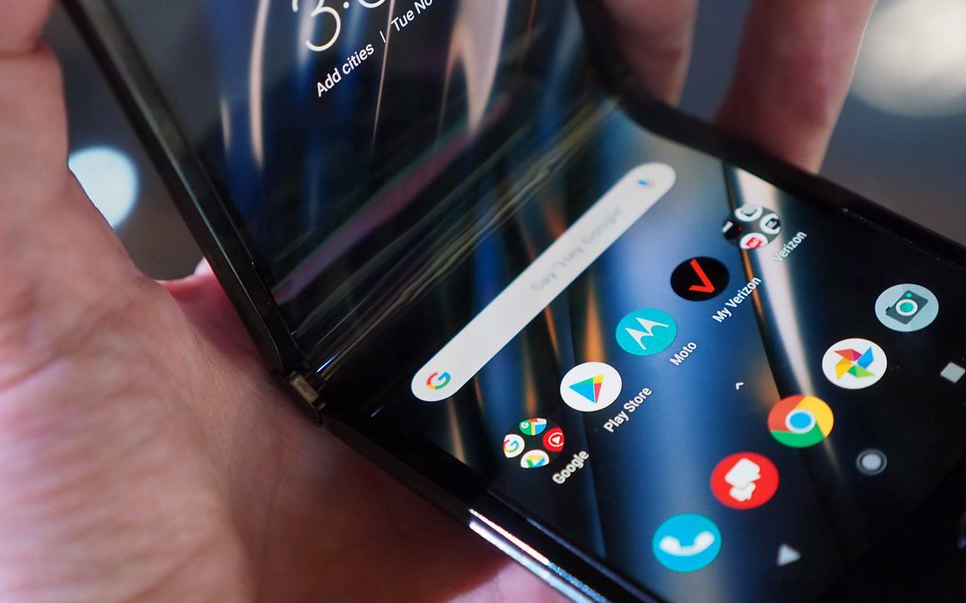 It folds, it flips and it's pocketable, a new Razr smartphone that Motorola management calls "an icon reinvented".
The phone, unveiled Tuesday, is the result of a collaboration between Motorola and Lenovo Group, its parent company.
The clamshell-style was designed and engineered to cater to the needs of those "status shoppers", according to Rudinei Kalil, vice-president and general manager at North America Lenovo Mobile Business and Motorola.
Motorola Razr, which was a household name in the mid-2000s, was well-known for its popular flip phones. A long-anticipated product that was supposed to launch in the summer, work on the new Razr actually started in 2011.
"Being that flexible needs a completely new technology. It requires thorough and extensive product development and consumer testing," Kalil explained.
Priced at about $1,500 with a main 16-megapixel camera and a Snapdragon 700 series processor, Razr targets clients who used to own, or dreamed of owning, the original Razr V3, said Motorola. "We know there is a trend of consumers buying items that are nostalgic or from different decades, and we think this subset will be especially interested in the product."
Beijing-based Lenovo bought Motorola Mobility in October 2014. In November 2016, Lenovo announced that it would discontinue its existing, self-branded smartphone lines to highlight Motorola-branded devices instead.
On Nov 7, Lenovo Group disclosed in its second-quarter earnings report that its mobile business group had posted its fourth consecutive quarter of profitability and positive pre-tax income, which improved $57 million year-on-year.
Unlike Samsung's Galaxy Fold and Huawei's Mate X that will offer 5G variants, Motorola said it will focus on perfecting the complexities that come with the foldable design. However, "5G integration is high on our list of priorities."
Although the Chinese mainland was not on Razr's Asian market list yet, Kalil said Motorola has noticed the "possiblities there", given the brisk business that Samsung Galaxy Fold has had in China.
"We followed the news that their (Samsung) smartphones were sold out" at Alibaba's 11.11 Global Shopping Festival, which hit a record $38 billion in transactions this year.
The Motorola team worked closely with bendable displays and hinge designs with Lenovo since 2015, said the US management, adding that the collaboration was focused on multiple-concept testing until both sides agreed on the clamshell design.
"We are always looking for ways to work together with Lenovo, and the creation of the new Razr was no exception," said Motorola, adding that resources from both teams, including the Lenovo Yoga laptop engineer team, have made the new Razr a reality.
The hinge, Motorola's patented design, will be hidden behind the display when the smartphone is folded in half. It also allows both sides of the phone to fold flush with no gap, said Paul Pierce, one of the phone's designers.
After testing more than 20 prototypes and running consumer research trial groups, the research team at Motorola produced Razr, which provides consumers portability without compromising the big-screen experience.
Razr employs stainless steel and 3D Gorilla Glass in its external 2.7-inch interactive Quick View display, which enables users to make calls, reply to messages, pay with a tap, control music and take selfies.
The 6.2-inch Flex View display, with 21:9 aspect ratio, aims to offer compact, immersive experience on an OLED display.