HK campus turmoil hits exchange students
By Zhang Yunbi in London | China Daily Global | Updated: 2019-11-18 09:05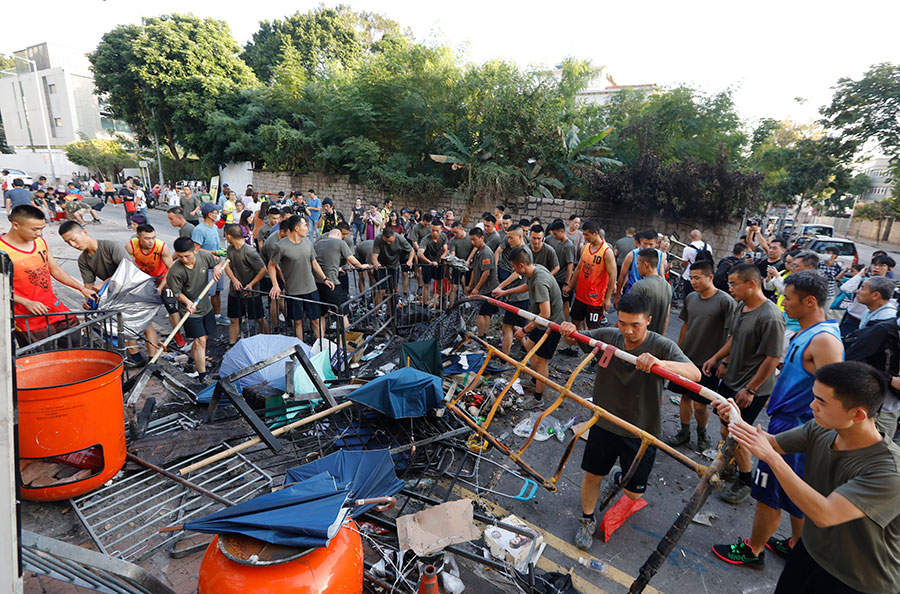 A growing number of universities, government agencies and media from countries including the United Kingdom have realized the severity of rampant violence and rioting in Hong Kong, particularly within and around campuses over the past week.
Many of them have spoken or written to UK citizens to urge them to stay out of danger amid the spiralling chaos in the Asian financial hub.
Several major universities in Hong Kong suspended or ended classes early in the past week after radical young protesters occupied campuses, blocked main roads and clashed with the police.
An officer of the Force Media Liaison Cadre was injured after being shot in the leg by an arrow fired by rioters near Hong Kong Polytechnic University on Sunday, the city's police said.
On Saturday, the Chinese University of Hong Kong, one of the special administrative region's leading colleges, said in a statement that it has "started to inspect the campus, conduct risk assessment and clear barricades at the main entrances and roads".
Many staff members, students and alumni "have expressed their willingness to support the University by volunteering to help with campus clean-ups and repairs", it said.
However, it urged all members not to return to campus until the emergency clean-ups and safety assessment are completed "due to current limited road access and safety concern on campus".
The University of Warwick in the UK "has called back all exchange students at Hong Kong universities to leave the city for their 'personal safety'," university student newspaper The Boar reported on Thursday.
Students have been advised to leave as soon as possible and the university will reimburse their travel costs, the report said.
British public service broadcaster BBC said on Friday that the University of Glasgow, University of Strathclyde, University of Edinburgh, University of Stirling, University of Dundee and Queen Margaret University are "recalling a total of 56 students".
The Canadian Broadcasting Corporation reported on Friday that the University of British Columbia has tried to reach 32 of its students who are on exchange in Hong Kong and advised them to leave.
"UBC is working closely to support students who have decided to leave Hong Kong by connecting them to the appropriate academic and student services resources to ensure a smooth transition," Canadian media quoted Murali Chandrashekaran, a vice-provost with UBC, as saying in a statement.
Belgian's Catholic University of Leuven has called on 17 exchange students studying in Hong Kong to return at an early date, The Brussels Times newspaper reported on Thursday, quoting the university's spokesperson Sigrid Somers as saying that, "Once they are back in Leuven, we will also help with the further course of their studies and exams".
A foreign travel advice updated by the UK Foreign and Commonwealth Office on Wednesday said those studying at universities where protests are taking place should avoid areas where protesters are gathered, "take extra care when moving around the campus and follow the advice of the authorities".
"The situation around protests and public gatherings can change quickly, with the potential for violence, especially during unauthorised protests," it said.
Jamil Anderlini, Asia editor with the Financial Times, wrote in an article published on Thursday that the violent student protesters' "despicable behaviour seriously undermines the demonstrators' cause", and such behavior "has been undercovered in the international media".
Dan Cohen, a US-based journalist and writer, said in a tweet on Thursday that, "Anti-China student groups in Hong Kong convert universities into fortified weapons factories for attacking police."
"Imagine how the US government would react if a violent anti-government movement fortified itself inside a building to manufacture weapons for attacking police. No doubt - it would be a bloody massacre," Cohen added in a comment to his tweet.