Rioters lose support as violence escalates
By Zhang Zhouxiang | China Daily Global | Updated: 2019-11-18 09:06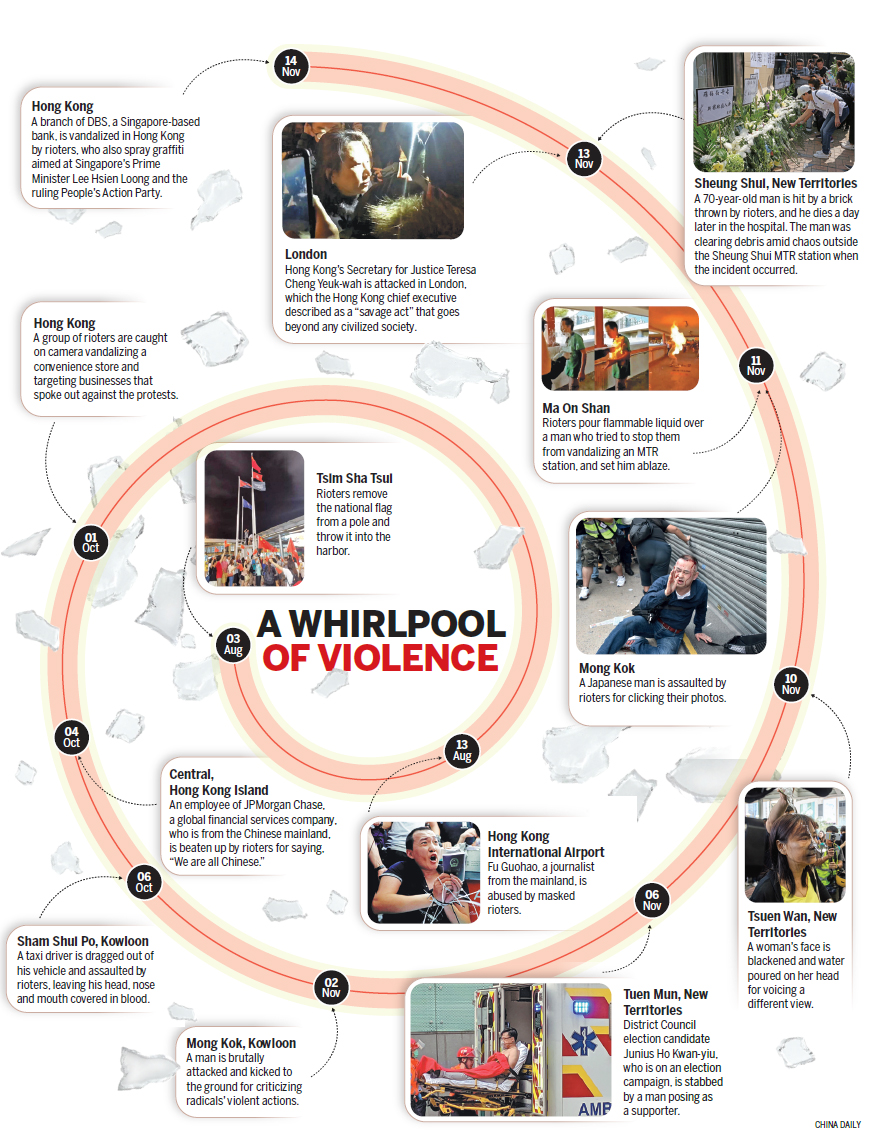 "Should you kill anybody - an innocent passer-by or a policeman - your movement will end ... Your international support will evaporate," journalist Tim Sebastian from DW.com, a German state-owned public broadcaster, warned Joey Siu, an activist from Hong Kong, during an interview in Berlin. The video of the interview went viral on micro-blogging platforms on Wednesday.
The people living in Hong Kong, including locals and foreigners, are furious.
On Nov 13, a video clip circulated widely showed residents confronting a man wearing a mask that covered 80 percent of his face. "People die because of you. Do you think you can lynch anybody," they shouted. "The future does not lie with you."
Unlike his fellow rioters who attacked people with different views, the man, who found himself outnumbered, seemed to have lacked the courage to argue with them.
Some of the protesters too seem to be changing their minds. In an anonymous video interview, a young woman said she would cut off all ties with the rioters because of the violent form the protest had taken on.
Since the violence escalated, rioters have beaten up those with a different opinion, paralyzed traffic and forced people to "strike", the reason why the young woman is said to be disgusted with them.
"The rioters have crossed the limits of what constitutes humanity. I really cannot agree with them anymore. This is inhuman," she said. "People, especially the young, should not get so easily incited, brainwashed or exploited."
All evidence suggests that the public, media and some insiders know the motive of the rioters - to engage in violence without any constructive outcome.
By resorting to violence against innocent people, they hope to compel the Hong Kong government to accede to their illegal demands.
The terms that the rioters have been using, such as "democracy" and "liberty", are fast losing their appeal. They talk about democracy but when someone voices a different view, they pour flammable liquid on him and set him ablaze; they argue about liberty, but block roads and surround the airport, curbing the freedom of people to travel and commute.
The days of rioting are numbered. Before the turmoil ends, the rioters might indulge in more of such acts. The public must be prepared for it.
Zhang Ruoqiong contributed to this story.
The author is a writer at China Daily.