Labour manifesto promises record investment
By JONATHAN POWELL | China Daily Global | Updated: 2019-11-22 09:24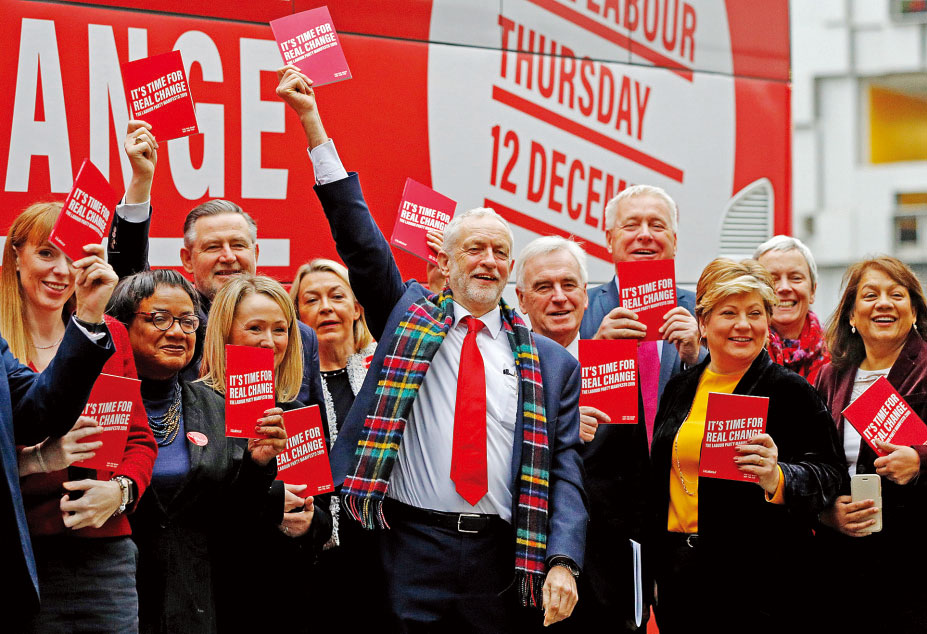 Britain's Labour Party has described its manifesto for the general election as "the most radical and ambitious plan to transform the country in decades".
The manifesto, published online, includes plans to bring rail, mail, water and energy into public ownership, promises to expand entitlement to free public transport and announces that university tuition fees would be abolished.
Speaking in Birmingham on Thursday, leader Jeremy Corbyn promised to transform the United Kingdom into a low-carbon, green economy with proposals for a windfall tax on oil companies, policies to tackle climate change and a pledge to expand social and affordable housing.
It includes a pledge for more cash for the NHS if the party wins the Dec 12 general election, paid for by taxing higher earners and borrowing.
Labour promises the biggest affordable house building in decades-including 100,000 new council houses a year by 2024, and a "real living wage" of at least 10 pounds ($13) an hour-including for younger workers.
Corbyn is promising to set up a 250 billion pound Green Transformation Fund to fund 300,000 new "green apprenticeships" and loans for people to buy electric cars.
The party is backing another referendum on European Union membership and says if Remain wins, "this must not mean accepting the status quo".
It says: "Labour will work with partners across Europe to make the case for radical reform of the EU-in particular to ensure that its collective strength is focused on tackling the climate emergency, tax evasion and ending austerity and inequality."
It adds: "If people decide to leave, a Labour government will work constructively with the EU on vital issues of mutual interest and to the mutual benefit of the UK and EU. But we will leave the EU."
The Conservatives have accused Corbyn of trying to distract voters from his party's "failing campaign". Health Secretary Matt Hancock said: "Corbyn in Downing Street would mean wasting the whole of next year on two chaotic referendums and leaving our economy staring down the barrel of bankruptcy."
On Wednesday, Britain's Liberal Democrats revealed their manifesto that promises to recruit 20,000 more teachers in England and spend billions more on schools if they are elected to government.
The party says it will reverse school cuts with an "emergency cash injection" of 4.6 billion pounds next year. The extra funding would rise to 10.6 billion pounds by 2024-25 compared to 2019-20, under their plan.
Leader Jo Swinson, said: "This manifesto is a bold plan to build a brighter future for our country, and that starts with stopping Brexit.
"Labour and the Conservatives can't offer the country a brighter future because they both want Brexit.
"We know that will be bad for our economy, bad for our NHS and bad for our environment.
"Liberal Democrats will stop Brexit and invest in our mental health services, give free childcare to working parents, put 20,000 more teachers into classrooms and take ambitious action to tackle the climate emergency."
"Our politics has been dominated by the two, tired old parties for too long.
"This election provides an opportunity to change the future of our country and build a brighter future with the Liberal Democrats."