FC Barcelona teams up with Chinese firms
By Fan Feifei | China Daily | Updated: 2019-11-27 09:32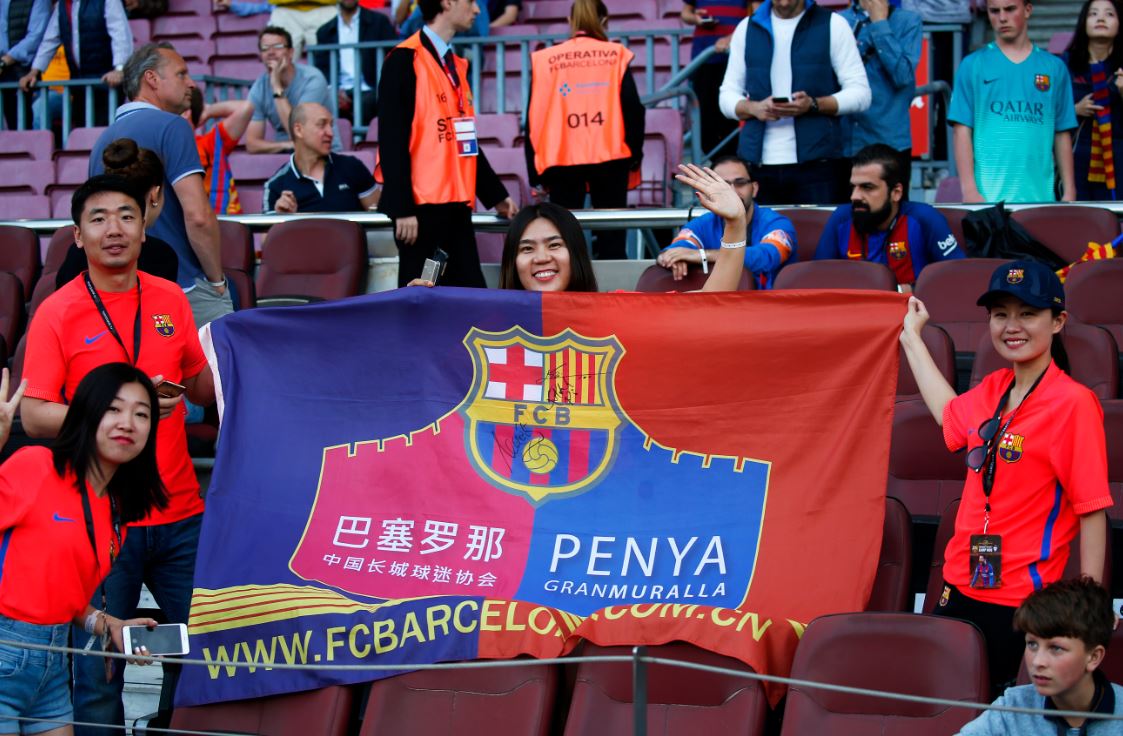 Spanish soccer club plans to grow partnerships, engage with fans, generate further revenue streams through expansion
Spanish professional soccer club FC Barcelona, known as Barca, places a huge strategic importance on China as it presents a huge opportunity to drive engagement with new and existing fans.
Josep Maria Bartomeu i Floreta, president of FC Barcelona, said the Chinese market, which is home to 47 million Barca fans, represents 16 percent of the club's fans globally. He sees huge potential from business-to-consumer business, and China is a key part of that.
The club has accelerated steps to expand its presence in China, and a key part of its China strategy is the development of youth soccer. Across China, FC Barcelona coaches have trained more than 15,000 children in academies, camps and programs to date. Moreover, in 2018, the club opened the Barca Experience Haikou, the first ever museum outside of Spain.
It now has six commercial partners in China. FC Barcelona and Chinese smartphone maker Oppo renewed a partnership agreement for the next three seasons in July. They will be working together in different areas, such as digital branded content, to raise engagement among fans and TV advertising.
In an exclusive interview with China Daily, Bartomeu talked about the club's investments and expansion plans in China, and his vision for Chinese soccer fans and the soccer industry.
What is FC Barcelona's development plan in China? What kind of strategy will be adopted?
China is huge and extremely important to us for one simple reason, that is, our fans are here, and we believe that we have a fan potential of 47 million in China - people who are interested in FC Barcelona - and it's growing every day. This presents a huge opportunity for us to grow awareness and understanding of our club, engage with our fans every day and generate additional revenue streams that contribute to the bottom line of the club.
Arguably most importantly, the purpose of our brand is to transform the world through sporting excellence. Although we are a local club from Barcelona, we know that we have a responsibility globally to help society through sport. That's why we have five FC Barcelona Academies in China, where we teach sport through the club's values and using our unique methodologies. That's also why we have partnerships through our foundation which aims to support children and young people through sports and education, for the purpose of contributing to a more inclusive society.
What is the role of the Chinese market in FC Barcelona's global business layout?
We've recently released our revenue for the 2018-19 season, which was 990 million euros ($1.09 billion), our highest revenue ever in a season. The season before, we were the first sports club to surpass one billion dollars in revenue to become the highest earning sports club in the world. China is already contributing to that and we want to continue that.
We will continue to develop our business-to-business model here - we have strong partners in Asia, where the relationship is mutually beneficial. Simply, they allow us to reach more of our fans and they are able to leverage the power of Barca to tell their own brand story and engage with customers. Our partners in Asia already account for about 40 percent of our partnership revenue globally - from 15 partners including our main shirt sponsor, Rakuten. We are growing year-on-year and we want to contribute even more to global revenue for the club. However, whilst we have a strong B2B business here in Asia, we see the real potential being B2C and China is a key part of that.
Which companies or sponsors does FC Barcelona currently cooperate with in China? Will you increase your investment in China's sports or soccer industry in the future?
We have important partners in China, including big brands like Oppo, Shanghai Pudong Development Bank, Yunnan Baiyao and Mission Hills Group. They are invaluable in giving us local expertise and knowledge and we want to continue to grow partnerships in China. The way that we interact with these partners is key - everything from digital content, to the launch of products and soccer camps for Chinese children. Not only can we tell our brand story, but we can help Chinese companies tell their stories too.
The club has invested in China, with an office in Hong Kong and a joint venture with Mission Hills Group in Haikou, Hainan. It was the first FC Barcelona experience outside of Spain - a museum and a retail store. Soccer is such a huge sport in China and there is commitment from the government to grow it further. We'll continue to work with fans, government and brands in China to identify opportunities to invest more.