China's foreign assistance: a crucial aspect
By Mohamad Zreik | chinadaily.com.cn | Updated: 2019-11-28 09:23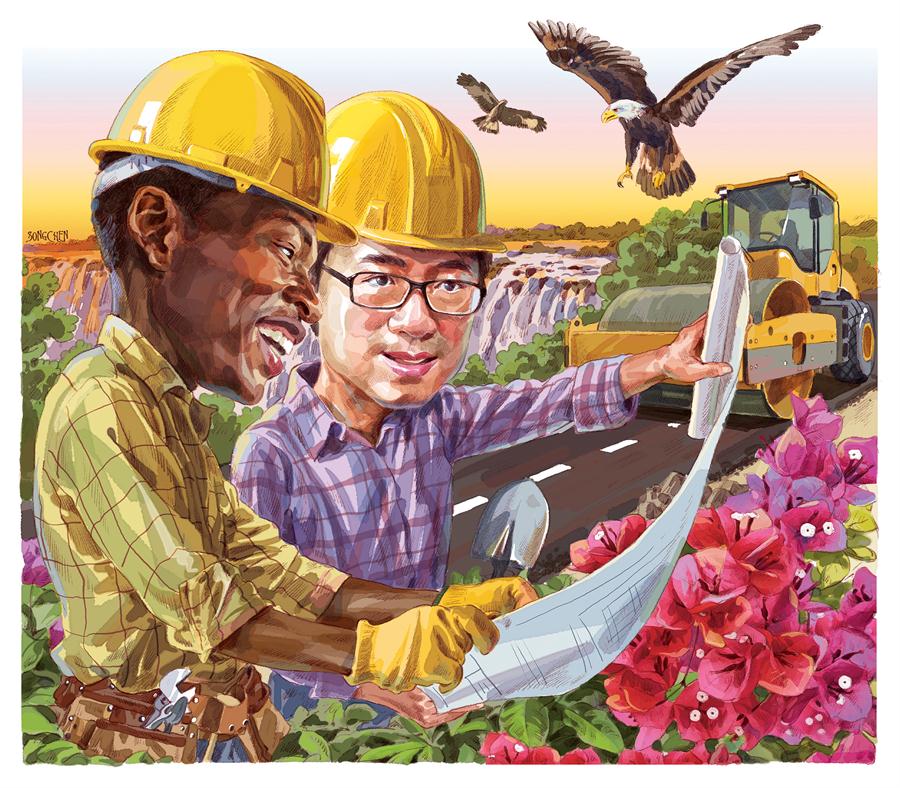 China's role in international politics is growing. The most important reason is China's increasing economic power. In a short period of time, China has been able to reduce poverty and make its economy one of the most important in the world. Through the Belt and Road Initiative, China seeks to connect the world and become a center of international trade. China's opening-up is accompanied by specific economic policies toward its partner countries.
China's opening-up policy is attracting many politicians, economists and analysts. Every superpower supports its allies financially and politically, as does China. There is a part of China's foreign policy related to foreign aid and support to allied countries.
China provides grants and interest-free loans (managed by the Ministry of Commerce) and concessional loans (by China EximBank). The principal forms of Chinese foreign aid are: complete projects; goods and materials; technical cooperation and human resources development cooperation; medical teams and volunteers; emergency humanitarian aid; and debt relief (for interest free loans). China makes multilateral contributions to the World Bank, IMF and UN agencies. When China provides aid, it is generally a government-to-government relationship.
China's opening-up policy has been accompanied by a lot of international cooperation through cross-border projects and plans. China is currently one of the first 10 donors to provide material assistance; China's economic policy in Africa, for example. The John Hopkins School of Advanced International Studies (SAIS) China Africa Research Initiative (CARI) finds that from 2000 to 2015, the Chinese government, banks and contractors extended $94.4 billion worth of commercial and concessional loans to African governments and state-owned enterprises.
China's foreign policy is mainly based on the economy. A strong Chinese economy has allowed China to be a major power in many parts of the world. In addition to economic support, China also contributes to other countries in the world, since 2000 China has been one of the top five largest humanitarian aid providers among non-DAC countries. China has also played an important role in overseas health assistance for decades and is starting to become a major global player in this sector. China is seeking to create a new world order through many projects and initiatives such as the Belt and Road and AIIB.
The Chinese foreign aid concept differs from the common one. Definition of Organization for Economic Co-operation and Development for foreign aid is "those flows to countries and territories on the DAC List of ODA Recipients and to multilateral institutions which are: i. provided by official agencies, including state and local governments, or by their executive agencies; and ii. each transaction of which: a) is administered with the promotion of the economic development and welfare of developing countries as its main objective; and b) is concessional in character and conveys a grant element of at least 25 per cent (calculated at a rate of discount of 10 per cent).
The two white papers on Chinese aid identify three different types of foreign assistance: grants, interest-free loans and concessional loans.
Nonreimbursable assistance is mainly used for the aid needs of aid recipients in terms of poverty reduction, livelihood, social welfare, public services and humanitarianism, among others. Interest-free loan is mainly used for the aid needs of aid recipients in terms of public infrastructure and industrial and agricultural production, among others. Concessional loan is mainly used for supporting production projects with economic benefits and large-scale infrastructure construction of, and providing a large quantity of mechanical and electrical products and complete equipment to, aid recipients.
The Ministry of Commerce manages foreign aid grants and zero‐interest loans while China EximBank provides the concessional loans. The Chinese government charges all grants and interest free loans to their external assistance budget, as well as their interest rate subsidy for the concessional loans from China EximBank.
The developing countries can benefit from Chinese support in a number of ways. Assistance does not necessarily have to be cash. China's 2014 White Paper stipulated that assistance could be provided through infrastructure projects, goods and materials; technical cooperation and human resources development cooperation; medical teams and volunteers; emergency humanitarian aid; and debt relief.
China also contributes financial assistance by participating in international organizations and funding projects that serve humanity in poor countries. A large part of China's aid is given directly to governments. Chinese NGOs are also doing a lot of work in many countries around the world. The Chinese openness policy adopted since 2000 has contributed to outward investment by Chinese companies, the promotion of trade and export of products, services and technologies, overseas exploitation of resources and infrastructure construction by Chinese enterprises.
Mohamad Zreik is a PhD candidate at the School of Politics and International Studies (SPIS), Central China Normal University, Wuhan, Hubei, China.
The opinions expressed here are those of the writer and do not necessarily represent the views of China Daily and China Daily website.