Tianjin LNG terminal expansion on track, says Sinopec
By Liu Zhihua | China Daily | Updated: 2019-12-03 09:16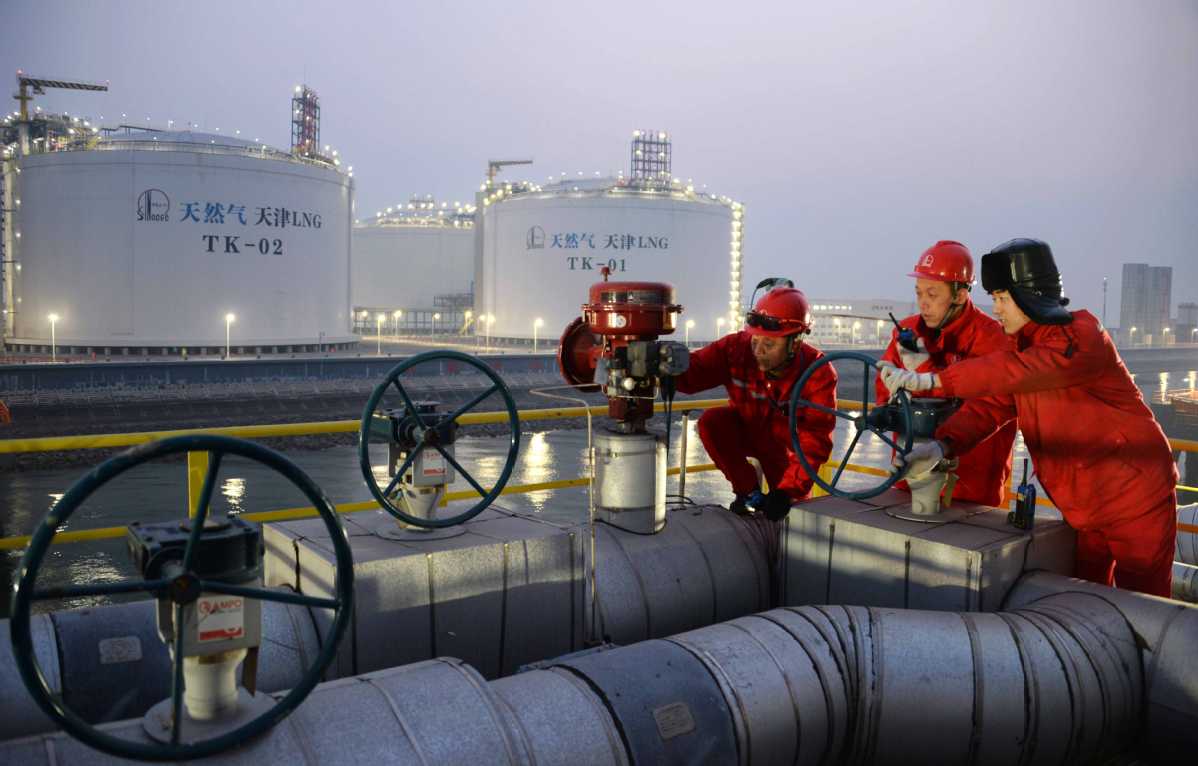 Oil and gas giant China Petrochemical Corp, or Sinopec, has completed the re-gasification capacity expansion work for the second-phase of its liquefied natural gas receiving terminal in Tianjin, marking a step closer in the completion of the country's largest-to-be LNG terminal.
Following the expansion, the LNG terminal's re-gasification capacity has increased to 45 million cubic meters daily, including the newly added daily capacity of 30 million cubic meters, which became operational on Saturday.
Following the re-gasification expansion project that was accomplished 10 days before schedule, the terminal will continue with construction of LNG storage tanks and docks.
Once finished, its annual receiving and supply capacity will be 10.8 million metric tons and 13.6 billion cubic meters respectively, making it the country's largest LNG terminal, according to the company.
Currently, Shenzhen in Guangdong province has the country's largest LNG terminal, with a designed capacity of 4 million metric tons a year, operated by China National Offshore Oil Corp, also known as CNOOC.
Experts said the terminal's progress has furthered LNG development in China and its role as an important part of the country's natural gas supply system.
"The expansion of Tianjin LNG terminal's re-gasification capacity will no doubt help secure gas supplies in the surrounding region that has a large appetite for the clean energy, and is also of importance on a national level," said Lin Boqiang, head of the China Institute for Studies in Energy Policy at Xiamen University.
Absence of a new national pipeline project, except the China-Russia east route natural gas pipeline, where gas started flowing on Monday, has made LNG increasingly important to meet China's fast-growing natural gas demand since 2017, although it is still second only to pipeline gas supplies due to higher costs, said Lin.
Driven by the country's commitment to environment protection, China registered fast growth in gas consumption and imports over recent years.
In 2018, China imported 54 million tons of LNG, accounting for about 60 percent of the total gas imports, data from the General Administration of Customs showed.
The China-Russia east-route natural gas pipeline Lin mentioned has a designed transmission capacity of 38 billion cubic meters, equivalent to about 13.6 percent of China's total gas consumption last year, according to data from the National Development and Reform Commission.
Li Li, energy research director at ICIS China, a firm providing analysis of China's energy market, said the Tianjin terminal project is vital to boost gas supplies in North China.
Whether North China is supplied with sufficient gas is a focus of national attention, because it tests the whole country's gas supply capability, she said.
The area needs a large amount of gas not only for residential heating purposes but also for industrial use, experts said, adding that the slow transition from coal to gas for heating in North China since 2018 makes it easier for the gas supply system to meet the demand.
Li also said it was important to have coordinated policies for environment protection and energy development to bolster gas supplies.