France honors 13 soldiers killed in Mali
Xinhua | Updated: 2019-12-03 10:33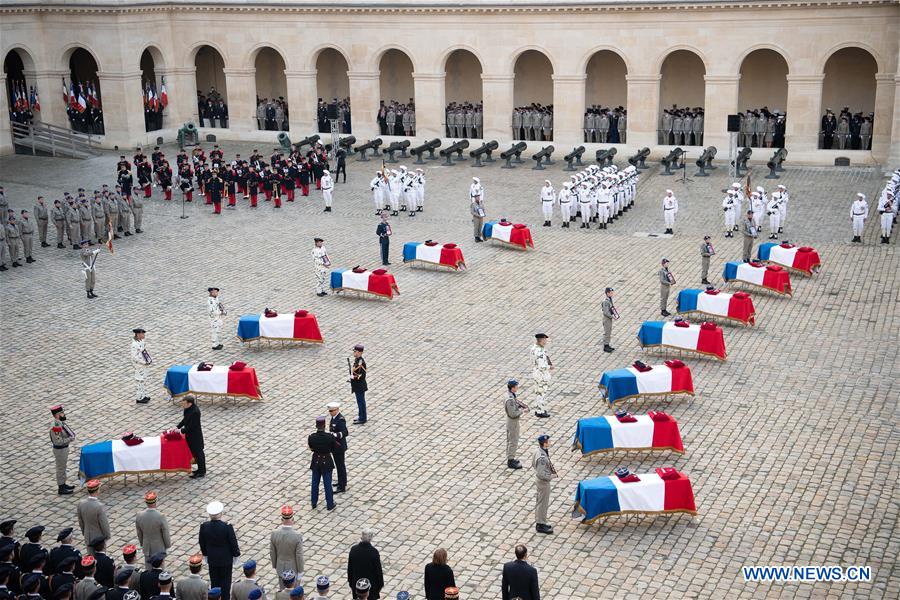 PARIS -- France held a ceremony on Monday at the Les Invalides in Paris to pay tribute to 13 soldiers who died in a helicopter accident in Mali a week ago.
A large crowd and soldiers lined up along Alexandre Bridge III in the French capital, as hearses bearing the flag-draped coffins of the fallen servicemen crossed the city towards Les Invalides.
About 2,500 participants, including 1,000 citizens, government officials, politicians and police officers, were converging to Les Invalides to express their respect and gratitude for the men who "died for France."
On the evening of Nov. 25, two French helicopters -- "Tigre" and "Cougar" -- collided while flying at a very low altitude in the Liptako region, near Burkina Faso borders. Maneuvering at nightfall ahead of engaging with insurgents, the two aircraft crashed at short distance apart, killing the 13 soldiers aboard.
The loss was the country's heaviest casualties in a single operation since 1980s.
In 2013, France launched a military offensive in Mali, one of its former colonies, to help crack down on the Islamist fighters. So far, a total of 38 French soldiers had been killed in Mali, according to reports by state-run France Info.
Mali is a country in West Africa's Sahel region. France has since 2015 deployed around 4,500 troops in the Sahel region to combat extremist insurgents.