Brewer introduces Shanghai's 1st virtual road safety ambassador
By Zhong Nan | chinadaily.com.cn | Updated: 2019-12-03 17:28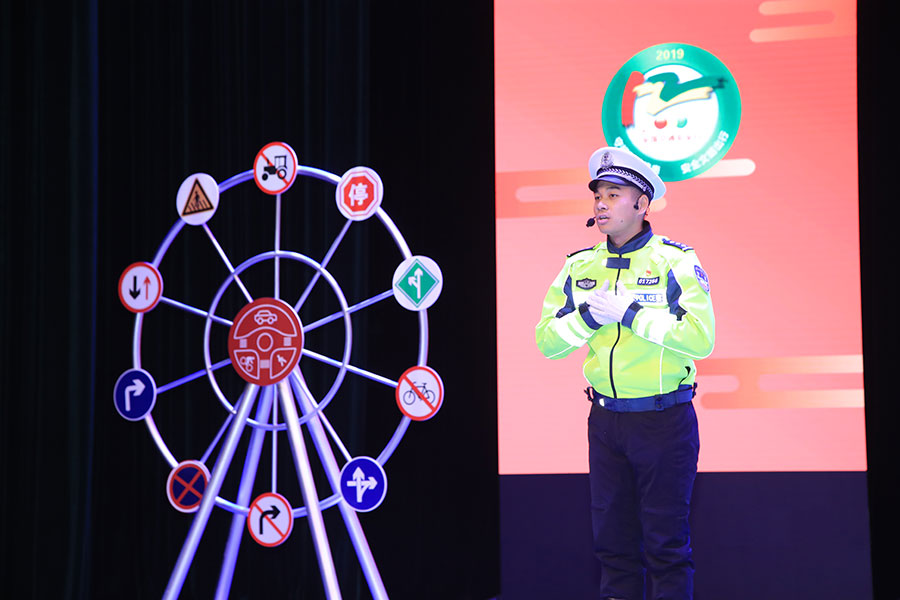 AB InBev, the world's biggest brewer by production volume, introduced a Generation Z virtual idol, "Hajiang", Shanghai's first virtual road traffic safety ambassador to boost traffic safety and smart transportation during the eighth National Traffic Safety Day in Shanghai on Monday.
"AB InBev will embrace all means of serious digital innovation, cooperate more actively with the police, experts and NGOs, and walk down a path of smart traffic, to enable the rise of road traffic safety 2.0," said Frank Wang, executive director of general counsel for Budweiser APAC.
As the theme for this year's National Traffic Safety Day is "Follow the Rules to Ensure Safe and Civilized Travel", Wang noted that nothing can be accomplished without norms or standards. Many traffic hazards come from ignoring the rules.
Because running a red light or drunk-driving may cause serious injury to individuals and society, Wang said AB InBev will continue to work together with traffic police in Shanghai, making innovative digital transport interventions to urge the city's residents to "follow the rules", and "remove the hazards" on the road, in bid to build a sustainable and stable community environment.
Wang's opinion is shared by Sun Fuquan, a researcher at the Chinese Academy of Science and Technology for Development in Beijing, who believes technology and digital innovation are key to improving road safety in cities.
"These activities certainly will help people draw experiences from advanced digital solutions," he said. "Therefore they can combine them with local realities by learning from their strengths and overcoming their weaknesses, as they can create localized smart road safety solutions."
Since first entering the China market, AB InBev has made a total investment of more than $3 billion and runs more than 30 large-scale breweries with more than 19,000 employees across the country.
For now, road safety casualties have risen to become a safety challenge of global concern. According to UN statistics, 1.35 million people lose their lives on the world's roads every year, making road traffic accidents the ninth leading cause of death globally, as well as the leading cause of death for economically active people aged 15-29.