Airbus eyes bigger share in China market
By Zhu Wenqian | China Daily | Updated: 2019-12-04 09:57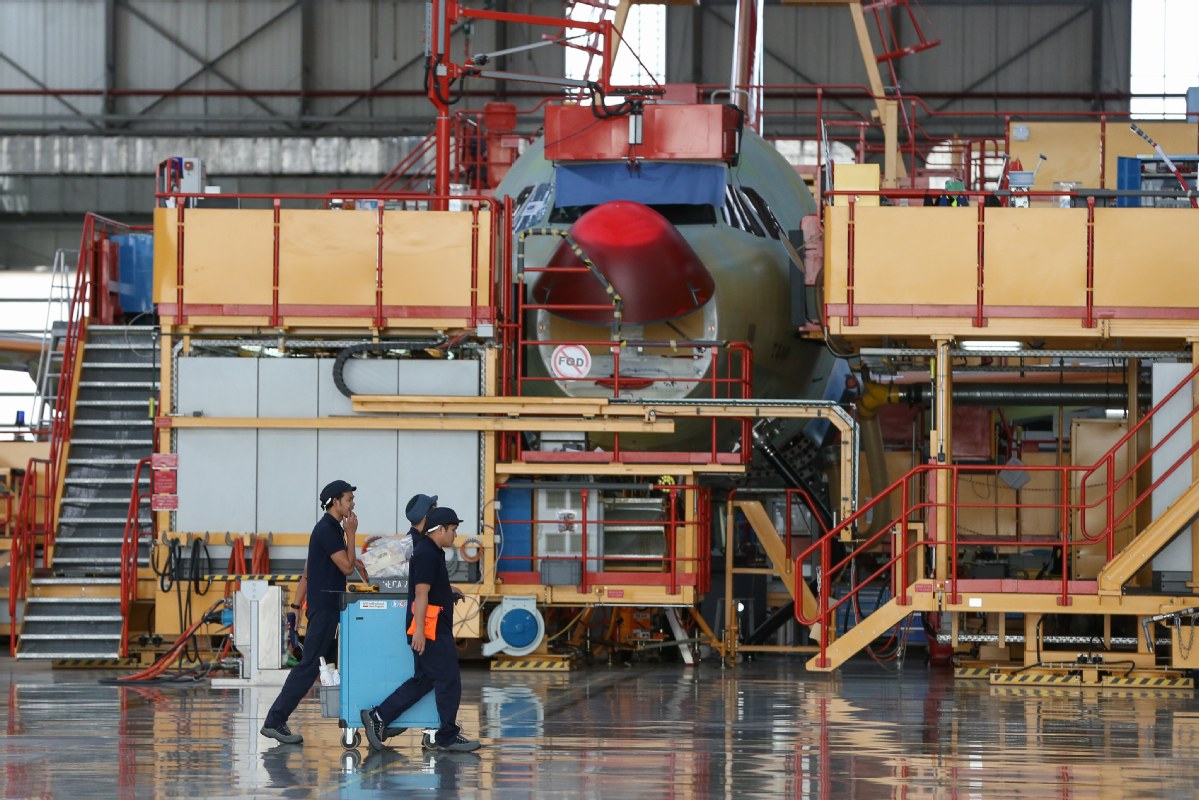 Company plans to invest more despite challenging international situation
In early November, Guillaume Faury, CEO of European aircraft manufacturer Airbus, spent a busy week in China. He attended the second China International Import Expo in Shanghai, and also President Xi Jinping's meeting with French President Emmanuel Macron in Beijing, before spending more time with customers.
Despite a quite complex and challenging international situation and trade disputes, Faury said Airbus continues to see a strong demand in China, and will continue to invest in the country. By making bold commitments to Chinese industry and being an original equipment manufacturer with a strong presence in China, Airbus will continue to ramp up plane production at its final assembly line in Tianjin.
Having started his career as a flight test engineer, Faury said he learned about the products, technologies, teamwork and being fact-based. Later working in the auto industry, he learned about competition and competitiveness, and production technologies, in addition to cost consciousness, when it comes to design and manufacturing.
During an interview with China Daily, he said those were helpful experiences with what he is doing now at Airbus, and his passion for working in the aerospace industry helped him overcome moments of frustration.
Over the past few decades, Airbus has benefited tremendously from the China market, which has also contributed to its success globally. What's your future strategy for China?
We have been strong in China over the past two decades. We went from 15 percent to 50 percent of market share in the course of the past 20 years. Now in China, we have the same market share that we have in the rest of the world. We have 20 percent of our worldwide deliveries go to China and this has been the case for the past seven to nine years. The situation now fairly reflects the situation we have in the rest of the world. We are proud of the strong relationship we have established with our customers in China, including with State-owned companies such as the Aviation Industry Corporation of China.
Is the trade conflict having any impact on the aviation industry and on Airbus?
The trade dispute has a lot of different effects. First, it has an impact on the global economy and this one is negatively affecting a lot of businesses, potentially aviation as well. It's not the case, in my view, for single-aisle aircraft over short distances, but it's probably one of the factors leading to a bit of slowdown on the speed of growth for wide-body aircraft.
Now, the trade conflict has a tenacious impact more on the midterm than on the long-term. We believe it's important that solutions and settlements are formed between different players, because it has the potential to have an impact even more on the long term.
When it comes to Airbus, we are not that much affected. There is still a strong demand from customers worldwide for our products. The demand for single-aisle aircraft remains strong, and there is pressure on the wide-bodies. We see that it's a more difficult business, given a number of situations including the trade conflict. We are advocating for open trade and open business. It's important for the aviation industry. We are hopeful that wisdom will prevail and the parties will find a solution.
Some say innovation in aircraft manufacturing has slowed because of reduced competition and major industry players are focusing more on financial stability and performance. What's your opinion?
The reason why there are only two players left is because it's a high-risk industry, where you have to invest tens of billions of dollars to create a new plane. With a lot of new technologies, when going from one generation to another, it's not just betting on one new technology, but on many, many new technologies at the same time. Now, plane architecture is more standardized. Maybe we have stabilized a quite competitive architecture, but I believe we are entering a new phase with three main evolutions: production systems in aviation, digitalization, and a new propulsion system to decarbonize.
It's likely that the planes of the 2030s and the 2040s will look different from the planes of today, which means we will be innovating a lot, but still with huge investment tickets. Therefore, due to the size of the investment and the large number of technologies we need to master, I don't see a lot of new players coming. Maybe one from China.
Two 737 Max accidents made aviation safety issues a hot topic. What do you think about the balance between risk and innovation, and safety and efficiency?
Despite big growth in air transport, we have seen a big decrease in the number of accidents and safety today is impressive. Maybe on the more human side, we have to be humble when it comes to safety. I have been paying a lot of attention to technologies, processes, quality and human factors. And on all of these matters and topics, it's all about learning, anticipating and staying humble. Problems can happen and we have to stay on top of them.
Was there any impact on Airbus after the grounding of the Boeing 737 MAX aircraft?
There is not much impact in the short term. For single-aisle aircraft, we have a backlog of around 6,000 planes and are fully booked till 2024. So, there is no short-term impact on the commercial side for Airbus.
In fact, it's more the opposite. We see more challenges and pressure coming from the market on Airbus to deliver its planes on time. There is a rising legitimate concern from the public on safety. There are some challenges for the certification authorities in working together, which we hope will be resolved. Airbus will keep doing the right things, which we think we have to do and we don't see much impact. At least, there is no positive impact for us.
The US has imposed higher tariffs on imports from the EU. Does this affect your company and will it hamper Airbus' cooperation with China?
The tariffs already apply to European goods, including Airbus planes going from Europe to the US, with a 10-percent tariff. Those tariffs are import duties, so they are paid by our customers. Indeed, it has an impact on our customers, and on our relationship with our customers. We think the impact is negative, but it's negative as well for the US industry, as we are sourcing a lot in the US. The US industry needs Airbus planes to fuel growth. So it's a lose-lose case, and we support a resolution between the EU and the US.
We also see that there are growing tariffs between the US and China. The US is playing tariff games, which in my view are dangerous, including for the US. But it has no impact on the relationship between Europe and China or even between Airbus and China. We see there is a strong relationship, a strong willingness to cooperate, to advocate multilateralism and openness between China and France. We think this is a positive way forward. Aviation goes with open markets, open trade, openness in general.