Developed countries urged to honor climate pledges
By HOU LIQIANG | China Daily | Updated: 2019-12-09 05:19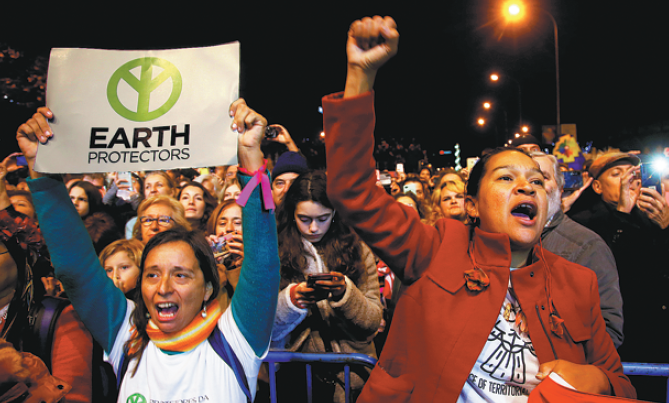 China is urging developed countries to honor their financial pledges made to developing countries to help mitigate and adapt to climate-related problems. And it set a concrete road map to scale up support.
Failure to honor commitments will damage confidence in multilateral progress on climate change, Chinese negotiators attending the ongoing Madrid UN climate conference said.
China's message was given over the weekend. Midway through conference, only limited progress has been made for assessing whether and how much developed countries have fulfilled their promises.
As stated in the 2015 Paris agreement, developed countries should provide $100 billion annually by 2020 to help developing countries and efforts go forward to keep the average global temperature increase well below the agreed 2 C above preindustrial levels. Further efforts would limit the increase to 1.5 C.
One of the tasks for the ongoing gathering of 197 countries in Madrid is to check how developed nations have honored their commitments.
During the time designated for such assessments and reviews, however, subsidiary bodies of the UN Framework Convention on Climate Change mainly reported their own work progress. So far, the gathering has not detailed developed countries' progress in honoring their pledges and identifying gaps, said Lu Xinming, deputy secretary-general of the Chinese delegation to the conference.
The gathering only "touched on the matter lightly", which cannot be called an assessment or review, he added.
Dong Guanyang, a Chinese delegate, said that several country groups, including Like Minded Developing Countries and BASIC bloc countries, have submitted a proposal asking the chair of the conference to roll out discussions on how to describe and deal with the gaps in developed countries' pre-2020 commitments.
As the Paris agreement is to be implemented after 2020, and being in the final month before the new year, some developed countries would like to "turn over a new leaf", Dong said, adding that some countries are motivated to breach their commitments.
"The pre-2020 issue is not a matter of time but of promises and obligations," she said, reaffirming that the commitments must be fulfilled.
Dong also warned of negative consequences if the promises are breached.
"As for multilateral mechanisms, confidence provides the best momentum. Only with mutual trust can various parties go forward hand in hand, with each others' concerns in mind," she said.
If previous promises are not kept, it's natural that confidence in the implementation of any new pledges will be shaken, she added.
Huang Yueqiu, a Chinese negotiator engaged in climate finance, said it's a must that the outcome of the current conference include a clear timetable and road map for the long-term support of developing countries from 2020 to 2025.
"We strongly object to what's been expressed by some developed countries, that 2020 will be the end of long-term financial support," he said.
Under the Paris agreement, developed countries should set a new collective quantified goal from a floor of $100 billion per year, taking into account the needs and priorities of developing countries.
Sun Jin, special representative for climate change negotiations, said the financial support from developed countries should be ratcheted up if the developing countries ramp up their efforts to help reach the more ambitious goal of limiting the global temperature rise to 1.5 C.