Harbin kicks off annual ice harvest for sculptures
By TIAN XUEFEI and ZHOU HUIYING in Harbin | China Daily | Updated: 2019-12-09 08:52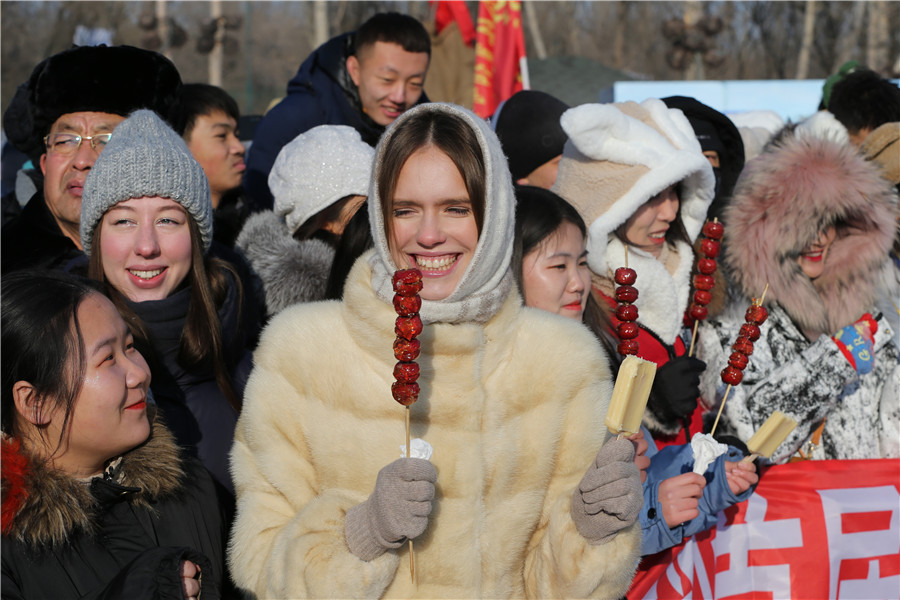 The first block of ice was pulled from the Songhua River in Harbin, the capital of northeastern China's Heilongjiang province, on Saturday to mark the start of the city's annual ice harvest.
A group of workers in traditional local costumes pulled out the first block at a ceremony launching the three-week harvest, representing a folk custom of ice collecting that has a history of more than 100 years.
After the head worker read a blessing, the workers drank some wine and then started the work.
The ceremony attracted thousands of residents and tourists despite the extreme cold and strong wind on the frozen river.
Every winter, an avalanche of visitors from home and abroad descends on Harbin for the country's biggest winter gala-the Harbin International Ice and Snow Festival.
As man-made ice often contains air bubbles and is not strong enough to carve, ice for the festival is sourced from the Songhua River, which runs through the city.
Over the next three weeks, more than 1,000 workers will collect ice blocks that will be transported to different ice and snow scenic spots in the city, including Harbin Ice and Snow World, one of the most important festival venues.
Up to 120,000 cubic meters of ice will be transformed into fanciful ice buildings and sculptures at Harbin Ice and Snow World, transforming a city park into a winter wonderland.
"According to the ice engraving rules, each block of ice is usually about 80 centimeters wide, 40 cm thick and 120 cm long," worker Xu Laihe told China News Service. "It will not be suitable for ice engraving if the ice is too thick or too thin."
First, the team needs to locate the right place near the riverbank, where the ice is about 40 cm thick. Then the crew uses a chain saw to cut the ice blocks into the required size.
After cutting, a worker uses an iron rod to loosen the block, and several workers then attach it to hooks and use a towline to lift the slab onto the bank.
"A few dozen days later, we can appreciate various ice sculptures around the city," Harbin resident Yu Yumei said. "The unique scenery must be a great attraction to tourists at home and abroad."