County acclaimed as world center of rattan iron goods
By HU MEIDONG in Quanzhou and ZHAO YIMENG in Beijing | China Daily | Updated: 2019-12-09 09:24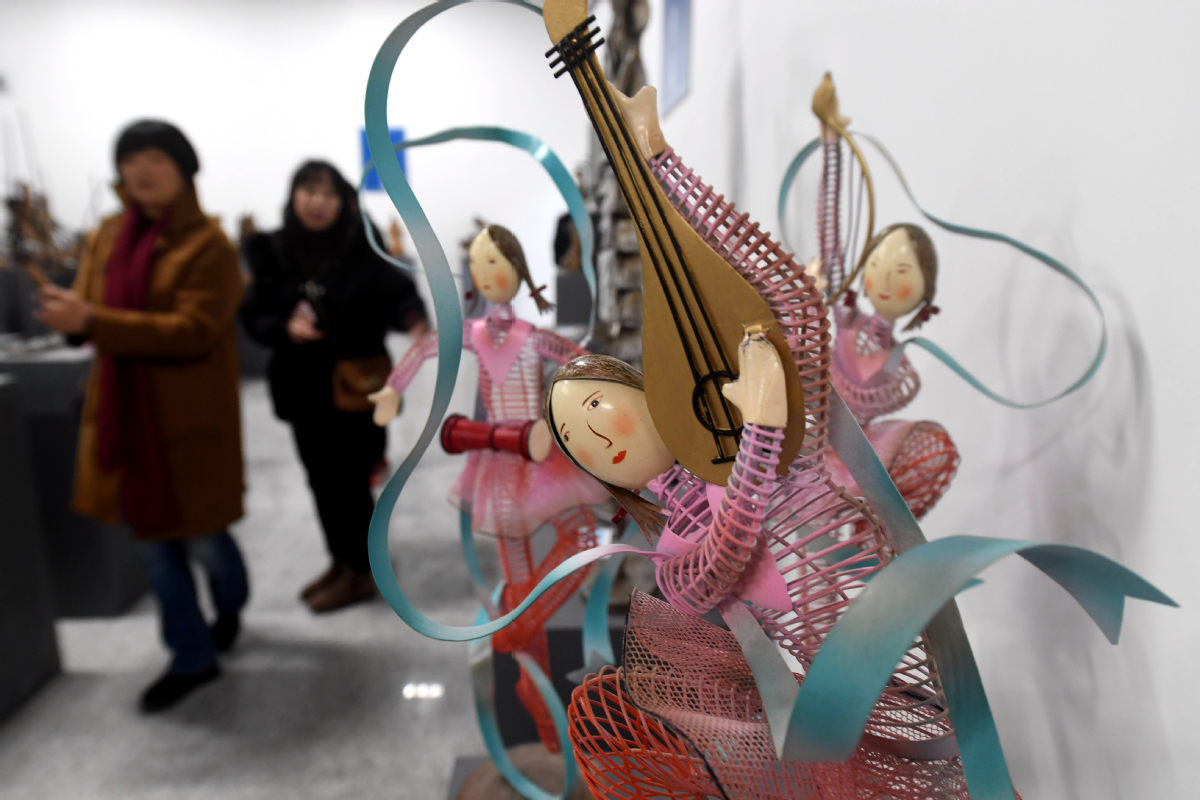 On Nov 5, Anxi county, Fujian province, was awarded the title "world craft city for rattan iron crafts" by the World Crafts Council during the third China (Anxi) Household Rattan Iron Crafts Culture Expo held in Quanzhou, Fujian.
During the opening ceremony, Ghada Hijjawi-Qaddumi, president of WCC Asia Pacific Region, handed the Anxi authorities a commemorative tablet.
In Anxi, rattan iron crafts are an intangible cultural heritage that originated with bamboo weaving, a time-honored skill mastered by ancient Anxi natives.
For thousands of years, the bamboo rattan craft was widely applied in farm tools, tea ware and other day-to-day objects such as food steamers, desks and chairs, boxes and baskets, according to the county annals.
In 1972, Chen Heqing, dubbed "the father of rattan iron craft", founded a bamboo rattan crafts factory, which mainly produced covers for thermos flasks. The improvements introduced via the covers resulted in the development of new rattan products.
In the past 40 years, the refined craft has evolved from bamboo and rattan weaving to a range of materials including metal, wood and ceramics.
Hundreds of thousands of the products combine beauty with practical use and integrate traditional Chinese culture with Western elements.
There are five types of product: modern ornamental furniture; garden and park decorations; artistic tea ware; artifacts fitted with light-emitting diodes; and solid wood crafts.
Thanks to the handicraft industry, the county has been taken off the list of China's 100 most impoverished counties, and is now ranked 60th among the 100 most prosperous. Last year, 2,200 handicraft enterprises and more than 3,000 workshops generated combined income of 15 billion yuan ($2.13 billion) in Anxi.
About 150,000 of the 1.2 million people in Anxi work in the industry, and a further 400,000 benefit from it in some way.
Profits earned from the sale of handicraft products accounted for nearly 70 percent of the residents' combined annual income, according to a local government report released at a media conference in August, aimed at introducing the world craft city.
Gao Xiangrong, Party secretary of Anxi, told the assembled media that rattan iron craft is rooted in traditional culture and derived from folk art. Innovations introduced by craftsman over several generations have turned it into an industry where people "weave their dreams of wealth".
Taking advantage of the 21st Century Maritime Silk Road - part of the Belt and Road Initiative - household furnishings from Anxi have been sold in 60 countries and regions in recent years.
Rattan furniture and related goods worth 1.65 billion yuan were exported last year, with 39.6 percent going to the Americas, while 29.5 percent was sold to countries in the European Union.
Anxi began applying to be designated as the world craft city for rattan iron crafts in 2015, and the title was initially recognized by the WCC in August last year. After the assessing group visited companies, schools and workshops involved in the rattan iron sector in May, the WCC confirmed the title via a formal letter on June 14.
During the awards ceremony last month, representatives of Anxi and Tsinghua University extended their contract for a jointly established education base in the county.
Since the two began cooperating in 2015, more than 100 design majors from Tsinghua Shenzhen International Graduate School have visited Anxi and participated in the rattan iron craft industry, and more than 400 artifacts have been jointly created by students and local people.