Panasonic hones business strategy for growth
By Zhong Nan | China Daily | Updated: 2019-12-10 10:42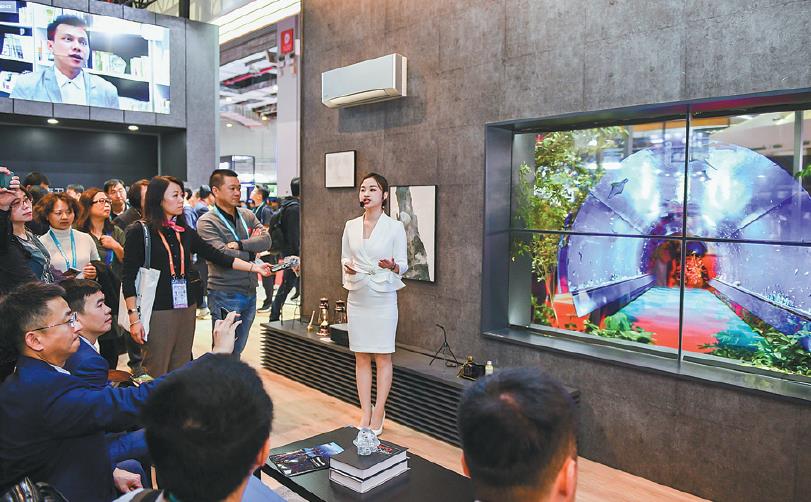 Regional unit helps company gain more market share amid country's ongoing industrial and consumption upgrading
Tetsuro Homma, Panasonic Corp's chief executive officer of China and Northeast Asia Company, is a China hand who sees potential in the country's economy as it moves to become more consumption driven supported by high-end technologies and services in various fields.
The CEO of the Japanese multinational corporation's regional branch, which specializes in businesses including smart life appliances, cold chain, and building and housing solutions, is a rare breed of multinational executive as he also speaks Mandarin.
Eager to gain more market share from the country's ongoing industrial and consumption upgrading, Panasonic established the regional branch with integrated research and development facilities, manufacturing and sales in April, mainly putting efforts into living space and fresh food supply chain businesses.
Supported by nearly 60,000 employees in 85 subsidiaries and plants across China, the CEO said in comparison with other global markets, the Chinese market is quicker to accept new technologies. High value-added home appliances account for a large proportion of the Chinese market.
"Another feature of China is its extraordinary speed of development, which is hard for many nonlocal executives to understand," he said.
The Osaka-headquartered firm established its third global customer experience center in Hangzhou, capital of East China's Zhejiang province, in October, after building two other such centers in Tokyo and Osaka.
During an interview with China Daily, Homma talked about Panasonic's strategy for business growth.
What are Panasonic's development plans in China over the next three years?
A number of authoritative organizations expect that China's GDP will rank first in the world in 2030-2035, which will also accelerate the upgrading of consumption structure. And then the demand for quality homes, pensions, and food will increase. From the perspective of investment in various development resources such as research, manufacturing, and sales of Panasonic, China is the largest overseas market outside Japan.
The scale of the China and Northeast Asia region is 120 billion yuan ($17.1 billion), accounting for 25 percent of Panasonic's global business scale. We will continue to deepen the Chinese market. In particular, the establishment of our China and Northeast Asia division in April this year will allow us to make business decisions locally (in China), from researching to manufacturing and sales.
What highlights did Panasonic bring to the second China International Import Expo this year?
This time, we launched many products including the healthy space concept, which is the world premiere for the whole Panasonic Corp, by using Panasonic's sensing and data analysis technology to observe people's physical condition and provide a healthy life plan.
Many of these products are based on years of technical experience in Japan and are specially designed for the Chinese market.
Panasonic uses old-age experience and technology products accumulated in Japan to provide new ideas and references for China's elderly care industry. For example, Panasonic has developed its own AI technology, and developed a robot that can analyze the user's walking ability and then help with walking training for the elderly.
How will you further expand your market channels across the country?
In addition to participating in the first and second China International Import Expos, we also proposed a business concept of "Care Unbounded, Amused in Mind and Body", showing Panasonic's focus on social issues in China, and will achieve brand upgrading in the field of electrical appliances in the future, and provide a healthy pension solution for China's aging society.
Which regions or provinces in China have surging demand for your services and products?
At present, Panasonic is in strong demand in coastal cities, especially in the Yangtze River Delta and Pearl River Delta regions. In the future, we will strengthen our online efforts and expand inland sales. It is a challenge for Panasonic to promote expansion from product to experience, through co-creation with our partners in updating living space and fresh food supply chain businesses.
What is your market priority in the country?
In terms of living space, including home appliances, lighting, and residential equipment, our company has many products and technologies in the residential area. This is also the advantage of our business. In the fresh food supply chain, our company is carrying out related business in all aspects from the place of production to the table. We have a strong product base, such as cooking appliances, low-temperature warehouses, freezer windows, and terminal dining tables.
What reforms have you undertaken since assuming your current position?
As a company with a history spanning more than 100 years, Panasonic has its advantages, but also disadvantages. There are many problems such as more restrictions and slower decision-making. Fortunately, many employees in China have already realized the problems of the company. China has become the second-largest economy in the world, with its GDP exceeding 90 trillion yuan in 2018. While maintaining its manufacturing power, China has also become a major consumer and innovation power.
Why has Panasonic continued to deepen its localization strategy in China in recent years?
Many excellent private enterprises in China are growing rapidly, but in contrast, before April, all our business decisions were decided in Japan, so we couldn't keep up with China's market changes. To this end, we established China and North Asia division in April, and our business in China will be decided in China to increase the speed. At the same time, we are learning from Chinese private enterprises to improve the development of the business in China.
How do you see China's technology development in recent years?
China's 5G technology leads the world. As an IT power, China has many technologies that we can learn from and use for reference. We pay close attention to the R&D, application and promotion of China's 5G technology and look forward to integrating it with our products. In this era of internet connectivity, all of Panasonic's products are inseparable from communication technology.
We look forward to creating more product chains through China's 5G technology, and more exciting memories for consumers' lives.
What do you think are the most resilient parts of the Chinese economy?
China's economy has become more dynamic and resilient over the past few years, fostered by supply-side structural reform. We have seen major changes in the consumption and manufacturing sectors with evolving patterns and steady expansion. For instance, more than 400 million of China's population are in middle-income groups, seeking a broader range of dietary options and showing a growing concern for the quality and safety of food, domestic appliances and daily items.
We also welcome the government's policies to encourage foreign investment, and, as one of the longest-standing foreign investors in China, Panasonic remains committed to the Chinese market.
We are certainly benefiting from China's offer of favorable conditions to multinational companies and this in turn enables us to envision our future development in a flourishing Chinese market with confidence, working in partnerships and seeking opportunities across the value chain.