Leading skin care brand explores art of engagement with consumers
By Wang Zhuoqiong | China Daily | Updated: 2019-12-10 11:19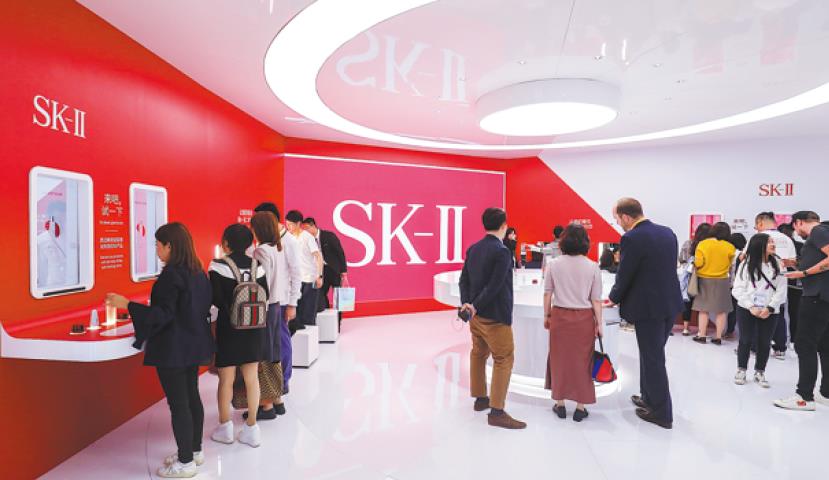 Losing control is probably the best thing that has happened to world's leading skin care brand SK-II in the Chinese market.
Its classic essence is called "miracle water" by Chinese consumers online. Its whitening essence is known as "a little light bulb", and its mask is called the "ex-boyfriend mask".
But the effect of the nicknames on consumers has been phenomenal, helping to make P&G's high-end skin care products a success story in 2018, according to a report by Kantar Worldpanel China.
"Sometimes it's necessary to let go of the control that has contributed to that success," said Sandeep Seth, chief executive officer of SK-II Global.
"We can't control everything because the brand is as much owned by our consumers as us. You let the consumers decide what the brand stands for and you accept it. That's how you relate. Five years back, a brand would never allow that to happen.
"But today, we are open and receptive to what the consumers have to say because we belong to them," Seth said.
SK-II has rolled out a series of measures to engage with younger generations of consumers through art exhibitions and retail enhancement with the support of digital technology.
In November, SK-II launched an art show Power of Pitera featuring a collection of art works telling the story of its iconic essence Pitera, which is a naturally derived liquid from the yeast fermentation process.
SK-II's global ambassador, Chinese actress Tang Wei, unveiled a giant photograph of her by renowned photographer Zhong Lin, which forms the center piece of the show. With a bold and sincere closeup of Tang's face, the art work aims to showcase the transformation to clear skin that millions of women have experienced with Pitera.
During an interview with China Daily, Seth shared his views on SK-II's brand building, market strategy, customer relations and future development.
What are the creative ideas behind the Future X campaign?
Every time we try telling this story in a new way and it's a challenge that we currently enjoy. As you look at younger consumers today, they have a really strong point of view.
And as a brand, if you have to resonate with them, you have to have a strong point of view also that matches their belief system. And art being one of them was really at the core of it. Younger consumers see this as a way they can connect with us at a broader level than just the product itself.
What makes the younger generation the focus of your campaign?
The younger generation always defines how everyone sees the world. I mean, the general belief is older generations influence younger generations, but in reality, it's the younger generations that influence everyone. So, how can we as a brand understand the younger generation and how can we stay connected to them? We strive to understand consumers and to change with the generations, while staying consistent at our core.
How do you define SK-II as a brand?
I would say SK-II is a human brand. We always strive to create that human connection between the brand and its consumers. When you talk to women about the effects of Pitera, they don't talk about its benefits, what they talk about is how it has affected their life. What's at the core is how we can connect with our consumers at that one-to-one human level.
You have an engineering background. How do you transform the brand through the digital touch?
All our lives today, from the time we wake up to the time we go to sleep, are driven by some form of technology. We are always interacting. But it is important not to use technology for the sake of it, but use it to make consumers' lives easier. We started with our communications and advertising in a lot of traditional media and moved to fully digital media. On the retail side, we've brought a lot of technology into the store to create a seamless shopping experience-a "phygital "environment.
A lot of work we've done is to make shoppers feel they're in control. So they don't feel that they're being pushed to buy a product, but they're able to make the right choice and they're able to get the right information. And that's where technology plays a big role.
How do you differentiate your brand from other high-end skincare products?
Our single focus is on what we call consumer obsession. We feel that to stay relevant and to stay ahead, we really need to understand our consumers-their lives' value system, or their purpose.
Now, if you look at it, consumers are changing really fast. The key is how you stay in touch with what's changing in their lives.
What is the significance of the Chinese market to SK-II?
Japan is our home market and is also one of our biggest markets. The Chinese market is pretty big and it's growing really fast, it could soon become the biggest market. For the past few years we have been growing well across all markets, including Japan, which is a big base.
What are your strengths in the Chinese market?
Chinese consumers are some of the most discerning consumers in the world. They are the "now" generation-they want everything now. So, as a brand, to succeed here, you really have to be able to communicate with the Chinese consumers in real time.
And part of that is also sometimes to let go of control. We can't control everything because the brand is as much owned by our consumers as us. I mean, as I keep saying, "miracle water" came from our consumers. A whitening essence that we have is called "a little light bulb", which is a name that came from the consumers. Our mask is called the "ex-boyfriend mask", which also came from the consumers. So, sometimes you let go of control. You let the consumers decide what the brand stands for and you accept it. I mean, that's how you relate.
There's a rising trend that local consumers in China are more aware of niche brands. So, what's the challenge for major established brands like yours?
Niche brands are doing well; in China, they're doing well, in the US, they're doing well and in a lot of the markets. But I think the key is not niche brands, the key is to understand why shoppers or why consumers like niche brands. I think niche brands come with a strong point of view and that point of view resonates with the purpose that the consumers have. And that's why, even if you are a big brand, you need to have a purpose.
So, it doesn't matter whether you're niche, small or big. As long as you can be a human brand, as long as you have a core purpose that resonates with consumers, they will not see you as big or small, they will see you as another brand with whom they can align.
Another thing I understand about niche brands and consumers is that consumers are drawn to them because of their stories. And that's why it's really important for us to always tell the story of Pitera.