Let the banana oil flow and see art for what it's not
By OP Rana | chinadaily.com.cn | Updated: 2019-12-11 11:16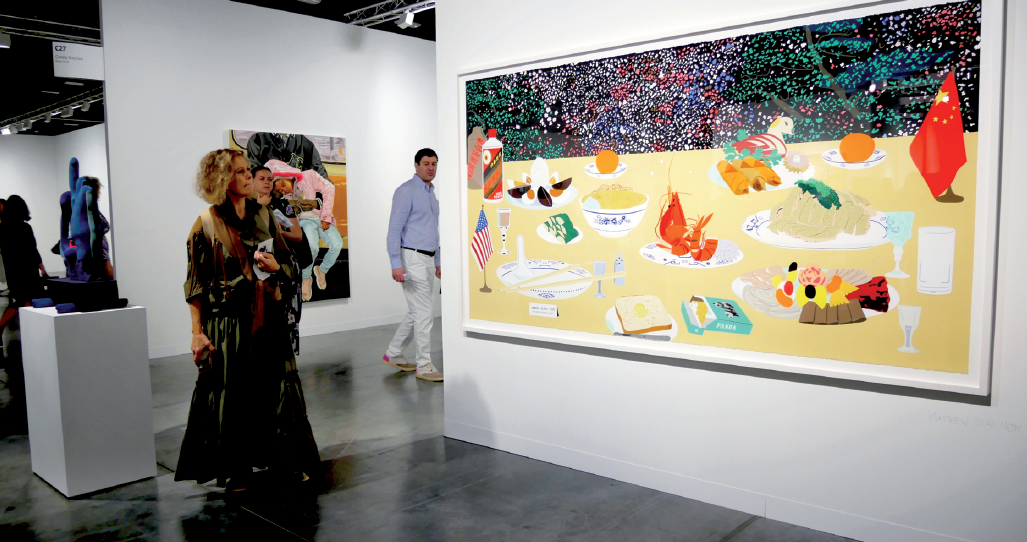 You can have your banana and eat it too – for just $120,000.
Well, if you think a banana is not worth that amount, no need to slip on a banana skin.
But the fact that a banana duct-taped to a wall sold for $120,000 at Art Basel Miami Beach in the United States is no banana oil. The duct-taped banana artwork, titled Comedian, was sold from Emmanuel Perrotin's gallery, which has branches in New York and Asian cities such as Shanghai, Hong Kong, Tokyo and Seoul, last week.
The artwork by Maurizio Cattelan was presented by Galerie Perrotin, a contemporary art gallery founded in Paris in 1990 which has had a long association with the Italian artist.
The gallery, in fact, said more editions of the artwork have been selling, and Perrotin and Cattelan have agreed to increase the price to $150,000 after the second edition was sold and the third was delivered to a museum.
Bananas are "a symbol of global trade, a double entendre, as well as a classic device for humor", Perrotin said before the sales. Cattelan has the artistic gift of turning normal objects into "vehicles of both delight and critique", he said.
But will the bananas stay fresh forever, or will they start to rot after some time? Neither Cattelan nor the gallery has any answer to that. The answer, instead, was provided by a New-York performance artist, David Datuna, who ate one of the bananas in the artwork in front of a convention full of art lovers on Saturday. All of $120,000 down the ….
And what did Perrotin Gallery spokesman Lucien Terras said? Datuna did not "destroy" the artwork because "the banana is the idea". Going bananas, anyone?
Time was when a work of art conveyed a totally different meaning. It initiated a philosophical dialogue. For instance, take the famous pipe Belgian artist Rene Magritte painted in 1929, which questions the authority of both images and words. Magritte added a whole new dimension to his surrealist masterpiece, The Treachery of Images, by painting below the image of the pipe, "This is not a pipe", and triggered a debate, which continues to this day. The same sort of debate that centers on Spanish artist Diego Velasquez's 17th century magnum opus Las Meninas.
These masterpieces enrich our knowledge, prompt us to delve into the depths of what we have accepted as human perception and expressions of language, and give a better idea of the world semantics. No wonder The Treachery of Images is cited as an example of meta-message conveyed through paralanguage. As Polish-American scholar said, "The word is not the thing" and "The map is not the territory".
Describing his experience vis-à-vis his painting, Magritte said: "How people reproached me for it! And yet, could you stuff my pipe? No, it's just a representation, is it not? So if I had written on my picture 'This is a pipe', I'd have been lying!"
Indeed, he would have been lying!
Or, take Scottish artist Eduardo Paolozzi's Newton After Blake, which follows William Blake's 1795 print in illustrating how Isaac Newton's equation changed our view of the world to being one determined by mathematics. The sculpture, showing Newton sitting on geometric blocks, rather than rock as in Blake's print, with a mechanized body held together with bolts at the joints. By doing away with the associations of nature in Blake's print, Paolozzi presents us an image of utmost concentration to the world of science and mathematics.
And what does the duct-taped banana convey, except making us go bananas? Trending news on the internet? A Facebook and Twitter sensation? Or simply a way to draw our attention from the real problems of the world?
One cannot deny that humans, once in a while, do need to take their minds off the mind-numbing issues plaguing our planet. But good music or a good book can do the job better, apart from adding to our knowledge and enriching our experience.
True, Perrotin said the "banana is a symbol of global trade, a double entendre, as well as a classic device for humor". But where is the humor in paying $120,000 for a banana? And who can afford to do so? The stinking rich eager to see their names in lights!
Time to forget one-banana problem and stop wondering at the commercial market of art that resembles more and more like a banana republic with each passing auction. And return to the real issues, which if addressed, will make human society a better place.
Time to learn from Velasquez, and distinguish between reality and illusion.
The writer is a senior writer with China Daily.