'West meets East' unleashed
By Hong Xiao/Kong Wenzheng | China Daily | Updated: 2019-12-13 09:24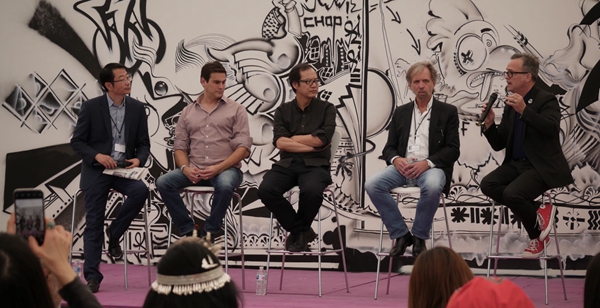 Industry insiders attended a new forum at Scope in Florida about contemporary Chinese art and its future role in the international marketplace, Hong Xiao and Kong Wenzheng report in Miami Beach.
Contemporary Chinese art is receiving a warm reception in Florida "thanks to the richness of its talent", says Ethan Cohen, a New York-based art collector and dealer.
Cohen was speaking at a panel discussion on Dec 4 for Scope Miami Beach, a contemporary art fair held annually in New York, Basel, Switzerland and Miami Beach. The panel was part of Focus Art China, a new platform for contemporary Chinese art organized by Scope.
The discussion, hosted by China Daily USA's president and chief editor Ji Tao, retraced the path of the development of the Chinese contemporary art scene, explored its transformation and examined its future from the perspective of the artists, gallerists and curators from both countries.
The panel was one of many events unfolding as Art Basel Miami Beach kicked off last week, with 269 of the world's leading modern and contemporary art galleries displaying artworks by more than 4,000 artists. At least 18 other fairs took place during Miami Art Week.
Cohen, who began his career 35 years ago, recalls that Chinese artists at that time were largely considered "outsider artists".
However, "Today's contemporary artists are so different from even three, five or 10 years ago-it's almost like there have been five generations of them over the last 10 years," he says.
"You should look at the talent of Chinese artists," Cohen says. "They have their own unique expression and a style that is so distinctly Chinese, that it's significant to the global art market.
"Chinese art is evolving so quickly that you really have to be in Beijing, Shanghai or Guangzhou every few months to see what's going on, because that's where it's really happening," he says.
Bruce Orosz, founder of Focus Art China, witnessed the development of contemporary Chinese art through his involvement in the art industries of the two countries over the decades.
So he set out to create the China-themed program to celebrate the global expansion of modern Chinese art by presenting museum-quality, cutting-edge work from established and emerging artists spanning major disciplines.
"There are so many elements of China that influence behavior around the world," he says. "I think the East meets West, and vice versa-West meets East-is what is being unleashed."