Heroic tale of tragic lovers retold through dance
China Daily | Updated: 2019-12-30 08:07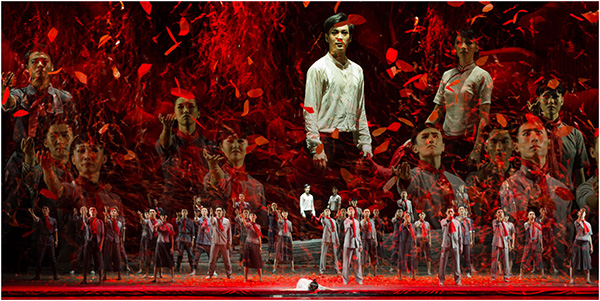 Around a century ago during the age of upheaval in China, a pair of revolutionary martyrs exchanged their vows, accompanied by a macabre rifle salute.
In 2002, this true story was adapted into a heart-wrenching dance drama entitled Cottonwood Tree in Stormy Days, winning the Wenhua Award, a top national award for the performing arts, in 2004.
After more than a decade, Guangdong Song and Dance Ensemble decided to stage the production once again, bringing it to Beijing's Erqi Theater for two performances on Dec 12 and 13.
The story took place during the Guangzhou Uprising of 1927 in South China's Guangdong province, where Communists attempted to wrest control of the city from Kuomintang forces.
Zhou Wenyong and Chen Tiejun, both leading members of the uprising, pretended to be a married couple in order to avoid drawing attention to their undercover work, but over time developed a real affection for one another.
After the uprising failed, they were betrayed, arrested and sentenced to death. Zhou asked for a photo with Chen as his final wish, and Chen made a speech, announcing to the public their love for each other.
Director of the dance drama, Wen Zhenya, says this reproduction is not a duplication of earlier versions of the show. He wanted the story to be historically accurate while keeping up with modern aesthetics.
In keeping with the story, the production incorporates iconic elements from Guangdong, including qilou, a streetside architectural form prevalent in the region, and kapok flowers, Guangzhou's floral emblem.
Using innovative stage design, the show aims to send audiences back in time.
"We present the stage as old, faded black-and-white photographs," Wen says. "Advanced technology today is able to produce rich colors on stage, but I want to go back and present the audiences with simplicity that evokes a sense of nostalgia."
While the stage, props and costumes are mainly in monochrome, it is contrasted with the bright redness of certain objects, creating a striking visual effect.