Direct train links speed up Chinese goods export to Europe
China Daily | Updated: 2019-12-31 09:34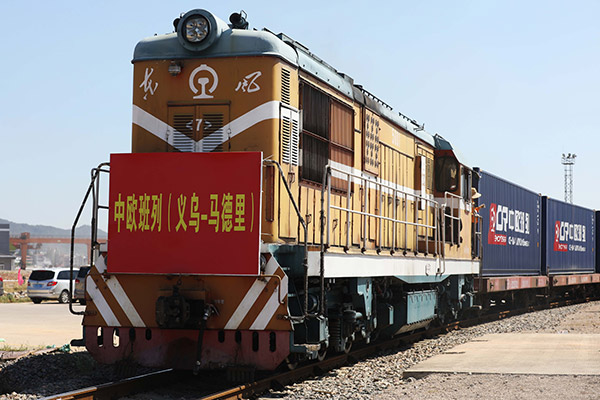 FRANKFURT-In the holiday season in December, people across Europe may have different ways of celebrating, but their celebrations have one thing in common: made-in-China products are increasingly making their most important festival merrier.
Thanks to direct freight train service between China and Europe, Chinese businesses with an intimate knowledge of the European market have stepped up their game in Europe's Christmas economy by means of innovation and new designs.
The latest data from Germany's Federal Statistical Office showed that in 2018, the country imported 17,720 tons of Christmas items worth around 143 million euros ($159 million). Nearly three quarters of the items were from China.
In fact, from decorative LED lights to automated Santa toys, more than 60 percent of the world's Christmas-related merchandise come from the eastern Chinese city of Yiwu, around 260 km south of Shanghai. The great variety of holiday products there have earned the place a nickname: "China's Christmas Village".
"European customers prefer simple and elegant designs for Christmas trees, green pine trees with snow, and a couple of jingle bells would be enough," said Zhu Zhijuan, who discussed different regions' preference regarding the choice of a Christmas tree.
Based in Yiwu, her company Xintean Arts and Crafts have been making artificial Christmas trees for 15 years. Its annual revenue amounts to 100 million yuan ($14.3 million), and is expected to grow 10 percent this year, Zhu said.
In Yiwu, the Christmas goods section alone boasts 15,000 varieties. The manufacturers have their own organization-the Yiwu Christmas Products Industry Association-and follow regularly published market indicators.
The local commerce bureau has listed 333 exhibitions around the globe as recommendations for local businesses to attend. Shortly after the holiday season, in January or February each year, for example, Zhu will go to Frankfurt Consumer Goods Trade Fair in Germany to get prepared for the coming year.
More and more Chinese products have made their way onto the shopping lists of European households in the holiday season.
In downtown Brussels, local residents were busy with Christmas shopping at Kam Yuen Supermarket, the largest Asian supermarket in Belgium.
"Kam Yuen used to be a small shop for Chinese people, now 70 percent of the customers are non-Chinese," said Liu Jingrui, CEO of Kam Yuen Investment.
In Warsaw, Chinese retailer MINISO has become one of the most popular places for Christmas gift shopping, and their best-seller this year is a stuffed snowman imported from China.
Piotr Piorkowski, the shop's manager, said that the customers like the original design of the Christmas products sold there and the quality they get for the price they pay.
For Anna Godlewska, co-owner of Amko Toy Store in central Warsaw which imported 90 percent of its customers' goods from China, its love for Chinese toys is obvious: Two days before Christmas, all the products in the store like dollhouses, stuffed animals and baby shoes were sold out.
"People love to buy products from China for Christmas because they have a reasonable price and really good quality," said Godlewska.
In Budapest, a lot of Hungarians turn to Chinese tech products for Christmas gifts for their loved ones.
According to Extreme Digital, a leading Hungarian online marketplace, their best-selling products during Christmas this year were the Chinese sandwich maker and a smart fitness watch produced by Huawei.
Xinhua