Realme seeks to maintain edge in Indian smartphone market
By Ma Si | China Daily | Updated: 2019-12-31 10:10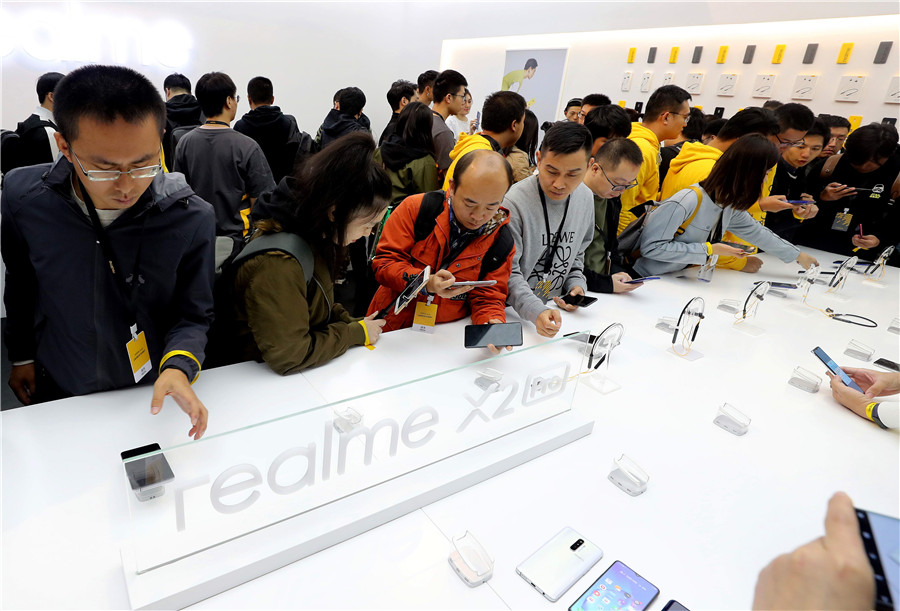 Realme, a rapidly emerging Chinese smartphone brand in India, is ratcheting up resources to accelerate offline expansion, as it seeks to maintain strong momentum in the world's second-largest smartphone market.
Though Realme is still relatively new to the smartphone game, its meteoric rise has been raising eyebrows. It was created by employees from Chinese smartphone vendor Oppo in the middle of 2018 to take on rivals, including Xiaomi, in smartphone markets like India.
Now, as an independent brand, Realme is the fourth-largest smartphone vendor in India. Riding on its instant popularity with young online consumers, the company is eyeing a bigger offline presence with plans for more brick-and-mortar retail ventures. The company plans to expand offline sales to 150 Indian cities this year.
Wang Shuo, head of marketing at Realme India, said in an interview with China Daily that the company already has made significant progress in shifting from the online-sales model. Currently about 30 percent of its sales come from offline stores.
"We will tap more resources to accelerate our offline expansion next year. Demand for upgraded smartphones is burgeoning in third-and fourth-tier cities of India. That is a huge opportunity," Wang said.
According to him, the company will soon offer tailor-made smartphones for offline consumers. "Users buying smartphones online are highly sensitive to technical parameters. They demand the latest processors and the best image pixels. They assess all the differences through data," Wang said, "But when it comes to offline sales, aspects like retailing, design, selfie capability and storage matter more, because consumers can feel and touch the smartphones with their own hands before they decide to buy or not."
Realme is currently the world's fastest growing smartphone brand. Six months after its launch, the brand became the No 4 vendor in India during the fourth quarter of 2018. Little over a year since its inception, Realme said it has joined the big league with more than 10 million units shipped. To be more accurate, 10 million smartphones in 14 months, which translates to 22,000 units sold per day since its debut.
During the third quarter of this year, Realme continued to be the fastest growing vendor in India with a 401.3 percent year-on-year growth in sales. The company now controls 14.3 percent of the smartphone market in India, according to data from market research company International Data Corp.
Wang attributed Realme's rise partly to its accurate product positioning strategy. "We sensed an unmet demand. Online consumers also have desire for smartphones that can combine good performance, design and quality. But back then, no one was here to offer such an option, so we came," Wang said.
In 2018, the Indian online market was dominated by Chinese smartphone brand Xiaomi, which prioritized cost-effective products. Other players including Huawei Technologies Co's Honor brand started to lose traction online, which created a market vacuum that no alternative player can fill, said Xiang Ligang, CEO of telecom industry website Cctime.
"When companies put heavy emphasis on lower prices, they have to make sacrifices on the performance of the smartphones to some extent," Xiang said.
Wang said Realme, overtook Chinese smartphone company Vivo as the No 3 player in India in terms of smartphone shipments in September this year.
To resonate with the younger generation and better build its brand image, Realme has hosted a string of campus concerts and activities for fans. In October, the company hosted four multicity music concerts with famous Indian singers and 11 campus festivals.
During India's festive season, Realme sold more than 5.2 million smartphones between Sept 30 and Oct 31.
Madhav Sheth, CEO, Realme India, said; "We are delighted to once again emerge as the No 1 preferred choice on Flipkart during festive days. Our 5.2 million smartphone sales figure is an actual and credible sellout data that is different from the usual sell-in numbers, which the other brands have been promoting. Realme offers the most blockbuster products that are high on features, style, and performance and is available across price segments."
Recently, Realme unveiled its new payments platform, Realme PaySa, which is designed to help individual customers and small-or medium-sized businesses financially. It is also part of the company's broader push to offer more internet services and direct more revenue from a growing pool of consumers who use its smartphones.
The move came after Xiaomi announced its Mi Credit lending service (and Mi Pay) to make its mark in the fintech space a few months ago. Another Chinese smartphone vendor OnePlus also revealed its plans to get into the payments services next year.
Clearly, the competition in India is still intense, with Xiaomi maintaining the leading position among smartphone vendors and Samsung the second position.
But Wang from Realme said, "Our biggest edge always lies in our products."