EU steps up push for end to Libya civil war
By CHEN WEIHUA in Brussels | China Daily | Updated: 2020-01-09 10:08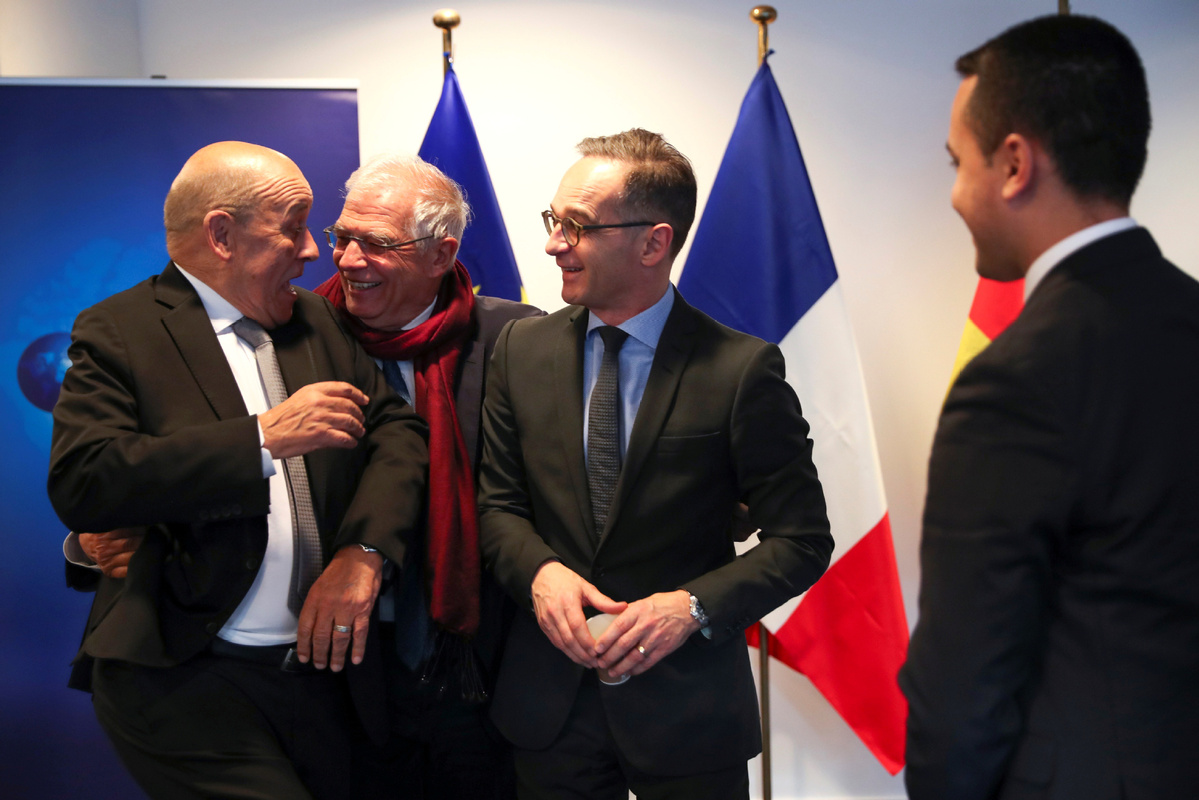 Bloc's top diplomat calls for truce after talks with European foreign ministers

The European Union's foreign policy chief Josep Borrell on Tuesday called for an immediate ceasefire and a diplomatic solution to the Libyan conflict after meeting with foreign ministers of four major European nations.
The call came after an escalation in the fighting in Libya's civil war. On Monday, a rebel army led by General Khalifa Haftar said it had taken control of the strategic coastal city of Sirte, marking a major advance for Haftar's forces since the launch of a military campaign in April to capture Tripoli.
On Sunday, the forces were blamed for an attack on a military academy in the capital Tripoli, killing 30 students and drawing condemnation from the United Nations.
"We have agreed on a joint statement in which we are calling for an immediate stop to any further escalation of violence and also to the external interference which has been increasing over the last days," Borrell told a news conference in Brussels on Tuesday after his meeting with Heiko Maas, Luigi Di Maio, Jean-Yves Le Drian and Dominic Raab, respectively the foreign ministers of Germany, Italy, France and the United Kingdom.
Libya has been controlled by two separate forces since the toppling of longtime leader Moammar Gadhafi in 2011. The forces in Tripoli are recognized by the UN, and those in eastern Libya, the Libyan National Army rebel forces led by Haftar, are supported mainly by Egypt and the United Arab Emirates.
Borrell, a former Spanish foreign minister, said: "Any escalation and also any outside interference will only make the conflict more protracted, bring more misery to ordinary people in Libya, exacerbate divisions in the country, increase the risk of its partition, spread instability across the region and aggravate the threat of terrorism."
He said the EU will be actively engaged with all relevant actors in its efforts to stop the hostilities and achieve the resumption of a political dialogue. He also called for an arms embargo declared by the UN to be strictly respected.
Borrell stressed that the only solution has to come from political negotiations among the various parties, adding that there is no military solution.
The new EU high representative for foreign affairs and security policy noted that he regards Turkish military assistance to Libya as foreign interference.
Turkey's Grand National Assembly approved a motion last week allowing its government to send troops to help Libya's UN-recognized Government of National Accord. Ankara claims that its troops are being sent not to fight but to ensure a ceasefire.
The EU has been conducting a flurry of diplomatic activities on the Libya crisis. On Tuesday, Italy's Di Maio traveled to Turkey. He retweeted a message on Tuesday evening by Turkish Foreign Minister Mevlut Cavusoglu about their meeting.
On Wednesday, he was expected in Cairo to join his counterparts from Egypt, Greece, Cyprus and France for a meeting on the issue.
While foreign ministers of the EU's member states will meet on Friday to discuss developments in relations between Iran and the United States, Borrell indicated it would also be an opportunity to talk about any further actions that the EU may need to pursue regarding Libya.
On Sunday, German Chancellor Angela Merkel officially invited Algerian President Abdelmadjid Tebboune to a conference organized by Berlin aimed at finding a solution to the Libyan crisis. No date has been set for the meeting and there was speculation it would be held this month, according to the London-based Middle East Monitor.
Turkish President Recep Tayyip Erdogan met Russian President Vladimir Putin in Istanbul on Wednesday to discuss the situation. The two countries are backing different sides in the Libya's civil war and are trying to find a solution to the conflict.