Tesla the catfish for Chinese electric car makers
China Daily | Updated: 2020-01-13 07:51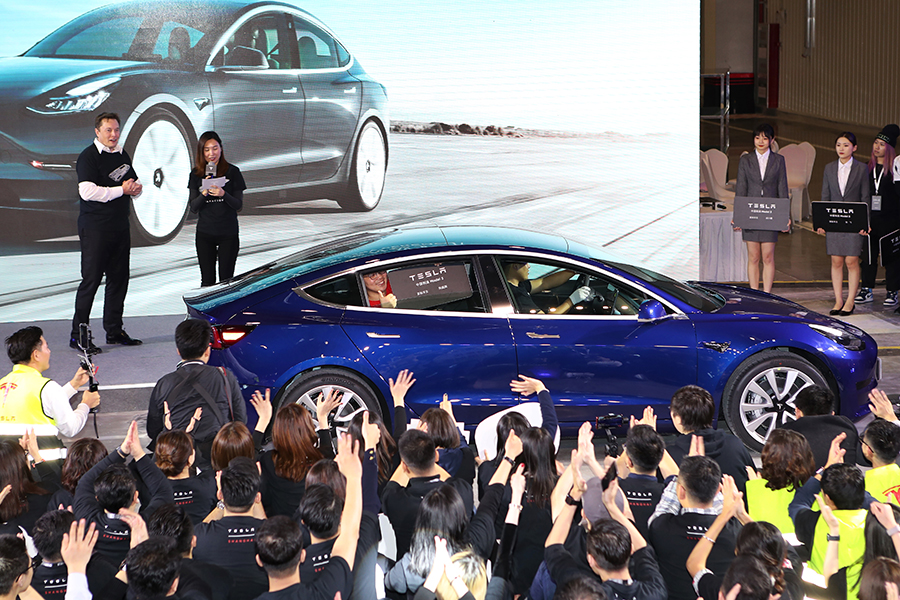 While many are applauding Tesla's fast localization in China, including its CEO Elon Musk, who broke into an impromptu dance last week during a ceremony to mark the finishing of the phase one project of its gigafactory in Shanghai, Chinese electric car manufacturers might be forgiven for not sharing that mood.
If the retail price of the Tesla model 3 is lowered to about 250,000 yuan ($36,139) as reported, the impact on Chinese electric car makers could be fatal.
That many Chinese carmakers wholeheartedly embrace the coming of the electric car era is not only because of huge potential of the Chinese market, but also that they have accepted that they cannot win the competition with foreign brands in the automobile sector after trying to for decades.
Now they have to face up to the price competition stemming directly from a localized Tesla, which has come faster than they expected, partially thanks to the "Shanghai speed" with which the Shanghai authorities have helped the US car giant to materialize its vision into reality.
The coming of Tesla has been much faster than Chinese automakers expected. They now have no choice but to improve their designs, technology and brand building as soon as possible to compete with Tesla.
It is a concern that the coming of Tesla might prompt some of them to resort instead to low-price competition so as to focus on the leftovers of Tesla.
If so, their previous input will be wasted, and the electric car industry in China might repeat the same fate of the automobile industry as before.
Chinese enterprises should not forget that it will take another few years for the output of Tesla in China to increase dramatically, during which the huge demands of the Chinese market will continuously be there awaiting the best domestically designed and developed electric cars.
Also, they should be confident that the Chinese market is large enough to support more than one Tesla. And as long as they accurately find their market niche and engage in diversified competition with the foreign brands, while always focusing on research and development, they still have the opportunities to succeed.
-21ST CENTURY BUSINESS HERALD