Britain 'must look beyond US for military support'
By JULIAN SHEA | China Daily Global | Updated: 2020-01-14 09:42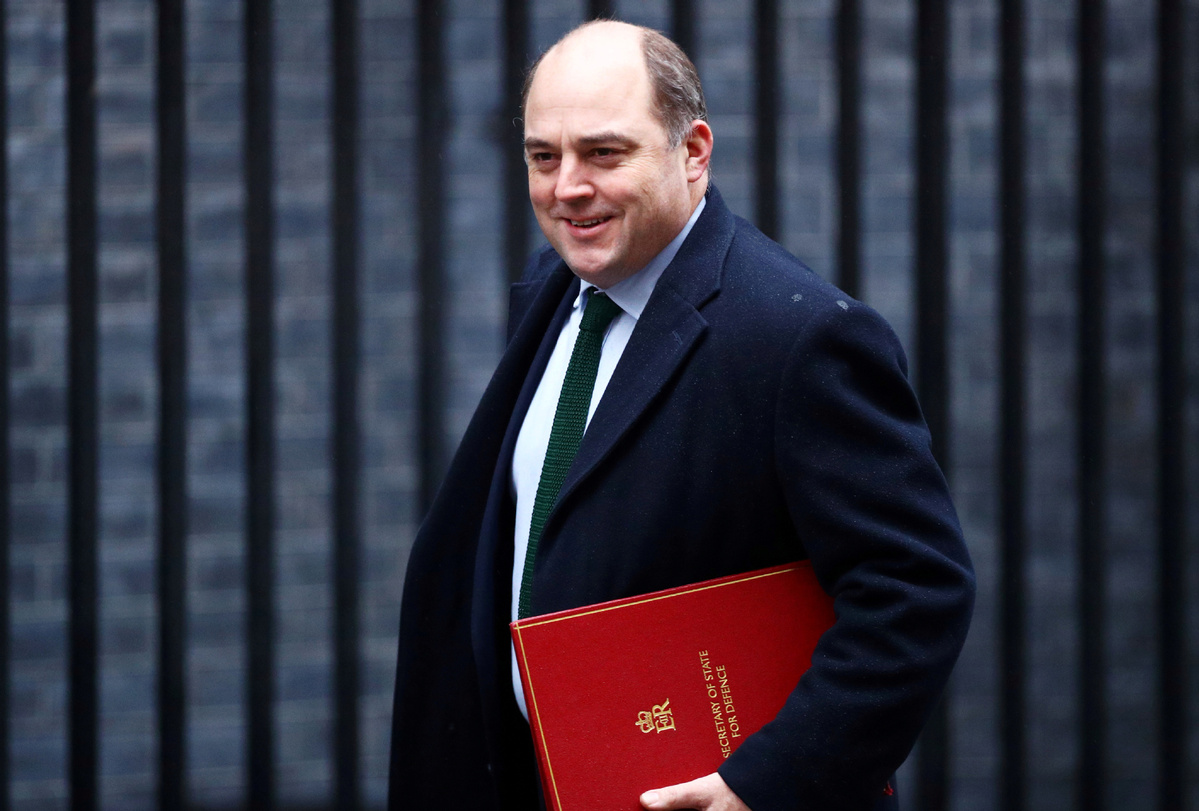 Minister admits need for wider range of partners and more diversity of assets
British Defense Secretary Ben Wallace says the country can no longer rely on the United States for military support as it has done for years, and the prospect of the US abandoning its position as the world leader keeps him awake at night.
The recent US attack that killed Iranian general Qassem Soleimani, and the subsequent ramifications for regional and global politics and security, came the day after a new advertising campaign for armed forces recruitment was launched in the United Kingdom, whose military last year fell in size for the ninth year running.
"The assumptions of 2010 that we were always going to be part of a US coalition is really just not where we are going to be," Wallace told the Sunday Times.
In addition, US President Donald Trump has used the Five Eyes shared intelligence network, a partnership comprising the US, UK, Canada, Australia and New Zealand that has existed since after World War II, to put pressure on the UK over its possible adoption of Huawei 5G mobile phone technology.
Speaking about the issue in December, before his resounding general election victory, British Prime Minister Boris Johnson said"I don't want this country to be hostile to investment from overseas.
"On the other hand, we cannot prejudice our vital national security interests nor can we prejudice our ability to cooperate with other Five Eyes security partners. That will be the key criterion that informs our decision about Huawei."
Wallace said this reliance on US intelligence assistance made contingency plans all the more vital. "We are very dependent on American air cover and American intelligence, surveillance and reconnaissance assets," he explained. "We need to diversify our assets … we are going to have to make decisions that allow us to stand with a range of allies."
As part of his preparations for Britain's withdrawal from the European Union at the end of January, and the resulting economic impact, Johnson has ordered detailed scrutiny of all government expenditure, as well as the "deepest review" of the country's foreign, defense and security policy since the end of the Cold War.
Johnson's failure to play a prominent role and speak out sooner and more vocally in the aftermath of the killing of Soleimani drew heavy criticism.
Speaking about the matter on Sky News, Security Minister Brandon Lewis steered clear of criticizing the Trump administration's actions, saying "it's absolutely right for the US to be able to defend itself".
"The US took a decision about the right way to do that and we have to respect that… the prime minister's focus with partners and talking to (Iranian) President (Hassan) Rouhani has been around de-escalating the situation. That is what's in the global best interest for all of us."
When asked for his reaction to Wallace's remarks, Lewis added "The US plays an important part in that but we also work with partners across Europe and other places around the world."