Most Japanese oppose Middle East plan for naval forces, poll finds
By WANG XU in Tokyo | China Daily | Updated: 2020-01-14 10:08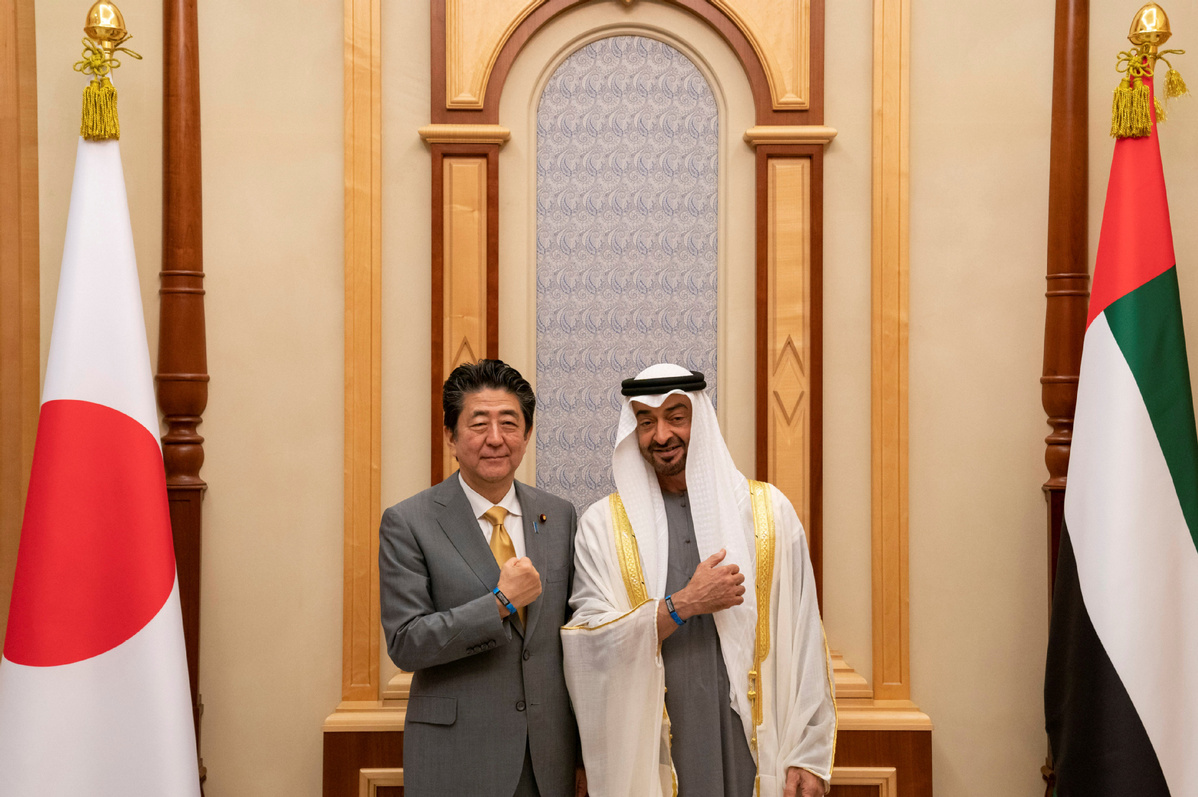 More than half of the respondents to a survey in Japan say they oppose the government's plan to send naval forces to the Middle East amid tensions between the United States and Iran.
The poll, which was conducted by Kyodo News on Saturday and Sunday, randomly selected 737 households with eligible voters and 1,225 mobile phone numbers to gather respondents' opinions. As a result, the responses of 521 households and 514 mobile users were obtained, with 58.4 percent of them opposing the plan that would send Japanese forces into the troubled region.
The figure was revealed as Japanese Prime Minister Shinzo Abe left on Saturday for a five-day trip to the Middle East, visiting Saudi Arabia, the United Arab Emirates and Oman.
Tokyo's commitment of Self-Defense Forces personnel and assets to the region will be for an "information-gathering mission to ensure the safe navigation of ships in the region, including those owned or operated by Japan", the authorities say.
"Japan will take its own initiative to tenaciously conduct peace diplomacy so as to ease tensions and stabilize the situation in the region," Abe told journalists before leaving Tokyo's Haneda airport.
Abe said he wants to win support from the three countries for the Self-Defense Forces deployment, as the mission is vital to ensure the safety of Japanese commercial ships operating there.
According to Japan's Defense Ministry, two P-3C Maritime Self-Defense Force surveillance aircraft will start their mission in the Middle East on Jan 20; a destroyer, the Takanami, will leave Japan on Feb 2 to join them.
The ministry said Japan's naval deployment is to enhance its own intelligence-gathering capabilities in areas that include the Gulf of Oman and part of the Arabian Sea. It stressed that the Strait of Hormuz, with Iran on one side and a key shipping lane, is excluded from the mission.
The Kyodo survey showed the approval rate for Abe's Cabinet rose 6.6 points to 49.3 percent from December; the disapproval rate stood at 36.7 percent.
Asked about the most appropriate time to dissolve the lower house for a general election, 46.1 percent of the respondents said this should be after the Tokyo Olympic and Paralympic games this year. Those who wanted to see the election next year or later came in at 36.1 percent. The four-year term of members in the House of Representatives will end in October 2021, unless Abe dissolves the chamber beforehand.
On a successor to Abe as the ruling Liberal Democratic Party president and prime minister, 18.2 percent of those polled support Shigeru Ishiba, a former secretary general of the party. Some 13.1 percent hoped Abe would remain in office and 11.8 percent endorse Environment Minister Shinjiro Koizumi.
The survey also showed that 86.2 percent of the respondents were "anxious" or "somewhat anxious" about Japan's economic outlook.
Kyodo News contributed to this story.
wangxu@chinadaily.com.cn