Foresight, accountability can forestall sinkholes: China Daily editorial
chinadaily.com.cn | Updated: 2020-01-14 19:50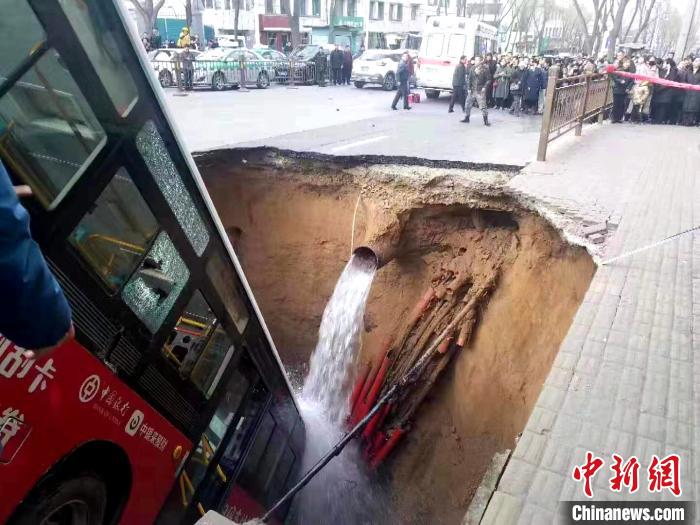 According to initial information released by the local authorities, six people are dead, 10 missing, and 16 injured after a huge sinkhole engulfed a bus and pedestrians on Monday evening near a hospital on a busy street in Xining, Qinghai province.
Search and rescue efforts are still ongoing. So is an investigation into the cause of the tragedy.
While hoping for the safe rescue of those who are missing, we urge urban public utilities authorities across the country to check the conditions of the underground infrastructure in their cities, and take necessary precautions as required to limit the chances of such tragedies occurring as much as possible.
Too many have already taken place. And nobody has any idea how many more are on their way.
Just last month, a road section above a subway building site in Guangzhou, Guangdong province, caved in, killing three people. In late August in Hangzhou, Zhejiang province, also above a subway construction site, a road collapse and subsequent gas leak forced the emergency evacuation of almost 800 homes.
Since New Year's Day alone, we have had reports of road sinkholes in Zhengzhou in Henan province, Suzhou in Jiangsu province, Xiamen in Fujian province, and Guiyang in Guizhou province. Although fortunately there were no casualties reported in these incidences.
According to experts, although some sinkholes are attributable to natural causes, such as underground water and soil erosion, most are the result of the poor design, maintenance, or aging of underground infrastructure for public utilities, or due to improper construction operations.
Flawed construction work for subways, excessive underground earth excavation for construction, as well as broken underground water and/or sewage pipes are the most common causes of road collapse in the country.
Yet amazingly, little has been done or even said about the possible human factor behind those causes. Given such incidents' obvious links to various public utility projects underground, they certainly are not natural disasters, no matter how difficult it is to ascertain who is responsible for what, and to what extent.
As long as human error is involved, corresponding probes should focus on finding out the underlying human causes, so as to help prevent future tragedies. It is unacceptable that innocent lives are lost in such a manner and it is taken for granted.
As urbanization continues, it will require the use of more land and the expansion of underground facilities and more construction.
Town planners, design engineers and construction supervisors need to be aware that underground work, especially any redirecting large amounts of water, has the potential to result in a sinkhole and take every foreseeable precaution to prevent one.