Fears growing as volcano spews lava for third day in Philippines
China Daily Global | Updated: 2020-01-15 09:21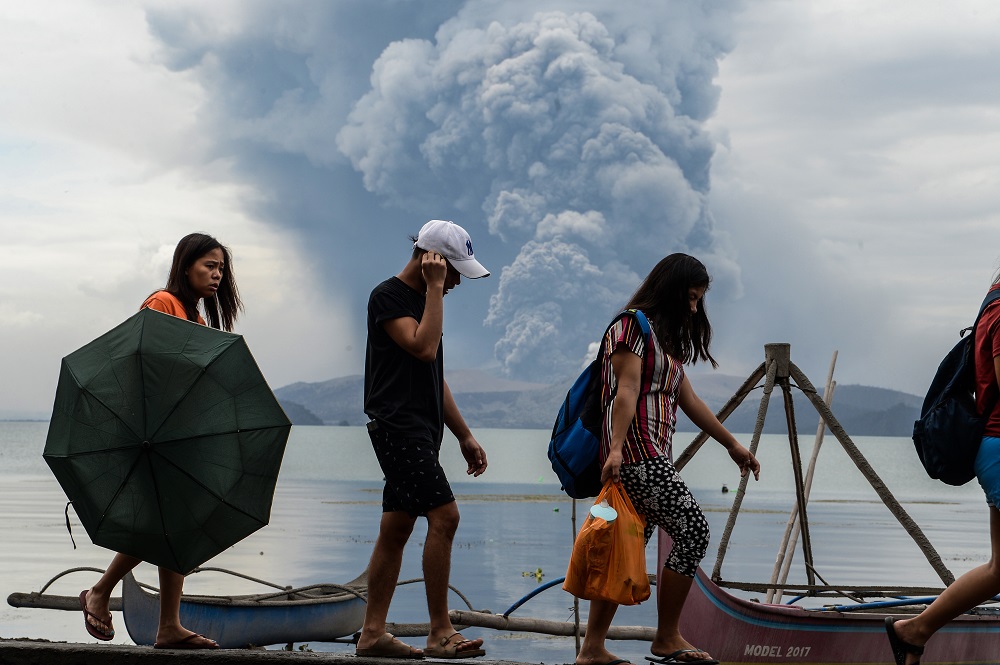 TAGAYTAY, Philippines-A volcano near the Philippine capital spewed lava, ash and steam and trembled constantly on Tuesday on the third day of an eruption that could portend a much bigger and dangerous eruption, officials warned. Tens of thousands of people have fled ash-blanketed villages in the danger zone.
The continuing restiveness of the Taal volcano after it rumbled to life on Sunday indicates magma may still be rising to the crater, the Philippine Institute of Volcanology and Seismology said. It raised the alert level to 4, indicating a hazardous eruption is possible in hours or days. Level 5, the highest, means such an eruption is underway.
The volcano was spurting fountains of red-hot lava 500 meters into the sky with dark-gray plumes of ash-laden steam that reached 2 kilometers high. The massive volcanic column at times flashed with streaks of lightning.
More than 200 earthquakes and tremors have been detected in and around Taal, 81 of which were felt with varying intensities. "Such intense seismic activity probably signifies continuous magmatic intrusion beneath the Taal edifice, which may lead to further eruptive activity," the volcanology institute said.
Many residents abandoned livestock and pets as well as homes full of belongings after authorities sounded an alert warning that an "explosive eruption" could come imminently.
Gerald Aseoche, 30, fled with his four young children and a few possessions, and has refused to leave them to go to work as the volcano belches out lava and earthquakes tied to the eruption rattle the region.
"I am hoping this won't go on too long because I will lose my job if I can't report to work immediately," said Aseoche, a house painter.
"I can't leave them ... family first," he said as he cradled one of his children.
The government's disaster-response agency counted more than 30,400 evacuees in Batangas and nearby Cavite provinces. Officials expected the number to swell.
Government work was suspended and schools closed in a wide swath of towns and cities, including Manila, because of the health risks from the ash. The eruption has not directly caused deaths or major damage.
Falling ash pushed aviation officials to temporarily shut down Manila's main international airport, forcing the cancellation of hundreds of flight and stranding tens of thousands of travelers.
Ninoy Aquino International Airport resumed reduced operations on Monday and was gradually recovering on Tuesday, but a backlog of canceled flights resulted in ongoing pain for travelers.
Taal is one of the most active volcanoes in a nation hit periodically by eruptions and earthquakes due to its location on the Pacific "Ring of Fire"-a zone of intense seismic activity. Its last disastrous eruption, in 1965, killed hundreds of people.
Xinhua