Imports of Kazakhstan beef to help raise supply in Beijing
By Jiang Xueqing | China Daily | Updated: 2020-01-21 09:35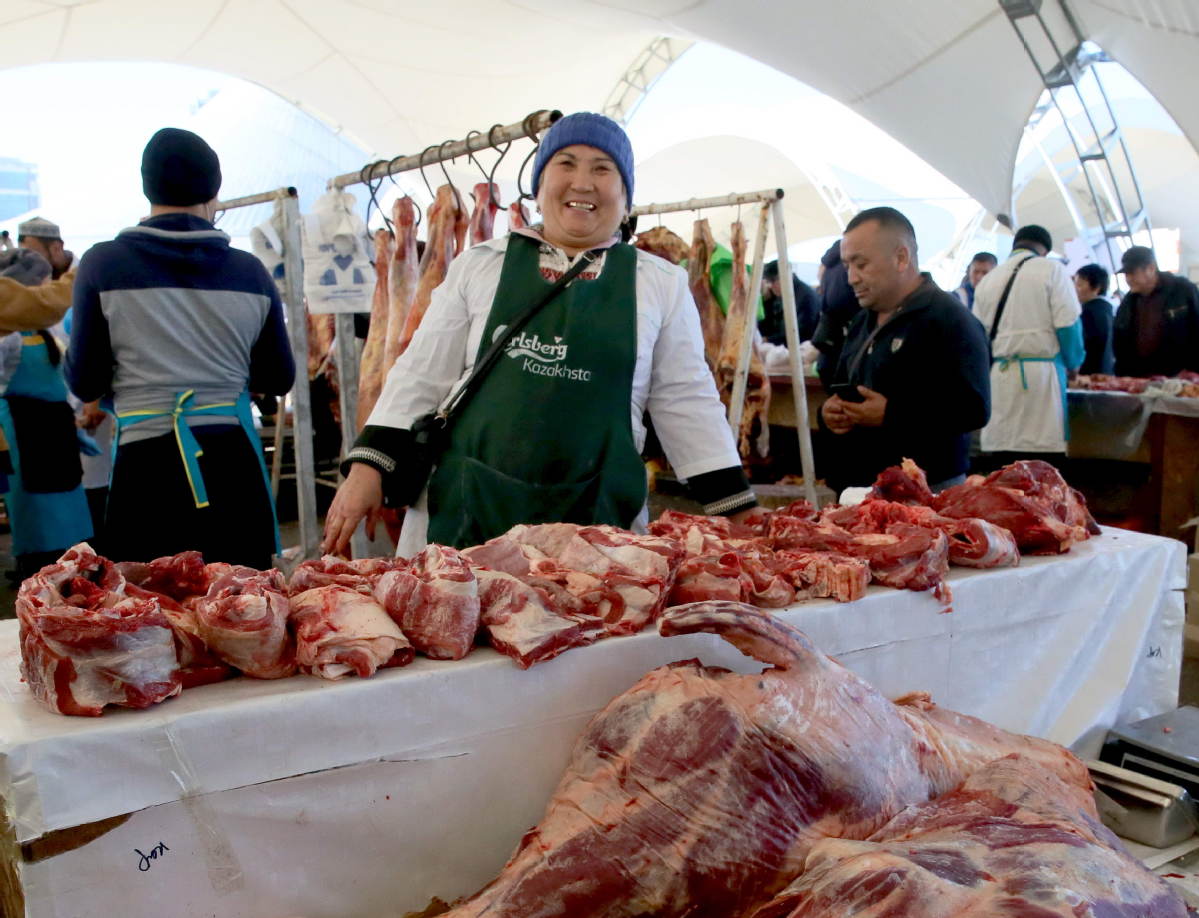 With the help of China CITIC Bank Corp Ltd, the Xinfadi Agricultural Products Wholesale Market in Beijing imported 60 metric tons of beef from Kazakhstan and will conduct a large volume of trade business with the Central Asian country in the long run.
The first container carrying 20 tons of beef has already entered the Xinfadi market to ensure the beef supply in Beijing during the forthcoming Lunar New Year holiday.
It is expected that the market will import 5,000 tons of fresh meat from Kazakhstan annually and will carry out cooperation in upstream areas such as animal husbandry, fattening operations and slaughtering, said Zhang Yuxi, chairman of the market, at a ceremony marking Beijing's first beef import from Kazakhstan on Monday.
"We are looking forward to more Kazakh agricultural products to come into Xinfadi and the Chinese markets," Zhang said.
Supplying 90 percent of agricultural products in Beijing, the Xinfadi market had a trade turnover of 131.9 billion yuan ($19.2 billion) last year.
China imported more than 18 tons of beef from Kazakhstan for the first time in August, via the land port of Horgos in the Xinjiang Uygur autonomous region, after China lifted the foot-and-mouth disease related ban on imports of beef of Kazakh origin.
"Up to now, four Kazakh beef production companies were allowed by the General Administration of Customs to export to China … We will further promote the Chinese administration to include more Kazakh beef exporters on its white list," said Tursyn Kabduldanov, deputy chairman of the committee of veterinary control and supervision at Kazakhstan's Ministry of Agriculture.
Liu Jiangping, an official from China's Ministry of Foreign Affairs, said the two countries have established close cooperation in trading agricultural commodities including wheat, soybean, beef and mutton.
During Chinese Vice-Premier Han Zheng's visit to Kazakhstan in May, China CITIC Bank and Halyk Bank, Kazakhstan's largest lender by assets, jointly held a sub-forum for high and new technology enterprises from both countries and arranged visits and business exchange activities for Chinese companies in Kazakhstan.
China CITIC Bank completed its purchase of a 50.1-percent stake in Altyn Bank from Halyk Bank in April 2018 and became the first Chinese bank to acquire equity stake in another bank in countries and regions associated with the Belt and Road Initiative.
Li Qingping, chairperson of China CITIC Bank, said, "The Belt and Road Initiative has brought development dividends for both countries … our bank will firmly implement the initiative and promote deeper cooperation between the two countries."