Lunar New Year travel rush changing direction
By Fan Feifei | China Daily | Updated: 2020-01-22 08:02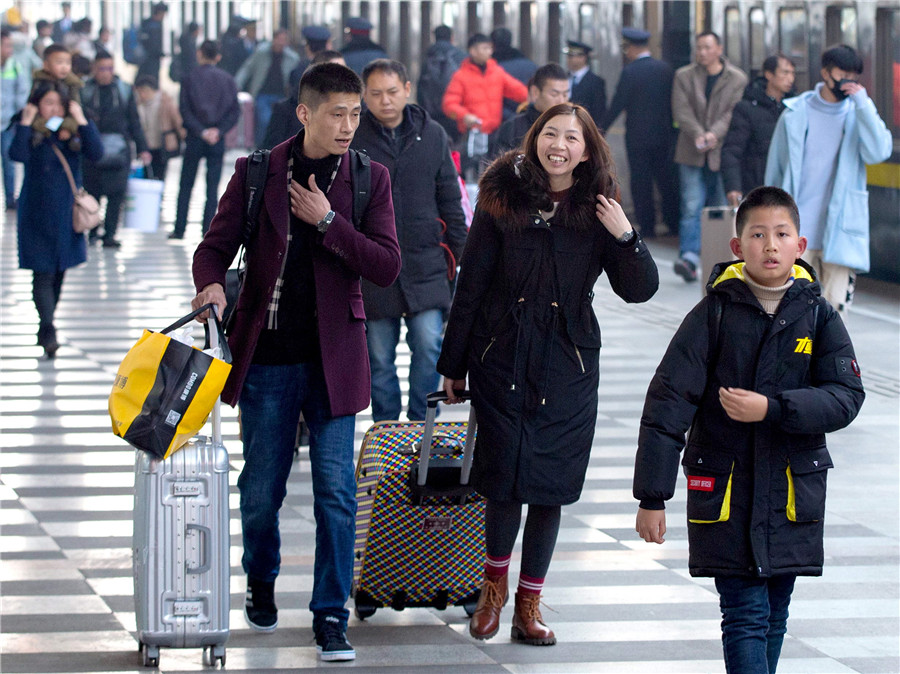 Lin Xue, a 28-year-old bank employee from Changzhi in North China's Shanxi province, booked two high-speed railway tickets for her parents two weeks before the upcoming Spring Festival holiday.
Lin settled down in Beijing for better work opportunities about three years ago after she received a master's degree. "It is difficult to acquire a train ticket or plane ticket to my hometown during the Spring Festival travel rush, so I decided to invite my parents to Beijing this year and they will arrive on Thursday.
"Most people leave big cities for smaller places where their parents reside during the travel rush, so it is easy to book tickets from my hometown to Beijing. I want to let my parents experience a different Lunar New Year here," she added.
With the Year of the Rat just around the corner, a growing number of young people are inviting their parents to the cities where they work for family reunions, a new trend during the annual travel rush.
According to a report from Chinese internet search giant Baidu Inc, the search volume of reverse Spring Festival travel in 2020 has increased fivefold year-on-year, with Beijing, Guangzhou, Chengdu, Shanghai and Chongqing being the most popular destinations.
The Chinese authorities have also encouraged reverse travel with preferential policies allowing travel companies to offer discounts on ticket prices. The reverse rush has maintained an average growth of 30 percent over the past two years, said Fliggy, Alibaba's online travel service provider.
Moreover, data from Baidu showed that more and more elderly people are beginning to send Lunar New Year's greetings through short videos, which have witnessed explosive growth in China thanks to the rapid development of 5G and artificial intelligence.
The revenue from the short video industry reached 14.01 billion yuan ($2.0 billion) in 2018, up a blistering 520.7 percent year-on-year, and the figure is expected to surpass 55 billion yuan in 2020, said market research company iResearch.
Meanwhile, the post-1990 generation account for 80 percent of the people who plan to work overtime during the upcoming holiday, while the post-1980 generation take up 12 percent, with "Spring Festival overtime payment" becoming a buzzword.
In addition, the annual Spring Festival Gala, the most-watched annual show on Chinese New Year's Eve, is still popular with young people, with 44 percent of the post-1990 generation expected to tune in.
Boston lobster, Norwegian salmon, fish from Chagan Lake and other fresh foods are favored by the post-1995 generation, who prefer eating spaghetti, steak, salad and salmon, and drinking red wine at family reunion dinners on the eve of the Lunar New Year.
It is noteworthy that the post-1980 generation tend to buy intelligent home appliances, apparel and fresh food products for the upcoming Spring Festival, while the post-1990 generation spend money on electronic devices and game consoles.
The search volumes of homegrown brands, such as Moutai, Hsu Fu Chi, Wahaha and Three Squirrels have skyrocketed 1,504 percent compared with last year. Northerners are fond of dumplings, while those from regions in the south are keen on rice during the Spring Festival.
Apart from watching the Spring Festival Gala, visiting relatives and setting off firecrackers, people spend time watching online videos, playing games and reading comics. They are also encouraged to collect digital red packets as major internet companies are preparing to dish out record sums of money to attract new users.
Wei Xiang, an associate professor from the National Academy of Economic Strategy of the Chinese Academy of Social Sciences, said the reverse Spring Festival travel rush will effectively reduce the pressure on the transportation system and make use of idle transport resources.