Rise in food allergies creates demand for special medical products
By Wang Zhuoqiong | China Daily | Updated: 2020-01-23 09:48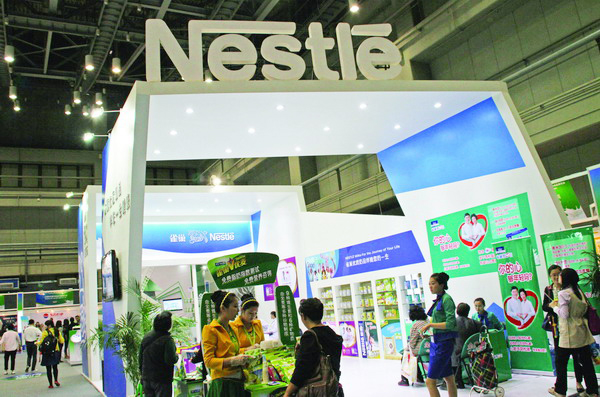 The prevalence of food allergies among infants and young children in the country is creating a demand for special medical foods, as well as fierce competition requiring higher quality and services in the sector, said industry experts.
Nestle Health Sciences' Althera and Alfare, two extensively hydrolyzed formulas for infants and young children, have recently obtained Food for Special Medical Purpose (FSMP) registration permits in China.
The two products are currently the only such formulas to have been granted permits, according to Nestle Health Science (NHS), a subsidiary of Nestle, the global food and beverage giant whose headquarters are in Switzerland.
In 2016, the China Food and Drug Administration (CFDA) released a regulation that categorizes FSMP as one kind of special food together with infant formulas and health foods, subject to specialized management requiring registration with the CFDA before sale in China.
Since then, only 43 products from companies at home and abroad have obtained FSMP permits. Among them, 29 are aimed at the infant market and 10 are for babies aged one year old and above, according to NHS.
The World Health Organization has listed allergic diseases as one of the key preventable public health diseases. The prevalence of food allergies in children is 0.02 percent to 8 percent, and has increased in recent years, causing concern.
Among them, milk is the most common food allergen for babies under the age of 3, with a prevalence of 2.5 percent to 7 percent, causing symptoms including vomiting, diarrhea and eczema.
Cecily Gu, regional business head of NHS China, said the company has combined its strong R&D capabilities to create professional nutrition solutions, with two products-Althera and Alfare-both being modified in strict accordance with the relevant requirements of Chinese national standards, making the formulas more suitable for the nutritional needs of babies with cow's milk protein allergy (CMPA) in China, obtaining national FSMP registration approval.
Gong Sitang, professor at the Guangzhou Women and Children's Medical Center, said that for most infants who are allergic to cow's milk protein and cannot be breastfed, extensively hydrolyzed formula is the first-line choice for dietary management.
Ma Lin of Beijing Children's Hospital said 40 percent to 50 percent of infants with CMPA also suffer from atopic dermatitis, and according to a 2015 survey by the Children's Group of the Chinese Society of Dermatology and Skin Diseases Branch, the incidence has increased significantly year-on-year. When a baby has related symptoms, parents need to be vigilant about whether the baby is allergic to milk proteins.
NHS China is one of the dairy producers that have joined the FSMP sector in recent years to cash in on the rising demand in the country. Last year, Synutra Dairy Group obtained approval for its FSMP products for premature babies and for partly hydrolyzed formulas. Beingmate Baby and Child Food Co Ltd also received permits for their new FSMP formula products.
However, the market is still niche considering the number of children with allergies, Gu said, as only two or three out of 100 children are affected. However, the sudden entry of new players in the field will lead to an over supply situation, she said.
The FSMP market is still in the early stages, valued at less than 1 billion yuan ($144.9 million), but the growing demand from children with allergies will push the market size to about 5 billion yuan in five years, said Zhu Danpeng, an independent food and beverage analyst.
"The percentage of children suffering from allergies is not high, but the worsening environment has resulted in a rise in the number of allergies among children, particularly infants and babies," Zhu said. He said it is crucial for formula milk producers to establish more extensive health product lines. But how to win in the market lies in the formula, quality and services of those producers, he said.