Now streaming, study from home
By ZHANG ZHOUXIANG | China Daily | Updated: 2020-02-12 07:13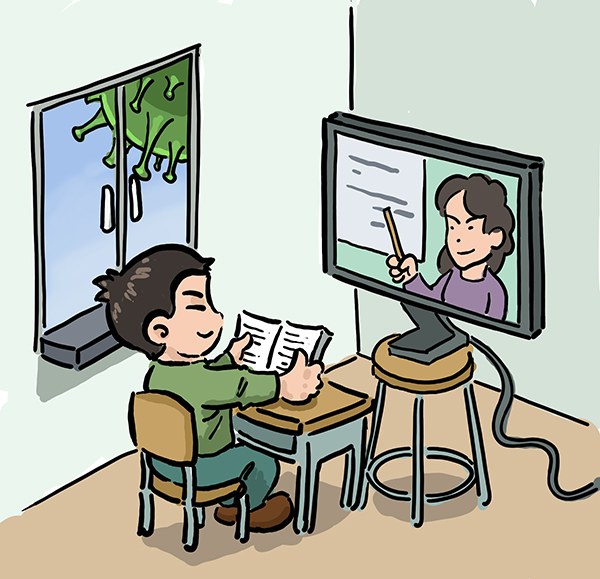 As the novel coronavirus spreads, city after city is trying to minimize population flows. It was easy as long as there was a holiday, but with schools and colleges gearing up for new semesters they are having to be innovative. And a solution has been found: livestreaming.
Teachers are now livestreaming to virtual classrooms, while students watch them on their computers from home. Like work from home, this could be the next big thing: study from home or teach from home.
And the online classes are just like offline ones, the teacher can interact with the students, ask questions and, as some students said online, even point the camera at an inattentive student, like calling him or her out in front of the whole class, which makes the whole experience like being in an actual classroom.
And the tasks the teacher gives are easier to handle, as the computer can review the answers given electronically.
Going by reactions on micro blogs, many students like the new virtual classroom and have learned much from it. Some teachers said they are diversifying their style of teaching thanks to the new technology.
Livestreaming as a form of education should be promoted and popularized. Unlike traditional classrooms, online ones enable teachers, as well as students, to share resources more efficiently by letting one teacher face more students. Livestreaming also allows teachers to use more technologies, from automatic roll-calling to sharing videos more conveniently.
It is hoped that more technologies enter classrooms and make them more modern and efficient. Such livestreaming classes are the best way to fight the novel coronavirus epidemic. Even if everybody has to stay indoors, people can still work, attend classes and do most things from home without exposing themselves to infection.
It might take days or even weeks before people can return to commuting, but such technologies can help people become more confident about fighting the virus.