Courts make use of online platforms amid epidemic
By Cao Yin | China Daily Global | Updated: 2020-02-12 09:24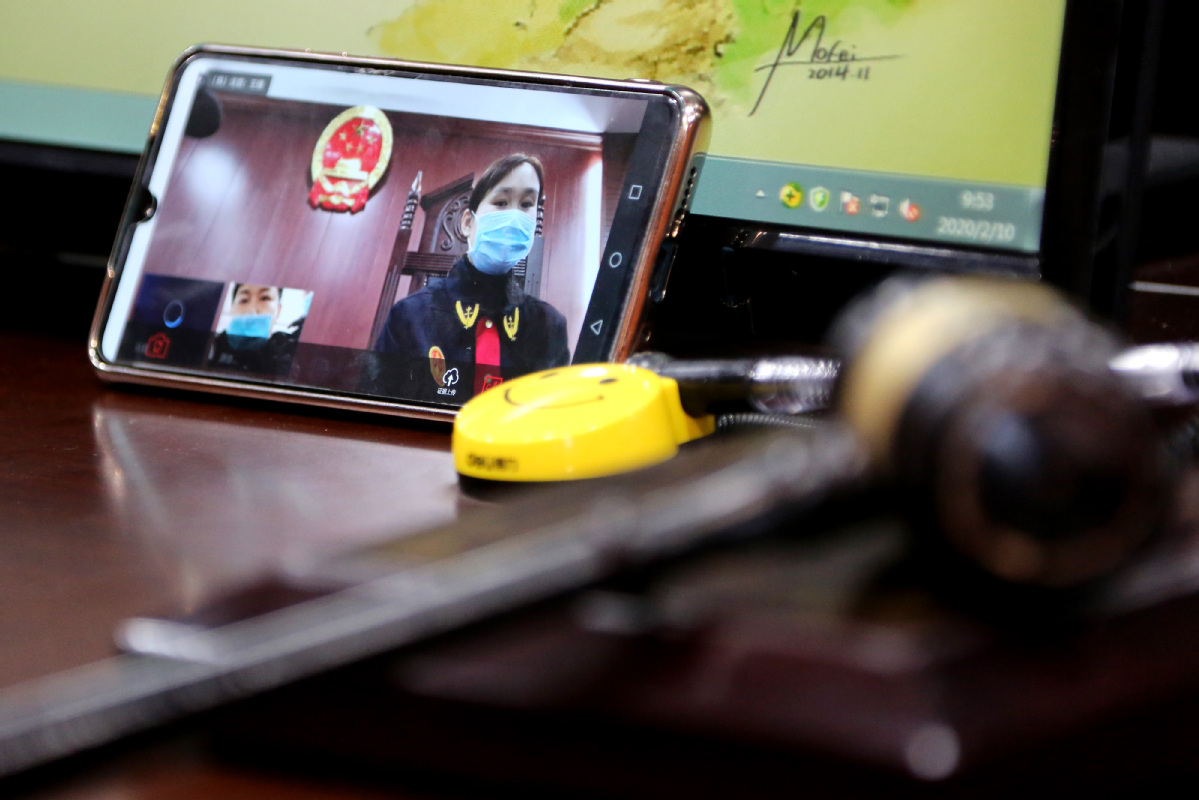 When Chen Shi, a judge with Beijing No 1 Intermediate People's Court, was worried that some trials would not begin on time because of the ongoing pneumonia caused by the novel coronavirus, an online platform helped her solve the problem.
The app, developed by Beijing High People's Court, is called Yunshenpan, which literally means 'trial in the cloud'.
On Feb 4, Chen finished hearing a private loan dispute through the platform with a video communication system, "which not only met the litigation demands of the two parties, but also ensured their health and safety during the epidemic period," she said.
Before the hearing, she first got the litigants' approval to use the platform and taught them to install software on a laptop or download a smartphone application.
"It was easy. It took them about two or three minutes to log in to the system, and both of the litigants could talk with each other and also with me online quickly," she said.
A lawyer for one of the litigants was in the Ningxia Hui autonomous region.
"If he was back in Beijing to attend the trial, he would have first had to be quarantined for at least 14 days, which means our hearing might not have begun on time," Chen said. "But thanks to the platform, the difficulty was solved."
Originally, all of the judge's case hearings scheduled for the following week were canceled due to the epidemic, but since the platform was put into use on Feb 3, "my concerns about trial delays have been alleviated a lot," she added.
A statistic released by the high court on Wednesday also showed that courts across the city have used the online platform to hear cases 78 times since Feb 3, helping reduce visits and gatherings in courts.
Li Xiang, director of the technology department in the high court, said the online platform could support eight people at most to communicate by video at the same time during a trial, "and the litigation process will be recorded via a video recognition system".
Considering that the epidemic may last for some time, the Supreme People's Court, the country's top court, ordered courts at all levels to guide litigants to file cases or mediate disputes online, encouraging judges to make full use of online systems for litigation, including those for case filing and ruling delivery, to ensure litigants and their lawyers get better legal services and protection.
Dong Bingbing, a judge from Shushan District People's Court in Hefei, Anhui province, heard three cases relating to contract disputes on Feb 5 via an online system developed by courts in Anhui. In his view, such online trials are more suitable for dealing with easy lawsuits, not those that are more complex.
"Complicated disputes and those that demand litigants to offer abundant evidence still need to be postponed during the epidemic," he said, calling for courts nationwide not to file new cases during the period, "because a new filing means litigants and their attorneys should go out to discover evidence, which is not good amid efforts to prevent and control the disease".
"People's health and safety must always be the top priority, compared with their litigation rights," he added.
The top court also suggested litigants submit materials through the internet or by post, adding that people can dial 12368, a litigation service hotline, to follow their lawsuits or ask for legal services.