Moving beyond the standstill
By Yang Feiyue | China Daily | Updated: 2020-02-13 07:45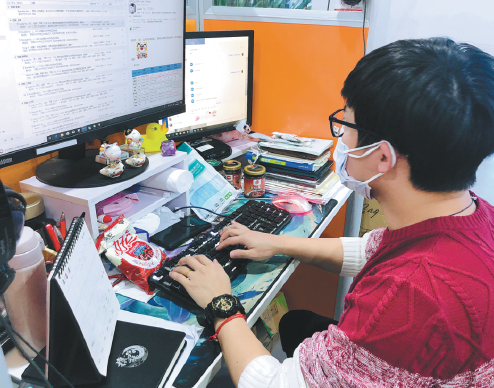 Travel companies are struggling to process mass cancelations as the novel coronavirus brings the industry to a halt. But many insiders expect a recovery soon.
Lan Nan worried about her trip because of the virus. So, she canceled it. Then, she worried about her refund. But now the 39-year-old from Deyang, Sichuan province, feels at ease since policies have ensured reimbursements for vast numbers of people who've changed their travel plans.
Lan had booked a trip to Bali, Indonesia, on Dec 7, 2019, through the major domestic online travel agency, Ctrip.
She'd spent 17,000 yuan ($2,438) on the trip for her family, including an insurance policy allowing for unconditional cancelation.
Lan was scheduled to leave on Feb 1. But she began to worry about the trip as the novel coronavirus outbreak seized headlines in late January.
Then, China's transport authorities, including the Ministry of Transportation and the Civil Aviation Administration, developed measures allowing passengers to cancel their tickets for all transportation nationwide without fees. The rule took effect from Jan 24, as part of efforts to contain the outbreak, authorities say.
Later, the Ministry of Culture and Tourism ordered travel agencies nationwide to suspend group tours and solo-travel services that cover flight tickets and hotels from Jan 27.
"It was disappointing to cancel the trip, but we knew we had to," Lan says.
When she tried to cancel through Ctrip's self-help channel on Jan 24, the order showed she had to cover all losses herself. So, she called the company's customer-service hotline but wasn't able to get anyone on the phone that day.
"I figured they must be overwhelmed with cancelations," she says.
The next day, she discovered the hotel costs were fully refundable.
"It was a relief," Lan says. "It put our mind at ease. We knew people at the travel agency were working to solve our problems."
She was able to reach Ctrip by phone on Feb 4. The company told her to wait while it negotiated with the airline, Lion Air.
"I was told the results would come within 14 days. They said that, in the worst-case scenario, they'd provide me with all receipts necessary for me to get insurance compensation," Lan says.
The outbreak has brought the country's tourism industry to a standstill and forced many Chinese to cancel or postpone trips and stay home during the Spring Festival holiday.
There were 415 million tourist visits in China during last year's Spring Festival, from Feb 4 to 10, an increase of 7.6 percent compared with the same period in 2018, the China Tourism Academy reports.
Tourism income reached 513.9 billion yuan ($74.1 billion), an 8.2 percent increase.
About 6.3 million Chinese made outbound trips during the 2019 Spring Festival holiday, according to the academy.
Big tourism operators, including Ctrip and Alibaba's online travel-service provider, Fliggy, have reported a wave of cancelations.
Xu Bei, who's in charge of Ctrip's flight services in Shanghai, has been buried under customer requests since Jan 21.
"Our workload has quadrupled. We're working nine to 11 hours a day," she says.
Xu's team handles over 300,000 orders a day. There are currently about 1 million unresolved orders.
"Different airlines have different (cancelation and extension) policies. We have to read hundreds of emails about airlines' policies every day," Xu says.
Customers who've canceled at different times may get different refunds, which can lead to complaints.
"We have to collect their requests and take them to respective airlines, while pacifying their negative feelings. We hope our customers can give us some more time and be patient," she says.
Sudden changes often cause spikes in the team's work.
For example, they received a notice from South Korea on Feb 5 that passengers with Chinese passports must have South Korean visas to transfer in the country's airports.
"Customers' feedback surged by 20 percent that day," Xu says.
Xu says she's moved that many of her colleagues sacrificed their holidays to work around the clock without complaining.
"Our employees are overloaded," says Ctrip's CEO, Sun Jie.
At Ctrip's biggest call center in Nantong, Jiangsu province, over 7,000 employees are dealing with the incoming requests for changes to bookings.
The virus' spread has jammed customer-service hotlines, especially at the start of the outbreak. At the peak, some customers couldn't get through after an hour.
The travel agency called upon hotels nationwide to join its cancelation initiative in late January. The initiative allows travelers to cancel on their own, without going through customer service.
Over 400,000 domestic hotels have agreed to date. Ctrip has, in turn, promised to promote them after the outbreak. The company has also begun negotiations with overseas hotels, about 100,000 of which have agreed to free cancelations.
"They weren't aware (of the gravity of the situation) and didn't know what had happened in China," Sun says. "We then explained the pros and cons to them."
Sun says that they first talked with big hotel groups, including Hilton and Marriott International, which agreed after realizing the labor costs if travelers called.
Ctrip has also set aside 200 million yuan for customer losses due to cancelations during the period.
The SARS outbreak paralyzed China's tourism in April and May of 2003. More than 11,000 travel agencies ceased operations. Visits and spending at star-rated scenic spots dropped by more than 80 percent, according to the National Tourism Administration, which is now affiliated with the Culture and Tourism Ministry.
But the industry rebounded quickly and caught up with the development of the previous year by August 2003, the administration reports.
Bookings surged by 200 percent in July 2003.
Traveler numbers and spending reached a record high during the National Day holiday in October 2003, with 11.5 percent and 13.1 percent growth, respectively.
Bookings increased by 500 percent during the May Day holiday in 2004.
"The mass cancelation of orders doesn't mean they've disappeared. Rather, these orders are postponed," Sun says, adding that she believes explosive growth will come afterward.
On Feb 5, Ctrip unveiled 10 measures to support its business partners, including 1 billion yuan for turnover pressure and 10 billion yuan for loans.
"Compared with 17 years ago, we have more experience now and have activated all our capacity to deal with (the situation)," Sun says. "I believe recovery will come."
Chengdu Harmony Tour's founder, Yin Xiaojuan, is also optimistic.
Yin has recently helped about 3,000 guests postpone or cancel trips to Europe.
She predicts her company will lose 4 million to 5 million yuan in profit. But she still tries to run her business as usual.
Yin believes things will return to normal in May through the country's efforts to combat the novel coronavirus.
"I didn't lay off a single employee," she says.
"The outbreak is a problem now. But it'll certainly strengthen the country's management, making things better. This can ultimately increase travel demand."