Cultural legacies
By Lin Qi | China Daily | Updated: 2020-02-14 07:00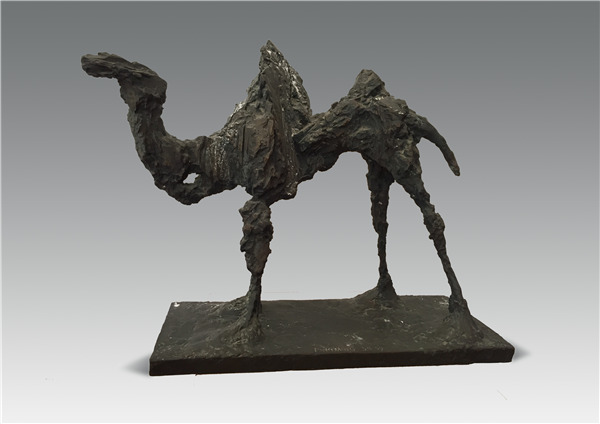 On Jan 19, it unveiled an ongoing exhibition of donated works on an unprecedented scale, of which more than 800 artworks occupy 19 of its 21 exhibition rooms and outdoor space.
Titled A Tribute to Donors, the exhibition that runs through March 28 presents the richness and diversity of the art and crafts the museum has received over nearly six decades, ranging from paintings, sculptures, calligraphy and lithography works, to photos, comics and folk art such as nianhua, the Chinese New Year posters, clay figurines and toys.
Jin's oil painting, Bada Shanren, which he donated to the museum in 2008, is also on show. The portrait depicts Zhu Da, a master artist who lived in 17th-century China. The work adopts the composition of classic Chinese ink painting to deliver an unworldly feeling and indicates a state of seclusion in which Zhu, better known by the pseudonym, Bada Shanren, mostly lived through his life.
Like many other public institutions in China, the National Art Museum is temporarily shut because of the coronavirus outbreak, but information on the exhibits of the show can be found on its website and WeChat account.
Two years before it officially opened to the public, the museum received its first donation that included 116 paintings by the late painter Chen Shuren from his widow, Ju Ruowen.
Chen, who learned painting in China and Japan, is recognized as one of the three leading figures of the Lingnan School of Painting that emerged and progressed in Guangdong province in the 20th century. Paintings by Chen from this donation are on show at A Tribute to Donors.
Among significant donations to the museum over recent years are three bronze sculptures made by the late Chinese-French artist Hsiung Ping-ming in 2016. They were donated by C.N. Yang, the Nobel Prize-winning theoretical physicist, and his wife, Weng Fan.
The fathers of Hsiung and Yang were both noted mathematicians teaching at Tsinghua University in the late 1920s. Yang saw Hsiung as one of his close friends. They were also neighbors for eight years.
Hsiung studied philosophy at university in China and went to France to study aesthetics and sculpture in 1947. After graduation, he stayed in Europe to teach Chinese culture and started a calligraphy course in a college there. He also sculpted, drew, painted and exhibited widely.