Specialist hunts for clues to detect virus
Xinhua | Updated: 2020-02-14 07:14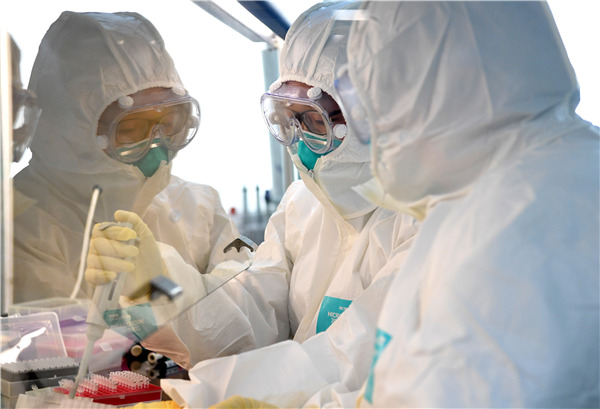 While most people are taking measures to avoid the novel coronavirus that has claimed more than 1,000 lives in China, Bu Ge has been in close contact with it for at least eight hours a day over the past three weeks.
The virus sits in his hands and fills the air in his laboratory-which perhaps is the riskiest venue in the megacity of Fuyang, East China's Anhui province. Bu is responsible for nucleic acid detection.
Soon his goggles fog, and he has to keep his eyes wide open to continue testing. "We are extremely strained. The density of the virus here is much higher than in a hospital, and we must make sure the hazmat suits are worn properly," says Bu.
Shrouded in two layers of hazmat suits together with an N95 mask, a pair of medical goggles, latex gloves and waterproof protective boots, Bu works for eight hours in a row at a constant temperature of 25 degrees Celsius. By the end of the day, he is drenched in sweat.
"Just putting the outfit on takes over 20 minutes, so many of us would rather wear diapers than go through the hassle of going to the toilet," he says.