Testing times for florists as revenue streams wilt
By Zheng Yiran in Beijing and Li Yingqing in Kunming | China Daily | Updated: 2020-02-14 09:58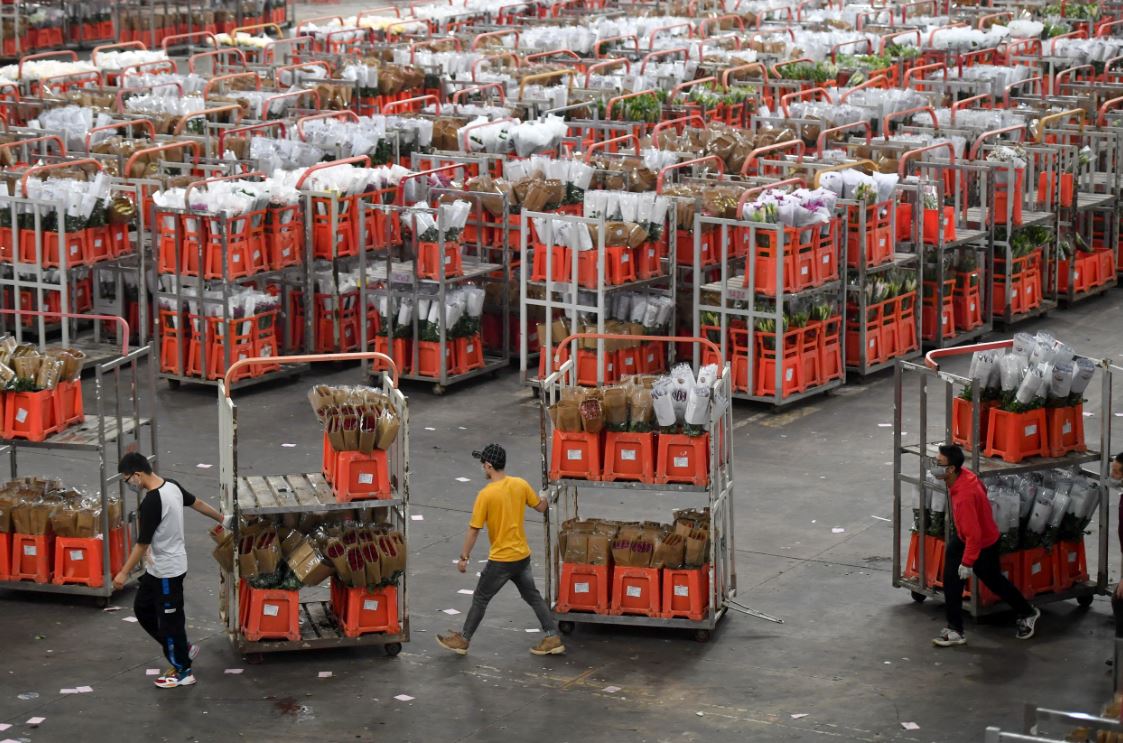 Although many domestic flights have been canceled, flower merchants are still fighting for chances to sell their products. Sichuan flower merchant Tang Xingjuan said some areas such as Beijing and the Xinjiang Uygur autonomous region still allow air shipments.
Given the fact that most Asian countries had restricted flights to and from China, many flower merchants in Yunnan are turning to the market in Thailand. The Ministry of Foreign Affairs said Bangkok has not yet officially banned flights and flower trading with China.
Thanks to the Belt and Road Initiative, potted flowers and some cut branches from China are being transported by high-speed rail to the Netherlands in Europe.
The upcoming 2020 Tokyo Olympic Games has likewise seen the demand for flower, flower utensils and related craft products increase as well.
Industry experts said that those international markets may ease the trade pressure to some extent, but a limited labor force during this period meant confirmed orders still face the problem of getting shipped.
The best thing to probably do is wait for the turning point when the epidemic is over, they said.
E-commerce startup florists are also thinking of a way out during this time. With Valentine's Day here, FlowerPlus, a Shanghai-based e-commerce flower platform, is using heartwarming copywriting to encourage consumption.
Its copywriting includes phrases such as: "I will run toward you with flowers as soon as I am able to." Or another line: "During the days we cannot meet each other, flowers will tell my endless yearning."
Then there is the apt and terse quip: "Flowers in, virus away."
Reflower, another internet florist, is now selling 40 carnations, which normally fetch a price of five to eight yuan each, at 39.9 yuan. A combination of five pieces of Kenya-imported Rosa rugosa Thunb and five pieces of gypsophila are now selling at 89.8 yuan, a sharp drop from the platform's previous average price.
"For flower merchants, one lesson learned from the epidemic is that they should enhance e-commerce and related digital technologies, and improve productivity, to stay prepared all the time," Wang said.
China is one of the largest markets for international flower companies. As scores of flights have been canceled, some of them are now trying marine transportation to ship flowers to China. But Chrysal's Guo said it is an utterly inadequate measure.
"For the types of flowers which require strong timeliness in shipment, such as roses, considering marine transportation is unrealistic. The flower merchants will either miss the blossom of the flower, or the special occasions, like Valentine's Day, during transportation," Guo said.
Taking the long-term perspective, though, industry practitioners are still positive.
Guo explained that "we are aware that the difficulties we are going through is only temporary. When the epidemic ends, market demand will be back to normal. Chinese consumer confidence is constantly growing, and it is for sure that people's demands for aesthetic appreciation and emotional expression will stay strong."
She noted that for now, enterprises in the industry only need to have clear plans. In the short term, business opportunities still exist as the fight against the epidemic continues and people still need spiritual inspiration and emotional expression as they do in normal life.
In the medium-to long-term, enterprises should be prepared when the situation gets better and recovery is completed.
"Maintain a positive frame of mind, stay alert and be fully prepared. I am confident that we will eventually make it through," Guo said.