Once upon a teamlab
China Daily | Updated: 2020-02-15 11:20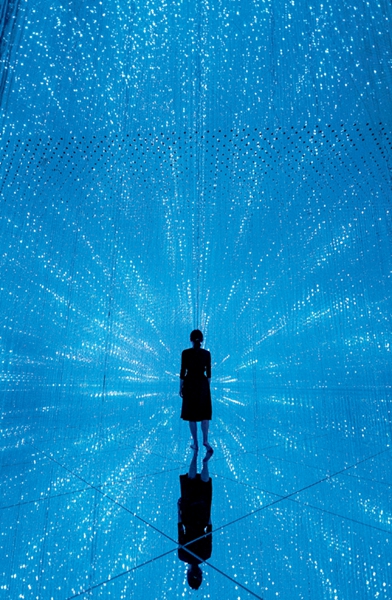 Venture down the digital rabbit hole with the Japanese art collective's SuperNature exhibition in Macao.
As art has gradually become synonymous with the worlds of entertainment, technology, design and science, one of the world's leading "multiverse" practitioners, Tokyo's art collective teamLab, debuts SuperNature at The Venetian Macao. In terms of interaction with art, the stakes are raised even higher by becoming more immersive across the Cotai Expo Hall's enormous 54,000-square-foot space.
SuperNature, which just opened on Jan 21 and runs until the end of March, is a single, massive world comprised of works of art that aim to explore new perceptions of the world and ideas of continuity between humans and nature. The art collective transforms the space into a 3D world with varying elevations, as it becomes a "body immersive" museum focused on a group of works that blur boundaries between people's bodies and art.
And that's where teamLab really gets interesting-and what puts the experience of being in one of its "arenas" a more alternative adventure than even the dotty thrill of walking around in the "cosmos" of Yayoi Kusama's ubiquitous Infinity Mirror Rooms. The people in Super-Nature influence and become a part of the artworks themselves.
As such, people become one with the art, and make creative choices about how they see and what they see, blurring perceptions between appearance and reality, and of the self and the world.