Tsai exploiting epidemic for ill purpose: China Daily editorial
chinadaily.com.cn | Updated: 2020-02-17 21:18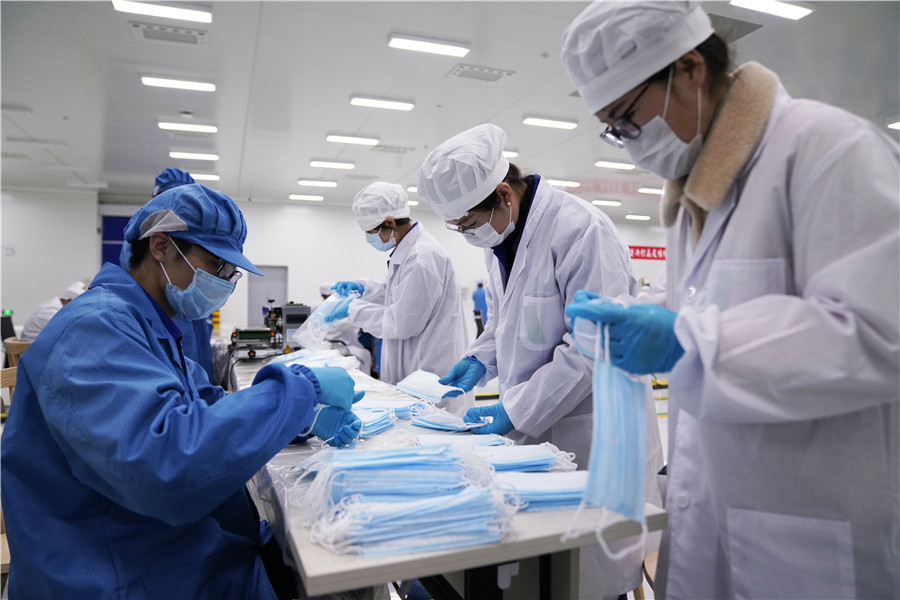 The outbreak of the novel coronavirus epidemic should have been an occasion for improving cross-Straits relations.
However, the island's administration under secessionist-minded Tsai Ing-wen has continually tried to make ill use of the epidemic.
Last month, the Taiwan authorities announced a one-month ban on cross-Straits sales of specialist masks for medical personnel under the excuse that the needs of local residents are their priority, when clearly the Chinese mainland is bearing the brunt of the epidemic, particularly Hubei province and its capital Wuhan.
As of Monday, 70,548 people had been infected across the mainland, the majority in and around Wuhan, and 1,770 of them had died. While Taiwan has reported 20 confirmed cases, including one death.
The selfish decision of the Taiwan authorities to ban protective masks has drawn a lot of criticism.
Worse, they even waged a smear campaign against Taiwan entertainers who voluntarily supported the mainland's fight against the epidemic through donations.
The ruling Democratic Progressive Party authorities in Taiwan have also kept obstructing the return of Taiwan compatriots from Hubei. They have not only used various excuses to shut the door on these people but also thrown mud on the mainland.
In contrast to the coldheartedness displayed by the Taiwan authorities, the mainland has helped arrange charter flights for Taiwan residents on the mainland to return to the island, and so far 247 Taiwan residents have flown home. Although Taiwan regional leader Tsai Ing-wen acknowledged on Facebook the mainland's assistance, both she and the DPP have yet to reciprocate.
The list of the Taiwan authorities' despicable behaviors goes on. Tsai and her team have usurped the epidemic to push their separatist agenda as they are trying to use it as an opportunity to push the island's participation in the World Health Organization in a bid to expand its so-called diplomatic space.
Their excuse for participation in the WHO is that the island is being prevented from receiving timely information about the outbreak of the novel coronavirus. But according to the WHO, the organization has always maintained communication with the Taiwan health authorities through channels stipulated by the International Health Regulations ever since the outbreak.
The WHO said experts from the island have fully engaged in all the consultations. The response from the WHO was a real slap on the face for the Taiwan authorities.
Taiwan's WHO farce shows "Taiwan independence" is a political epidemic more poisonous than the novel coronavirus. Taiwan authorities should know the mainland is fully capable of both winning the fight against the virus and thwarting any forms of "Taiwan independence" activities.