Virus also reawakens West's racism
By Zheng Yongnian | China Daily | Updated: 2020-02-18 07:33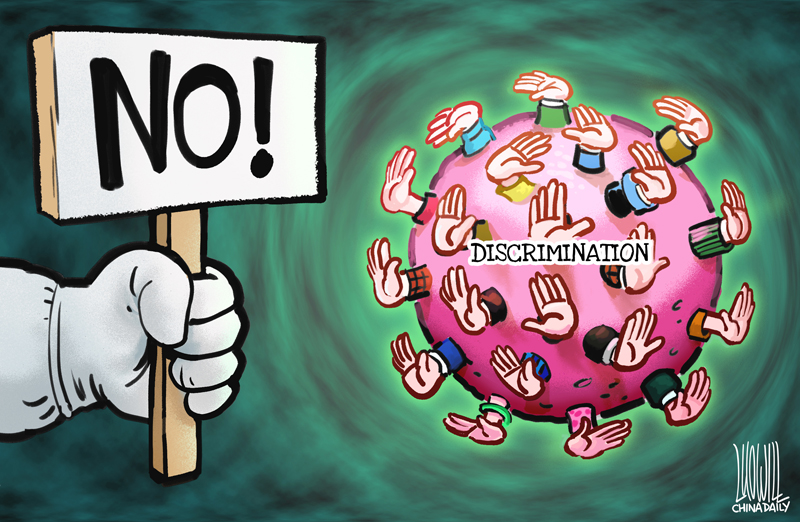 Every time a new virus emerges anywhere in the world, international cooperation is needed to jointly deal with it. However, since the novel coronavirus broke out in China a month ago, the attitude of the United States and some other Western countries has been one against China and the Chinese people.
Two days after The Wall Street Journal published an article headlined "China is the Real Sick Man of Asia" on Feb 3, The Washington Post published one headlined "The Coronavirus Reawakens Old Racist Tropes against Chinese People". It pointed out the ever-growing anti-Chinese sentiment in US society. The US and other Western countries' overreactions to the outbreak in China smack of a "segregation "policy laced with extreme racism.
Not long ago, Kiron Skinner, then director of policy planning at the US State Department, said relations between the US and China were a struggle between completely different cultures and ideologies, and also a case of the US for the first time facing "a strong not-white rival".
Her remarks brought American scholar Samuel Huntington's clash of civilizations theory to the forefront of US foreign policy. As Sino-US relations continue to deteriorate, there is no reason to downplay or ignore this racist theory. The challenge to the West today lies in its own internal problems. But the West does not see it that way; it instead believes the biggest challenge to the West-led international order comes from outside, notably from China and Russia. For some in the US, how to deal with China tops the diplomatic agenda.
From an empirical perspective, race has never disappeared from the West's foreign policy, and will not. People are just a little restrained sometimes, or a little more hypocritical, but racism surfaces from time to time in different ways. From a medieval idea about "god", to modern-day racism that advocates "white supremacy", to contemporary "values of democracy and freedom" that advocate value alliance, the West's governance theories and behavioral logic have remained highly consistent.
-ZHENG YONGNIAN, PROFESSOR OF THE NATIONAL UNIVERSITY OF SINGAPORE